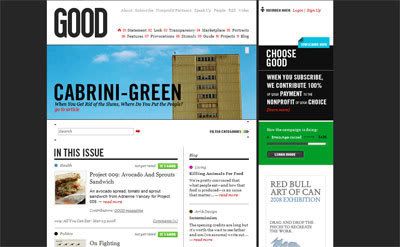 In the 360 PSG offices, Ben Shepard, Director of Design, and Eryn Yates, Assistant Director of Design, and I (Evan Pierce, Director of Content Services) often scour the web for design and content ideas. Every once and a while we find a design we absolutely fall in love with, and one of our favorite magazines, Good Magazine, happens to fall in that category.
What do we like about it? Its clean simplicity. Articles are clearly highlighted, the top feature-call-out uses clean, natural multimedia, and the font…oh man we love the use of fonts on this page. It's a mix of approachable accessibility with authoritative professionalism, perfect for that type of publication.
These ideas – clean, beautiful design with intuitive functionality – are the types of designs we at 360 PSG strive for, and we're continually evaluating other sites to gain ideas to incorporate in our own designs. Let us know some of your favorites below.