360 PSG Support FAQs: Part Two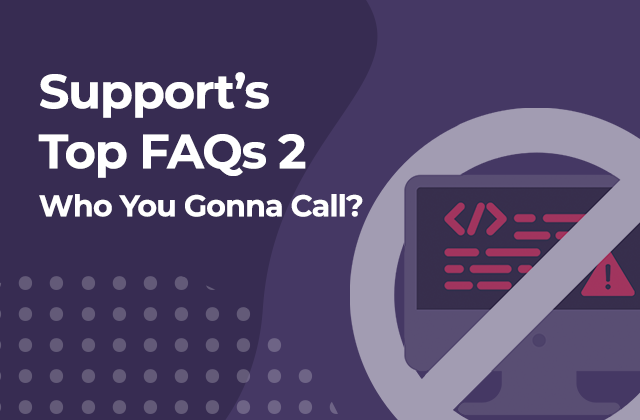 We called upon our expert support team once again to provide us with some of your most frequently asked questions about our CMS. They did not disappoint! These questions focus on website security and customization. If you've ever wondered if your users are getting the most out of your website, these answers are for you.
1) "Why is my website coming up as not secure?"
If your site is displaying this message, it means that you do not have a Transport Layer Security (TLS) or Secure Sockets Layer (SSL) certificate. These certificates are cryptographic protocols designed to provide communications security over a computer network. Now, browsers are pushing for websites to have these certificates to protect user information. This is not a statement that your website is unsafe, but rather a caution from the browser to users that your site isn't certified as being secure. A user can still access the site once they click an acknowledgment stating that they are aware your site lacks a TLS or SSL, but this is not ideal for user experience.
The increasing need for security certificates is why we offer the option to buy and maintain a TLS certificate for your site.

2) "Can I use SEO on my website?"
Both 360 PSG's Fission CMS and the 360 CMS are user-friendly when it comes to integrating SEO. For those who do not know, SEO (or Search Engine Optimization) helps to improve your website's ranking within search engines. When someone visits a search engine and types in a search term relative to your business, the level of optimization that your website has will have an impact on its overall ranking in the results list. By taking the time to give attention to optimization, you are increasing the odds of your site ranking higher. More exposure means more business.
Web pages offer the ability to customize the keywords, title, and description of each page. Most other components within the Fission CMS also offer built-in SEO tools designed to improve your site's optimization.
Within the Fission CMS, most components (Pages, Events, Blogs, etc) will have a tab within the editor, titled "Search Engines (SEO)". Within these sections, you will have the option to set the page's URL, Title, Keywords, Description, and so on. These are the basic components that affect SEO and these will often be the most common determinants of how a site's page ranks (though not the only determinants).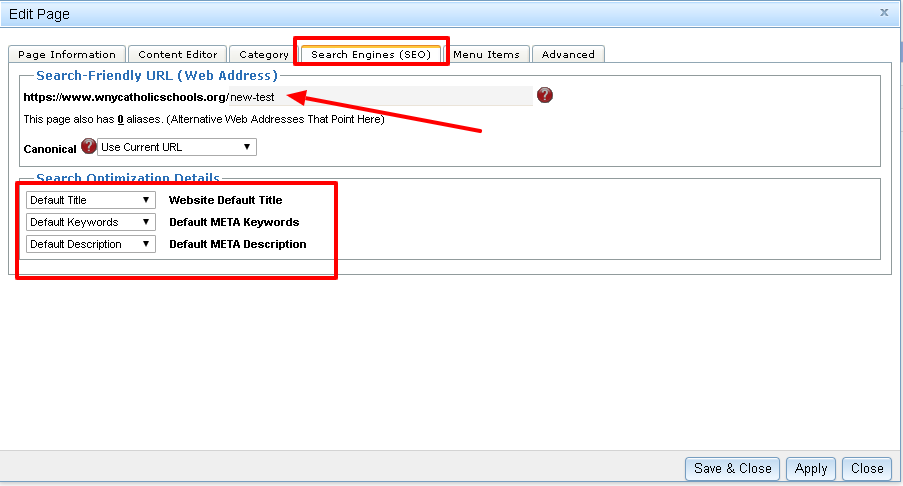 If you are using the 360 CMS, these options are still available. Within the editor, to the right-hand side, you will see that there is an SEO tab. Within this tab, you can add the description and keywords, as in Fission. The only difference is the URL and page title, both of which are above the editor.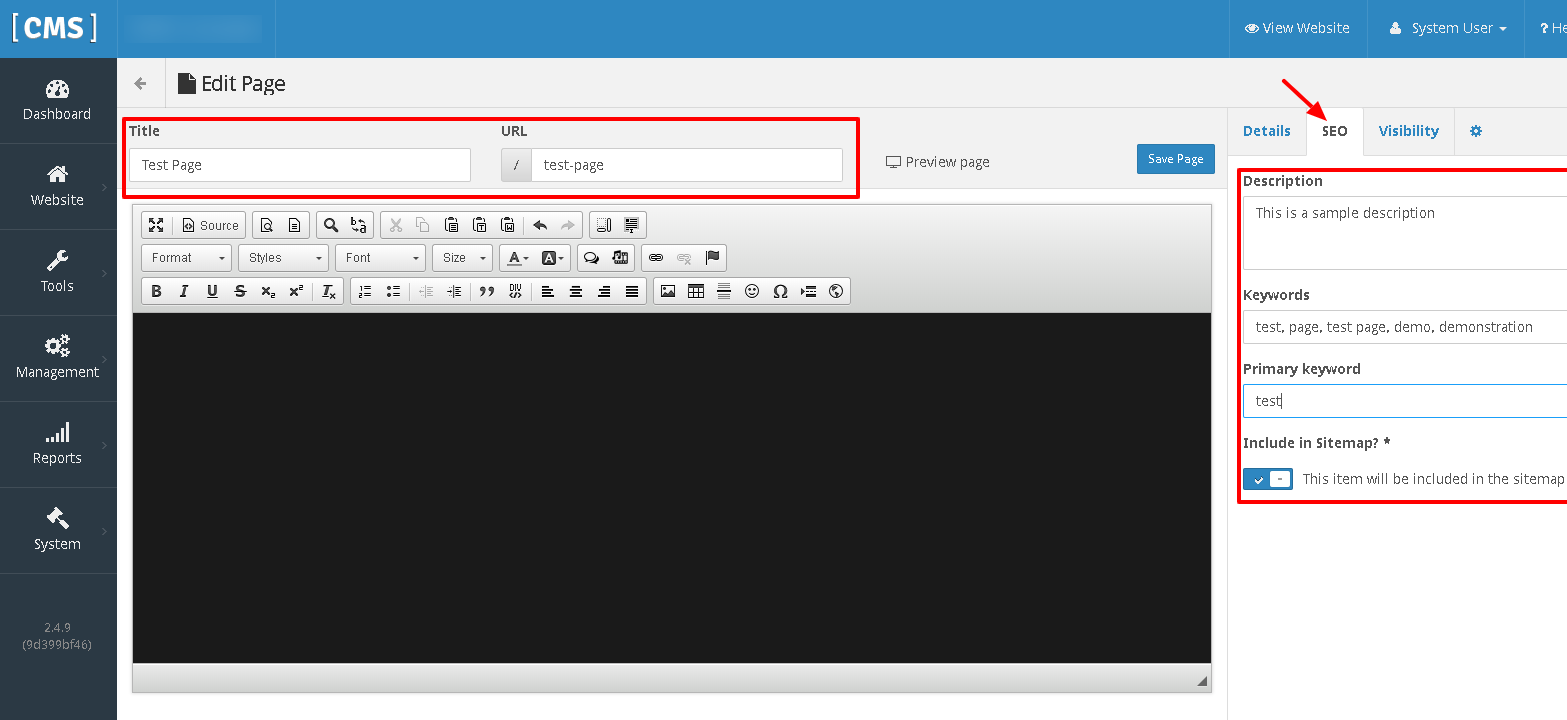 SEO can be a huge boost to your website and can enhance the overall function of your website. Yet, Google is constantly updating its search algorithms and what may boost your site today may not be effective tomorrow. What's more, there are many components to SEO, and you may not have time to learn all the ins and outs. 360 PSG is proud to have an expert marketing team in-house who are well-versed in SEO, should you need help!
3) "Can I create a blog?"
Absolutely! Both the Fission CMS and the 360 CMS have a blog component that is available as soon as the site is live. If for some reason you do not see the blog, please contact our support team, and we can help get this set up for you.
The blog components of both CMS systems include SEO information, enabling you to optimize your blogs to help drive traffic to your site. You can even backdate blogs! If you are moving content over from a different site published years ago, you can still keep those dates accurate.
4) "What if I want to have an internal section of my website for employees or clients who need to be able to access certain documentation?"
Not to worry, we've got you covered! Both the Fission CMS and 360 CMS are proud to offer a File Library system. This is a role restricted repository of documents and company information. A File Library system is ideal for internal information, such as HR materials, company handbooks, department notes, and more. The File Library is not active by default on your site but can be activated easily by contacting us for help!
Once you have successfully activated the File Library, we have created documents to help you successfully set up your File Library and populate it with your documents. If you're using Fission, you can follow the steps located here. If you are using 360 CMS, you can follow the steps located here. If you are not sure which system you are using, remember that your dashboard will say "Fission CMS" on the top left of the page if you are on Fission, and you will see "[CMS]" in the top left of the dashboard if you are in 360 CMS.


5) "Can I collect credit card information through a form if I am running a mail-order business?"
This question is somewhat complicated, but there is a very definitive answer to it: it depends on the form. If you are using the website's E-commerce component (which can be activated after speaking with your account manager and requesting its activation), then you will have access to the website's cart system. The cart takes you to a pre-programmed template portion of the website that allows a secure checkout. Any information included in this cart is 100% secure and cannot be accessed; this complies with federal regulations for the protection of personal information.
If you are NOT using the E-commerce component of the website, then you will not be sending the information to a secure server. This means that personal credit card information is being gathered and collected within the website's backend. This is dangerous as anyone who had access to the site's back end could access all of the credit card information that you gathered, including names, card numbers, security information on the card, etc. This is not an acceptable situation and is in violation of the terms of use for the site, and is breaking federal law. If you need to gather credit card information through the site, your site may benefit from having the E-Commerce component activated. We have options for both a catalog of products to be created and a general "Bill Pay" option, enabling you to best suit your needs.
360 PSG's support team has all the answers
From minor issues like forgotten passwords to major complications like accidentally deleting your website's entire contents, our support team is never phased! Website security is a major concern in the modern web world, and hopefully, these answers have helped clear up some of that confusion. So, if bugs, issues, or mistakes arise, "Who you gonna call?" 360 PSG's support team! Keep up with the support team and see what's new by subscribing to 360 PSG's newsletter, Digital Digest!