National Receptionist Day: Jen Becker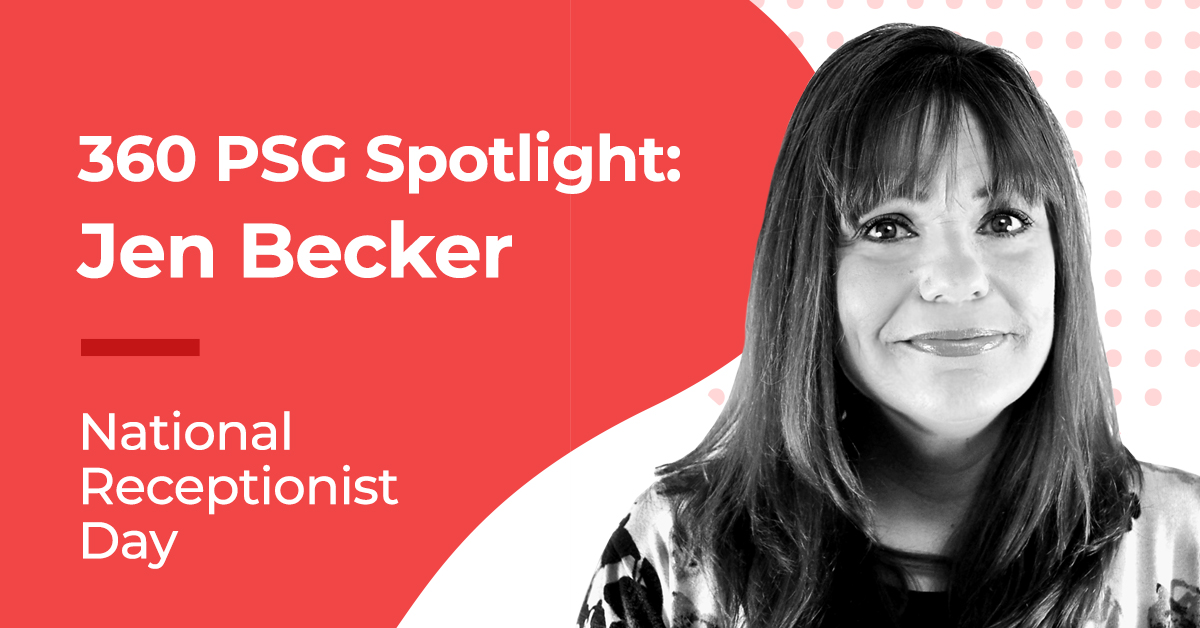 Teamwork makes the dream work at 360 PSG. We always say in order to get everything done effectively and efficiently, we all have to wear multiple hats. And no one wears more hats than Office Manager and Billing Assistant Jen Becker.
Jen has been the master multitasker at 360 PSG for almost five years. While a large portion of her time is dedicated to billing, today we recognize Jen for National Receptionist Day, though the role of receptionist is only the tip of the iceberg. Jen is often the first point of contact people have with 360, serving as the face of the company in many situations.
"I am definitely the front person," Jen said when discussing that role. "A top part of my job is to be the first person that people encounter. I take that very seriously. I try to make that as warm and as inviting of an experience for people as I can, and that's what I can personally bring to the table in that role because that's just me."
This responsibility includes answering all incoming phone calls to our main line.
"I am the firewall of the phone—"
And as if it was poetically scripted, Jen received a phone call in that exact moment. So there you have it: multitasking.
Once she returned from the call, Jen described how the entire process works.
"When I take calls, I ask a specific set of questions so I can get as much information as I can, when I can. A lot of times I have to send a lead to sales after a call. That's another thing I do that is receptionist-like. I do a lot of calendar scheduling."
On top of customer interaction, Jen is always cleaning the office, filling the vending machine, buying supplies, going out to pick up company lunches—anything to improve our workplace environment. A perfect image of Jen would show her taking care of something away from her desk with her headset on—always doing a million things at once.
Constantly jumping from one task to another can be tricky though, and she'll be the first to admit it.
"I probably wear about 25 different hats. Having to shift gears with so many different hats so often is hard. You really have to keep your mind focused and not lose sight of what you were just doing when you have to switch between things so much."
Jen performs necessary tasks that help keep the company as high-functioning as it is, and while so many of the tasks may go unnoticed, her attitude and work ethic are as clear as day. Jen is one of the nicest people you could ever hope to meet, and she can brighten your mood simply by smiling at you. She is a valued coworker and member of our team, and one person that we couldn't function without.
"I love this place, I really do. They trust me, they like my ideas. You're not only allowed to be thoughtful and innovative here—you're expected to be."
Getting to Know Jen:
Favorite hobbies?

JB: Gardening. I'm getting into it.

What do you do in your spare time?

JB: Take care of everybody that I know, every last second of my day. That's what I live for; that's what I get up for.

Favorite food?

JB: Coffee. Coffee with cream. Cream counts as food because it's not just a liquid.

Favorite TV show?

JB: Paranormal Caught on Camera.

Favorite movie?

JB: Right now it's Blended. Of all time, I'll probably go with Dead Poets Society.

Pet peeve?

JB: People who choose to remain uninformed.

Ideal travel destination?

JB: Greece. Always wanted to go to Ancient Greece.

Three words to describe you?

JB: Thoughtful, Intuitive, Accountable.

One thing on your bucket list?

JB: Drive cross-country with my family before my kids grow up. In an RV. I would love to take an RV across the country.

Messy or organized?
Favorite animal?
Who would play you in a movie?

JB: Probably Sandra Bullock. Like spazzy but serious at the same time.

If you had another job, what would it be?

JB: Brain surgeon. I've literally had dreams where I've been scrubbing up for surgery with my fellow coworkers.