Web hosting, website hosting & e-mail hosting

Unlike many web development companies, sites hosted with 360PSG are not sent servers housed in another state, far away from the developers handling your data. Our servers are located within walking distance of our development office, so you get the advantages of off-site hosting - secure and shielded from the elements - while keeping the benefits of 360PSG access, where our developers can maintain your data efficiently.
Hosting packages start as low as just a few dollars per month and range up to multiple dedicated hosting servers with dedicated bandwidth, meaning you don't have to share space or connectivity.
Hosting Options
Basic Hosting: Your site can be hosted on one of 360PSG's secure servers, with all the security, maintenance, e-mail addresses and space your site needs.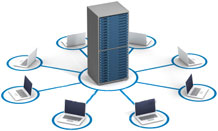 Virtual Hosting: Need a specific operating system, IP address or other features of a dedicated server, but not quite ready to invest in your own hardware? 360PSG virtual servers give you your own server partition, use of either Windows or Linux, and all the benefits of 360PSG hosting, at the fraction of the cost of maintaining your own hardware.
Co-Location: Some sites have grown to need the space, security and speed of their own dedicated server. 360PSG can install and maintain a server set up however you like, with its own IP address, at our secure datacenter. You own the equipment, but with its proximity to 360PSG, it will always be available to those that need to maintain your data, particularly with a 360PSG site package. Find out more on our datacenter page.
Content Management System: Sites run on our Fission Content Management System are hosted on our secure servers. Because of this our CMS clients always have the latest version of our software and are always maintained by our crack technical staff.
Located in a climate-controlled, Level 3-maintained business class datacenter, the servers hosting 360 sites are backed up by diesel-powered auxiliary generators, meaning even in the event of a power outage, your website will remain functioning and safe. Click here to see what using 360 PSG hosting and datacenter did for Hospice Buffalo during the October 2006 blizzard that shut down much of Buffalo, but still maintaining their site functions.
This dedicated hosting facility is currently housing dozens of 360 PSG units, customized and maintained by the same staff that answers your support calls. No more middle-man techs that have no access to your actual system.
Our hosted sites are not only safe from the elements, but also secured from web-based problems by 360PSG-maintained firewalls and web security. We don't rely on unknown outsourcing capability - some hosting operations might be a huge hosting operation, but many others consist of a computer in a tech guy's apartment closet. We take web hosting and data storage seriously. Our servers are installed to handle any situation - redundant power supplies, multiple hard drives, and protected connections are all options we utilize wherever possible.
Learn more about our datacenter facility, or contact a representative to find out how 360PSG hosting and data storage can protect you and your business.