360 PSG Spotlight: Crystal Srock
I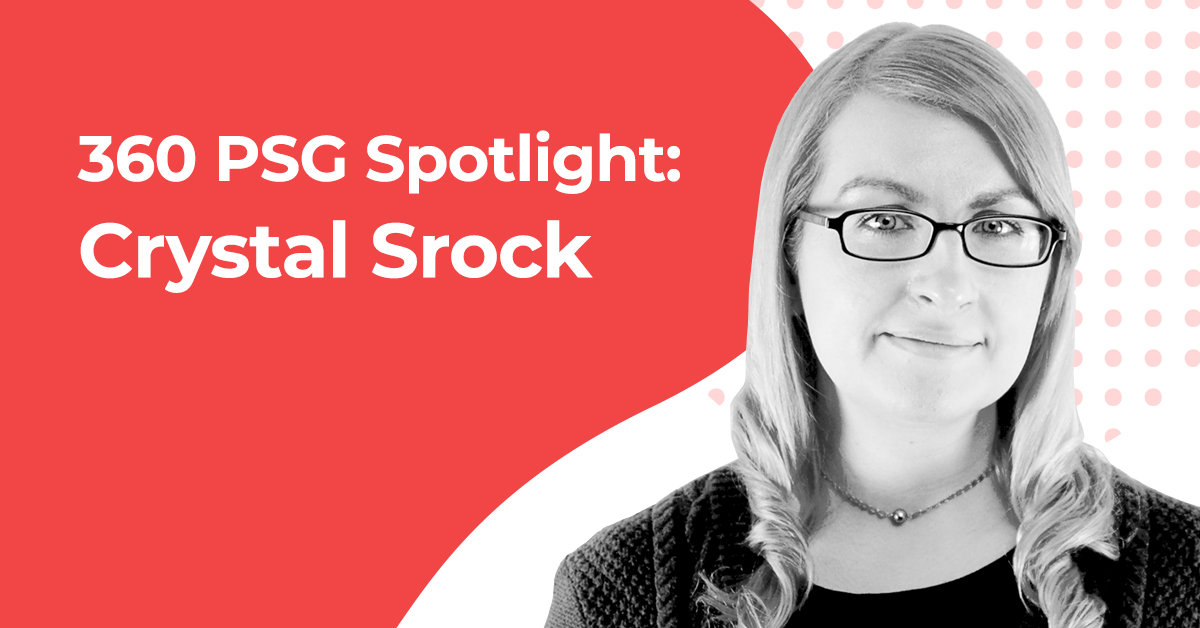 magine getting a job offer after acing your very first job interview, straight out of college. That's what happened for designer Crystal Srock, back in 2012, when she landed a job as a graphic designer and front-end developer at 360 PSG. Prior to securing her job at 360 PSG, Crystal attended Daemen, where she got her BFA in graphic design, as well as some work experience.
At Daemen, Crystal worked as part of a committee that designed internal communications for the college. The work she did included creating signage and other design tasks. After that, she got a summer job working on the design and layout of Daemen's yearbooks.
"That was really fun because I was in charge of every aspect of the book, from cover design, to photography of the campus and final page layout," she recalled.
Her days at 360 PSG are a little different than when she was working on signage and yearbooks. While design is still at the heart of her position, there's a lot more coding involved. In fact, Crystal estimates that about 60 percent of time is spent on coding.
"There's lots of problem-solving involved with my tasks, which can be fun, sometimes," she said, when speaking about the challenges that come with her position.
Of course, there's plenty about her job that she really enjoys too! According to Crystal, her favorite part of working at 360 PSG is the opportunity to learn.
"Learning is definitely what I enjoy most. There's always new design styles, new programs, new industry standards. Especially since responsive design took off, there's so much more to learn and it's fun to discover what other designers do."
Unsurprisingly, some of Crystal's favorite activities outside of work are creative as well. She enjoys both photography and watercolor painting, as well as travel and attending concerts.
Here are 10 more fun facts about Crystal Srock, so you can get to know 360 PSG's design guru even better!
GETTING TO KNOW CRYSTAL:

Favorite ice cream flavor?
CS: Cookie dough, especially from this place in Philly called Franklin Fountain!
Favorite color?
What's on your bucket list?
CS: An aquarium/botanical garden tour through the US
Favorite movie?
CS: Ferris Bueller's Day Off
What wild animal would you love to have as a pet?
Favorite animated cartoon character?
CS: I like very derp characters—Mamegoma (a seal), Mudkip (from Pokemon), Filbert (from Animal Crossing)
Favorite vacation destination?
CS: South Korea, Greece, Switzerland. Any city with interesting architecture. I really enjoy exploring on vacations, not relaxing.
Favorite pizza topping?
CS: Pepperoni or a supreme pizza
When you were a child, what did you want to be when you grew up?
CS: I used to spend crazy amounts of time at the library when I was young, so I wanted to be a librarian!
Favorite song?