Current News
Featured News - Current News - Archived News - News Categories
Thu, Aug 24th 2023 12:00 pm
360 PSG, a leading provider of digital marketing and website design services in the Buffalo area, announced today that it has merged with Manzella Marketing, a full-service, strategic and creative agency, to offer more comprehensive solutions and a better overall agency experience for clients.
Tue, Jun 13th 2023 01:00 pm
At 360 PSG, we have always been proud to be led by individuals whose dedication and visionary leadership are second to none. Today, we have another reason to celebrate as our very own CEO, Joel Colombo, has been recognized with the Luminary Award. The award was presented by Hadar Borden, Director of Blackstone LaunchPad at the University at Buffalo (UB), in recognition of Joel's significant contributions to entrepreneurial initiatives and guiding students in their business journeys.
Mon, Jun 15th 2020 08:00 am
The coronavirus pandemic is what mathematical statistician and risk analyst Nassim Nicholas Taleb would call a "black swan" event—an extremely rare event with severe consequences that can cause cataclysmic damage to the economy. These events can't be predicted by standard forecasting tools, and in fact, these tools can increase vulnerability by providing a false sense of security and propagating risk. There is no way to prevent a black swan event, but there are ways to prepare for them, including by building responsive, robust systems that will insulate your business as much as possible.
Fri, Jun 5th 2020 12:00 pm
Businesses are facing unprecedented challenges in today's economy. Campaigns seemingly change overnight as brands rapidly string together new ideas and strategies in an effort to not only keep business running smoothly, but running at all. Navigating the road ahead isn't going to be an easy task, but by evaluating current campaign efforts and adapting to industry trends, it is a feasible one.
Thu, May 21st 2020 09:00 am
Currently, about half the American workforce is telecommuting, a sharp increase from the 5 percent of employees who worked from home just a few years ago. While governmental restrictions are beginning to ease across the country, many employers won't be welcoming back full workforces immediately. Some will be curtailed by mandates that allow only a fraction of employees to return, while others won't immediately be generating the revenue to bring back a full staff. However, many employers are also choosing to continue to require, or at least allow, telecommuting. Twitter recently announced that some employees will be able to work from home "forever," after realizing that this new set-up can work at scale. Other Silicon Valley behemoths are following suit, and companies once known for offering impressive offices and quirky perks are pivoting toward offering extended work-from-home arrangements instead.
Fri, May 15th 2020 12:00 pm
Remaining in contact with your clients has likely become challenging with everyone's work environments completely transformed. As this remote lifestyle becomes increasingly natural, it's evident that technology is going to play a leading role in business going forward. Virtual communication tools can help you stay ahead of the curve while keeping you connected with your clients.
Fri, May 8th 2020 12:15 pm
Since the spread of COVID-19, internet usage has increased by more than 70 percent. People were already spending an average of 3.5 hours a day on their mobile devices, and since the pandemic, that number has more than doubled, according to data compiled from iPhone's weekly screen time reports. Since people are spending more time in front of their screens now than literally at any other time in history, it's in your best interest to make sure your business's website is looking great. If your business is currently closed due to stay-at-home mandates from the government, now would be a great time to improve your site so that it's up to date and ready to go when you reopen.
Wed, Apr 29th 2020 02:00 pm
How has your business been handling social media during COVID-19? Some brands have been choosing to stick to the status quo by not acknowledging the change, while others have committed to posting about COVID-19 and nothing else. Ultimately, most brands have no idea what to say or how to react—a common struggle according to AdRoll. One of the best ways to connect with your customers on social media is by showing them empathy. But to do that, you need to know who they are and what they're up to.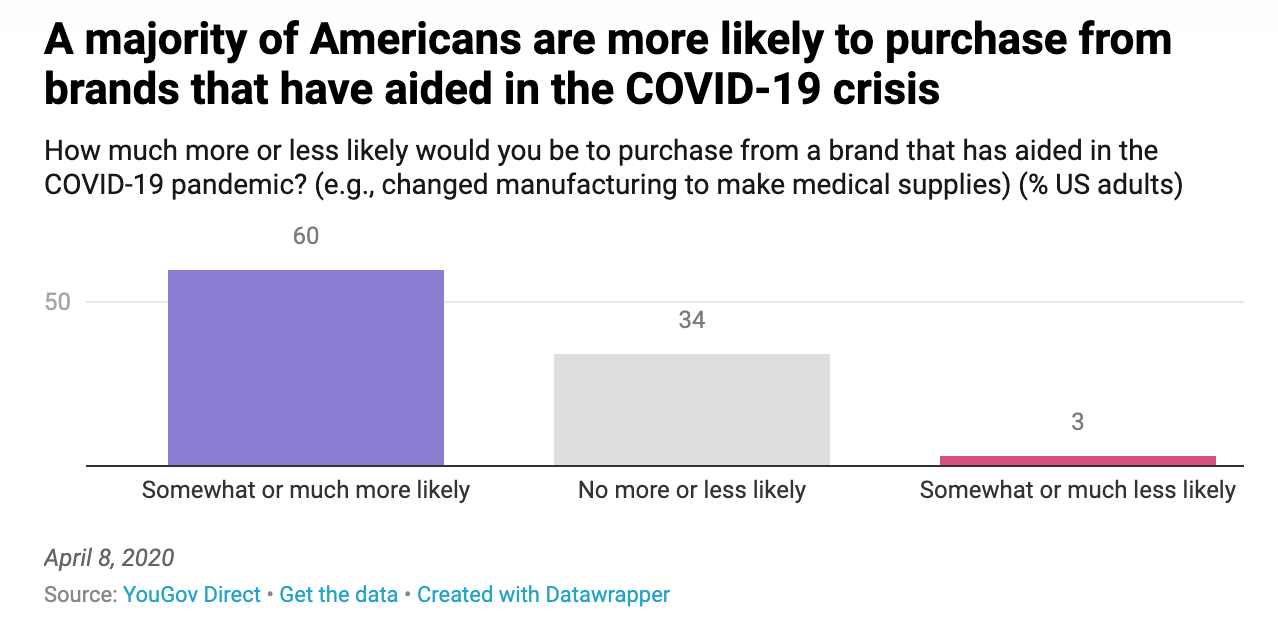 Thu, Apr 23rd 2020 03:00 pm
If your business is seeing less sales right now, community outreach may be the last thing on your mind. After all, if you're not making much, you can't do much, right? However, contributing in times of need positively impacts customers' perception of your brand, and garners priceless goodwill. A recent survey by data analytics firm YouGov indicated that a majority of Americans—60 percent—are more likely to purchase from a company that has aided in the COVID-19 pandemic. Moreover, the companies that do contribute have seen huge increases in their buzz scores, a metric that measures whether consumers have heard anything positive about a brand in the past two weeks.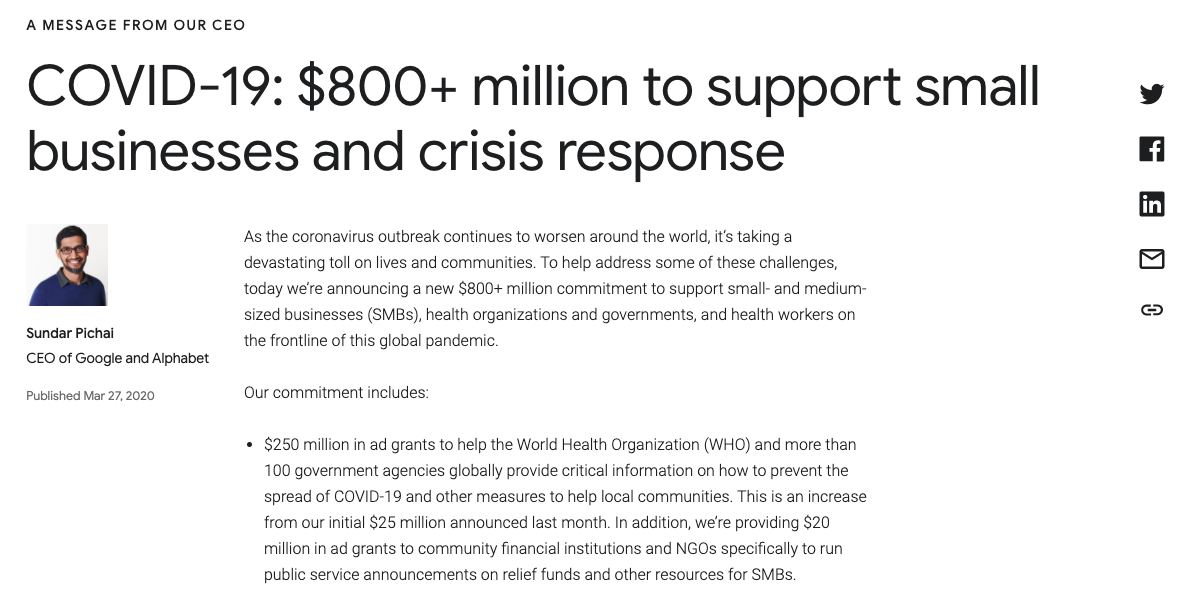 Thu, Apr 16th 2020 03:00 pm
In an effort to help small and medium-sized businesses (SMBs) during this challenging time, Google is offering $340 million in Google Ads credits to help alleviate some of the costs for SMBs that are associated with them engaging with their customers during the coronavirus.
Fri, Apr 10th 2020 02:55 pm
A virtual office space might be one of the most effective ways for your company to stay connected internally, and Pragli Virtual Office is the perfect resource to ensure your business operates as smoothly as possible.
Fri, Apr 15th 2016 12:00 pm
Roberts-Gordon is an international manufacturer of infrared tube heaters, controls, and associated accessories. They feature their products on a newly redesigned Fission CMS website. 
Fri, Apr 15th 2016 12:00 pm
North Woods Capital Benefits aims to help clients of all sizes navigate these complexities in order to both control costs, and maximize long term savings with their new 360 CMS website.
Fri, Apr 8th 2016 04:30 pm
Renovatio specializes in DNA paternity testing for legal and private use, and offers a wide range of DNA relationship tests. They bring their services online with a 360 CMS website.
Fri, Apr 8th 2016 04:20 pm
Accu-fit stocks a huge selection of compression garments, diabetic shoes, and burn garments for your health and comfort. They showcase their products online with a new 360 CMS website.
Fri, Apr 8th 2016 04:00 pm
Global Concepts Charter School brings their top-quality educational programs online with a redesign of their Fission CMS website. 
Fri, Apr 8th 2016 04:00 pm
Lumber City Pizza prides themselves on providing the people of North Tonawanda with great food and excellent service. They expand their services with a website redesign on our 360 CMS.
Fri, Apr 8th 2016 03:00 pm
T & S Crop Services supplies a wide variety of products and services essential to growers. Their goal is to help growers around the world meet the challenge of the future: to grow more from less. They bring their services online with a new 360 CMS website. 
Fri, Apr 8th 2016 03:00 pm
Metro Environmental is a growing specialty contractor doing environmental remediation work. They bring their environmental friendly services online with a new 360 CMS website.
Fri, Apr 8th 2016 03:00 pm
Appleton Harbor Marketing helps fill in the gaps when it comes to marketing to the federal government. They bring their services online with a new Savannah CMS website.
Fri, Apr 8th 2016 03:00 pm
Southtowns Crossfit's mission is not to just be a place to workout, but a place that will test your mind, body & soul with coaches you trust and respect. They bring their mission online with a new 360 CMS website.
Fri, Apr 8th 2016 03:00 pm
Appliance Analysis brings their major appliance fire, explosion, and water investigation services online with a new 360 CMS website. 
Fri, Apr 8th 2016 03:00 pm
Brush stroke studios wants you to unlock your creativity with painting services for your own pottery. They bring their services online with a new 360 CMS website.
Wed, Mar 9th 2016 04:35 pm
American Coating Technology brings the highest performance products for the oil & gas industry, petroleum industry, food industry, petroleum refining industry and electrical generation facilities online with their new 360 CMS website.
Tue, Mar 8th 2016 12:00 pm
Live True Living focuses on development in your professional and personal life with customized private, one on one coaching. They bring their services online with a beautiful website of Fission CMS.
Tue, Mar 8th 2016 12:00 pm
National Solar Technologies has been a leader in the field of engineering and bringing solar power systems since 1997. Their new website on Fission CMS continues their years of success.
Tue, Mar 8th 2016 12:00 pm
Nesper, Ferber, & DiGiacomo have established a solid reputation for excellence in serving clients. Their expertise is brought online with their new 360 CMS website.
Tue, Mar 8th 2016 12:00 pm
Empower Girls Buffalo has a new website on 360 CMS that helps them educate and inspire girls to live happy and healthy lives both physically and emotionally by having a positive and confident outlook on life.
Tue, Mar 8th 2016 12:00 pm
500 Fitness looks to change the "business" of gyms in WNY with their new 360 CMS website.
Tue, Mar 8th 2016 12:00 pm
ProStar is your local family owned pest experts serving WNY since 1990. They bring their pest services online with their new 360 CMS website.
Wed, Feb 24th 2016 12:00 pm
Finish Line Restoration and Remodeling strives to leave your home, safer, healthier, more comfortable and more valuable with their diverse services on their new website!
Tue, Feb 16th 2016 02:00 pm
Check out National Warehouse Furniture Sales' responsive 360 CMS website.
Tue, Feb 16th 2016 01:45 pm
The Whole Nine Wellness team showcases their robust pregnancy services on their new 360 CMS website.
Tue, Feb 2nd 2016 11:00 am
Are you traveling to Russia, and need safe, punctual transportation? The experts at White Knights Transportation Solutions have you covered with their new, responsive website.
Fri, Jan 29th 2016 03:00 pm
The Buffalo Rotary Club is pleased to announce Wines of the World will be returning to Kleinhans Music Hall on April 8, 2016 for Wine, Beer and Food Tastings!
Fri, Jan 29th 2016 03:00 pm
WNYPAA is a volunteer run non-for profit organization devoted to providing networking opportunities to students and healthcare providers in the Western New York area. They expand their services with a new Fission website.
Fri, Jan 15th 2016 04:10 pm
Kale Company Heating and Air Conditioning brings 35 years of service and experience on the web with their new Fission website.
Mon, Jan 11th 2016 03:00 pm
Kirkwood Energy Products prides themselves in providing great customer satisfaction and reliable delivery and service. They leverage their new Fission website to meet their goals on the web.
Mon, Jan 11th 2016 10:35 am
UB CEL Alumni Association works to promote business growth through networking, mentoring, and education. Their powerful new responsive website redesign gives them a leg up on reaching their mission.
Sun, Jan 10th 2016 04:00 pm
Love good looking web design with custom components? Look no further than Bearce Insurance's new website on 360 CMS.