360 PSG Spotlight: Jason Ortiz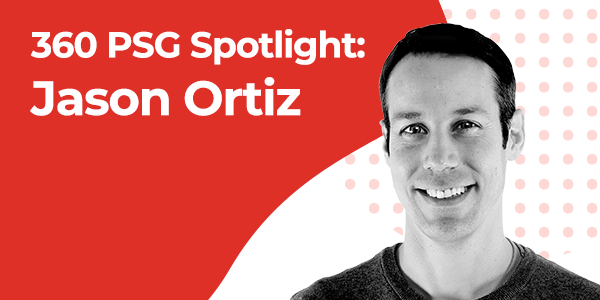 You know that exhausted feeling of being at your wits' end trying to figure something out, or that feeling of dread when a problem comes across your table and you don't have the slightest clue how to fix it? Everyone has that one person they turn to in these moments; a person with the right mental toolkit to figure out what you know you can't. At 360 PSG, that man is Jason Ortiz.
As Director of Programming Services, Jason's day-to-day consists of developing new applications, working on client projects, investigating system glitches and a bevy of other tasks. On top of everything, Jason is also the go-to guy for escalated support issues. Customers often call with a question or issue that is outside of the support team's wheelhouse, and depending on the severity of the matter, Jason might have to put down everything he's working on to solve this new puzzle.
"Balancing everything can be challenging," Jason admits. "It's kind of like a juggling act where I have to make sure I find enough time to get everything done."
For the record, Jason always gets everything done. No one knows quite how—it's one of those 360 mysteries that has yet to be solved. However, one thing we do know is that he has the knowledge and experience to back it up.
Jason is the third-longest serving employee at 360 PSG, recently celebrating his 13-year anniversary as a member of the team. After graduating from the University at Buffalo with a degree in Computer Science, Jason spent roughly four years as a martial arts instructor before he was once again bitten by the computer bug (no pun intended) and decided he wanted to get back in the game.
To catch up with the fast-changing world of technology, Jason taught himself PHP (one of many computer languages) in the span of about a week and a half. He was hired at 360 as a programmer and developer where he started brainstorming and writing solutions to various programming problems. He didn't miss a beat.
His knowledge and abilities have only grown in that time span, and his problem-solving mindset hasn't changed one bit.
"I love helping people solve problems. I think that's kind of my niche. A client might know what they want to do, but they may not have the technical ability or the full understanding of all sides of it. For example, they might want to communicate with a third-party application, but they don't know what needs to be done. So part of my job is to research that so I can understand it from a technical perspective but also from a practical perspective."
Jason's work with customers also includes ensuring no one's wallet is left high and dry.
"I make sure to give people options on what's available for them within the realm of what they're looking to do while keeping it in their budget. I help them realize their application needs and then supply them with a solution that fits their wants based on what they can afford."
While some people might feel added stress and pressure trying to help customers on top of all other tasks, Jason says it's his favorite part of the job.
"I really thoroughly enjoy doing that—talking to people and helping people."
Jason Ortiz is a rare breed. There seemingly aren't a lot of people that have a vast knowledge of the technical world with the rare gift of top-quality customer service, and 360 PSG is better off because of him. In a business with lots of moving parts and advancements happening all the time, one thing will never change: Jason will always be everyone's go-to guy.
So what is his greatest accomplishment? As he would tell you, it's being part of the 360 team.
"It's been a pretty great experience to be a part of and see what the company is today. You know, we're a solid company and we're well-regarded in the industry and community for what we do. I'm proud of that, and I'm really happy to be a part of it."
Getting to Know Jason
Favorite hobbies?

JO: I have two: teaching martial arts and collecting comic books.

What do you do in your spare time?

JO: I don't have any spare time.

Favorite food?
Favorite TV show?

JO: Anything funny really, like The Office or Parks and Recreation.

Favorite movie?

JO: That's a tough one…probably Die Hard.

Pet peeve?

JO: Constant movie stream buffering.

Ideal travel destination?
Three words to describe you?
One thing on your bucket list?

JO: I don't feel like I'm old enough to have a bucket list yet. But I like watching documentaries about people climbing Mt. Everest.

Messy or organized?
Favorite animal?

JO: Some kind of a large cat, so probably like a panther.

Who would play you in a movie?

JO: Either Ben Affleck or John Stamos.

If you had another job, what would it be?

JO: Probably a carpenter.