360 PSG Spotlight: Pete Williams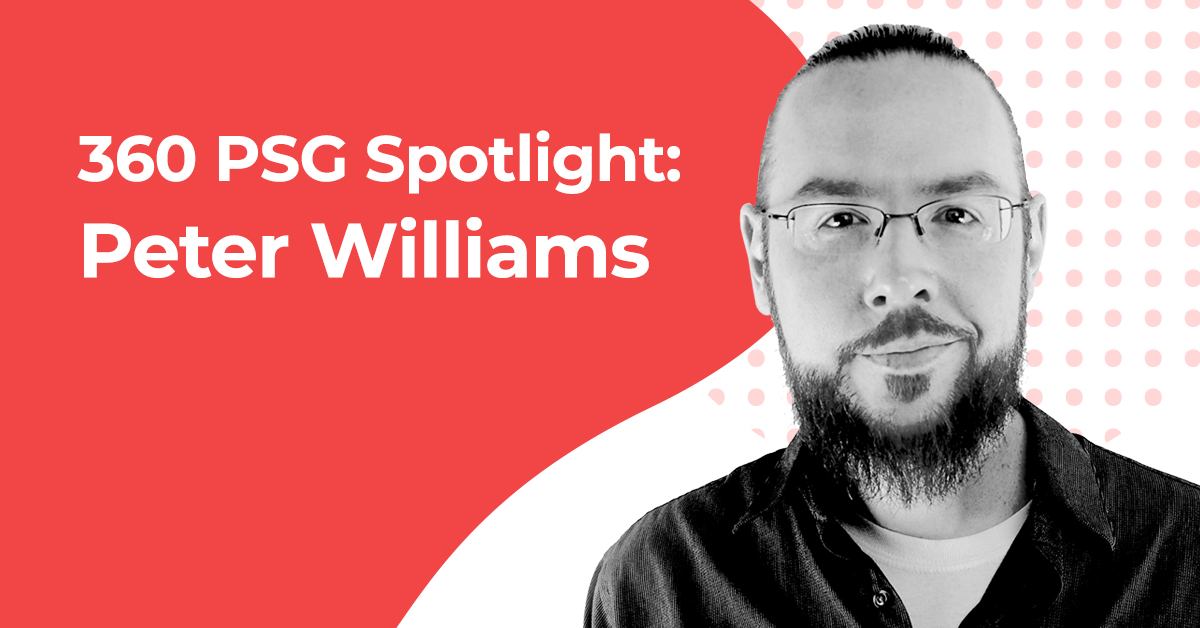 Pete Williams could probably sell you the Brooklyn Bridge if he put his mind to it—but he won't. Unless, of course, you actually need a bridge. Then he'll find you the very best bridge out there. It might end up being the Brooklyn Bridge. But it could also be the Golden Gate Bridge or even the Ponte Vecchio. It would all depend on just what kind of bridge would best suit your needs.
That's what Pete does. He figures out what you need, and then he comes up with a plan to achieve results. As an account manager, he does more than just sell products and services to clients. Instead, he sees himself as a consultant and partner, helping small and medium businesses figure out what strategies and tools will help them achieve their actual end goals.
One of the frustrations Pete encounters is that potential clients have become so accustomed to sales teams who just say "yes" to clients in order to make a sale. So when Pete starts asking more in-depth questions to get to the heart of the matter, sometimes clients are a little taken aback.
"It's kind of like being a mechanic," he says. "You don't bring your car to the mechanic and tell him what to do to your car. You bring your car to the mechanic and tell him what's wrong, and then you let the mechanic use his knowledge and expertise to fix the problem for you."
So when a client comes to Pete and tells him "I want to add SEO to my site," Pete doesn't just say OK and hand the client a bill. Instead, he has an in-depth conversation with the client, drilling down until it becomes obvious what the client really needs. In fact, Pete says that's his favorite part of his job.
"That aha moment when the client really gets the process, when I can get them to understand that what I'm suggesting is in their best interest, in their business's best interest. That's the best part of my day."
What's the worst part of his day?
"Sifting through prospects who aren't really serious, or who don't align with 360 PSG's culture, ethos or values. It can be challenging dealing with potential clients who don't see the value in what our team does—whether it's professionally designing a website, executing search engine marketing plans or creating engaging copy. We're professionals who take pride in our work, and when people come to us because we are the experts, but then don't want to listen to our expertise, it can be discouraging."
Pete got his Media Studies degree from SUNY at Buffalo, and started with 360 PSG about 18 months ago. He'd previously worked for a local multi-media company that specializes in web-based advertising, and before that he'd worked in the film industry. One of the things he's most pleased about with his current job is that at 360 PSG he's not just an order taker, but a consultant.
"So many people in this business are just order takers," he said. "But here I get to do consultative sales, and really get to the root of a customer's needs."
Generally, outside of the office, Pete can be found hiking in the Adirondack Mountains and throwing axes, but right now since he's stuck at home, under what he's calling "house arrest," his current hobbies include third-grade math, third-grade social studies, third-grade science and third-grade language arts. (Pete has a 9-year-old daughter, as well as a 3-year-old son.)
To learn more about 360 PSG's own Zig Zigler, here are 10 fun facts about Pete Williams!
GETTING TO KNOW PETE:
Favorite comic book character?
Favorite color?
What's on your bucket list?

PW: Visiting archaeological sites in Egypt

Favorite sports team?
Favorite kind of chicken wings?
What did you want to be when you grew up?

PW: Professional baseball player

Favorite movie?
What's your next read?

PW: Adjustment Day by Chuck Palahniuk

Favorite vacation destination?
Favorite song?

PW: "Ramble On" by Led Zeppelin