9 Reasons Why Visitors Are Leaving Your Website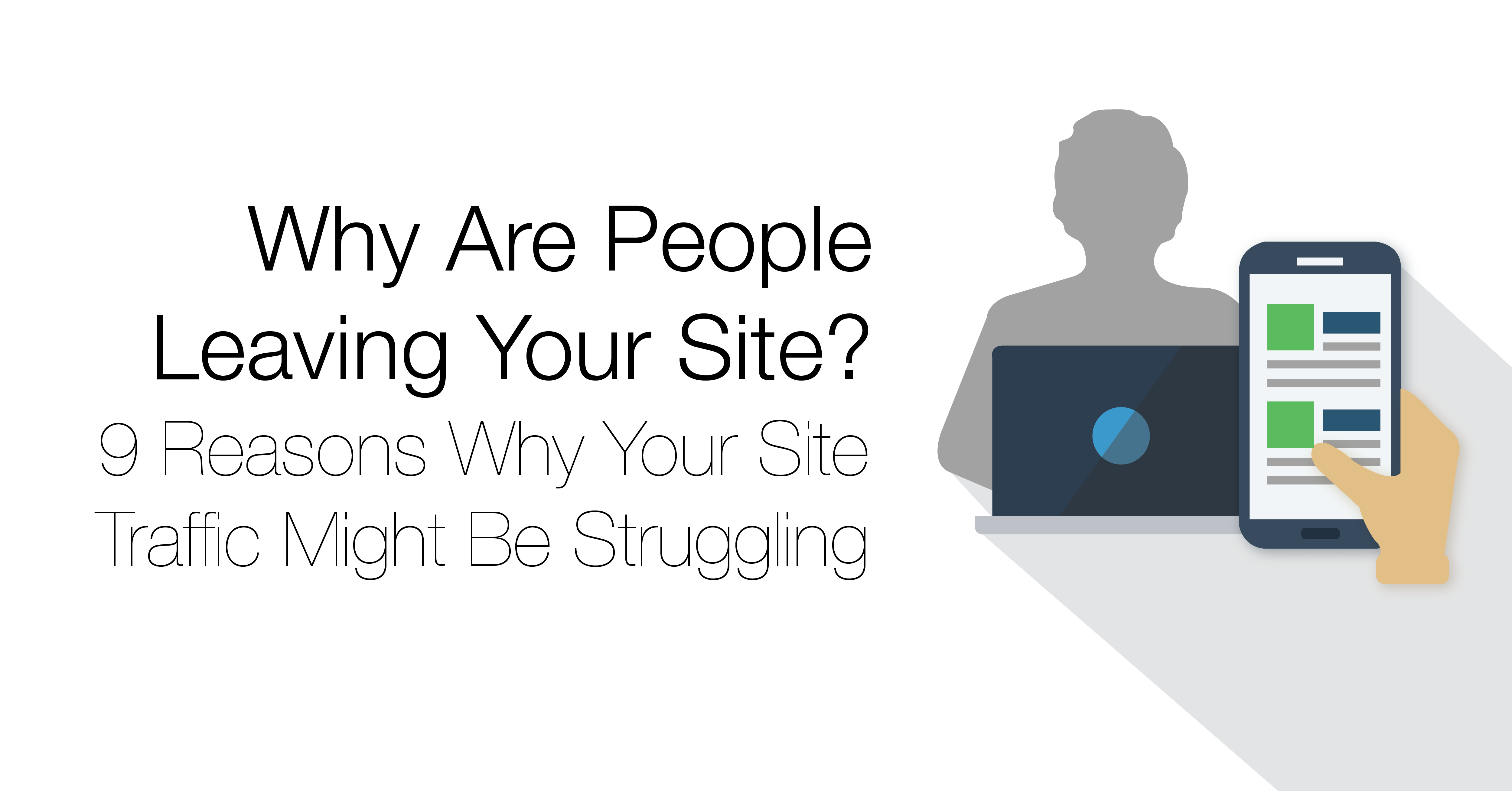 The whole point of having a website is keeping visitors on your site. With so much competition on the Internet, your website not only needs to look great but it has to hold potential customers' attention. If you're anything like us, you know the importance of a good bounce rate. For those unfamiliar, the bounce rate is the percent of sessions in which the person left your site from the entrance page without interacting with the page, according to Google. Sometimes though, even after a redesign, your bounce rate might still be high. Not sure why? We've rounded up 9 reasons why visitors might be leaving your website:
1. Your site appears broken in their browser
Unless the browser in question is Internet Explorer 9 or older, there's really very little excuse for poor browser compatibility. Check your site for errors in all the major browsers, especially if custom programming is involved. This includes mobile devices as well.

2. Your site is taking forever to load
If your website takes more than a few seconds to load, your visitors will already be gone. Compress your files and images and eliminate bloat. For specific recommendations from Google on how to improve your load time, check out Google Developers PageSpeed.

3. Your site is still using Flash (ugh)
If you're still using Flash, it's time you redesign your site. Period. Flash is not compatible with mobile devices and your website needs to be. Why? ComScore reported in 2014 that mobile internet consumption has finally surpassed that of the desktop computer. And if you've paid attention to the news this year, you probably heard that Google came out with a report stating mobile surpassed desktop searches in 10 countries.
4. Your site features songs or videos that play automatically
You may think this is awesome, but you're probably the only one. Not only will this slow down your site's load time, but it has the potential to drive your visitors away... especially if there's not a clear option to turn off the sound. Explainer videos may be the exception to the rule here. But again, they should default to "off" and give your visitor the option of pressing "play." Or have the ability to play but be on mute, with the option of the viewer to turn on the sound.
5. Your website is not mobile friendly
There's really no way to avoid this anymore - if you do not have a responsive site you will lose visitors and your bounce rate will sky rocket. Mobile users are searching the web from their phones more often than their computers and the numbers are likely to increase over time. Additionally, in April of 2015 Google announced changes to its algorithm so that responsive sites rank higher than sites that aren't mobile friendly. Therefore, if you don't have a responsive site, not only are you losing traffic but Google will actually dock your ranking. Neither of these are positives, so bite the bullet and get a responsive website.
6. Your site is covered in advertisements
We get that you need to monetize your website, but there's a right way and a wrong way. Plastering your site in ads or allowing pop-ups is the wrong way. A nicely designed "sponsors" section is the right way. For a great example of the latter, check out Smashing Magazine.

7. Your design leaves something to be desired
You may love your website design from five years ago but chances are that new visitors will not. You could be blowing your first impression and not even know it. If your website doesn't look like it has been touched in years, new visitors may wonder what else isn't current and choose another brand that looks more relevant.
8. Your visitors can't find what they're looking for
This is a biggie. If your visitors cannot find what they're looking for, they're almost certain to go somewhere else where they can get the information they need. Keep your navigation simple and straightforward by using common menu-structures and choosing page names that relate to the content. You can also help drive traffic to specific pages by using strategically placed calls-to-action. Always put user experience first!
9. Your content just isn't cutting it
The most important thing you can do when it comes to copy is to provide high-quality, relevant content. If writing isn't your thing, pay a professional or if your budget is tight, ask a friend or family member for help. There is simply no room for poor grammar, typos, or spammy content in today's web, and your visitors won't tolerate it. They'll just hop on over to another business that knows what good content is and how to use it.
Want to get Started on a Website Redesign? Contact 360 PSG Today!