Campaign Tagging Your Links: How UTM Codes Work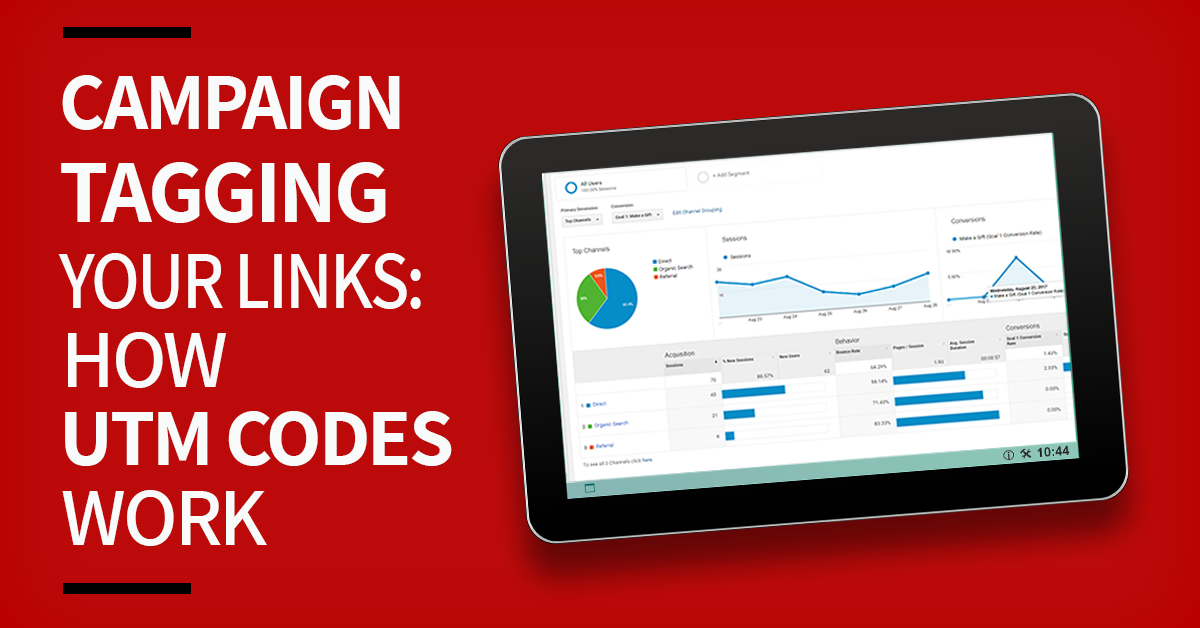 Do you know which online medium is providing the most traffic and conversions to your marketing campaign? If the answer is yes, then you probably don't need to keep reading, but if your answer is no -- consider implementing tagged URL's or UTM (Urchin tracking module) codes into your web marketing strategies. Tagged URLs allow you to track results of social, search, and email using "link tagging" to provide in-depth campaign data. By tracking your tagged URLs into Google Analytics, you can track conversions, traffic, how long your site was visited -- pretty much anything. Understanding the performance of a campaign is paramount in making necessary tweaks to optimize its outcome.
So, what are the benefits?
Well, arguably most important, tagging links allow you to see where your traffic is coming from. Whether it's a paid advertisement on Facebook or a link in an email blast, campaign tagging tracks activities taken using your coded links. Tagging links can provide a campaign with very helpful answers to questions that are commonly asked by clients and marketers alike. Using codes inside the URL, your links will paint the picture of how traffic is coming to you, how it's getting there and why. This type of information is invaluable in any marketing campaign, offering insight on what mediums are more effective, where to allocate more budget and many other influential factors.
How does that work?
Coding your links to provide data in Google Analytics starts off by using four primary elements, or parameters. These codes are used inside a link to label the route of traffic from a campaign. The parameters include:
Source - Where is traffic coming from? (i.e. which social network: Twitter, Facebook)

Medium - How is traffic coming to me? (i.e. which medium: social media, email, search)

Content - (Optional parameter to track additional data for A/B testing, content-targeted ads)

Campaign - Why is traffic coming to me? (i.e. paid ad, email blast, blog)
You may not know it, but you're likely clicking on tagged URLs while browsing social media. The blog you are reading now is campaign tagged! To give you a visual, here's a screenshot of the URL for this blog if it were coming from Facebook. The UTM parameters are highlighted in red:

These codes will inform Google Analytics how to sort your incoming campaign data. How does one use these parameters to actually tag campaign links? Generally, marketers will use URL generators or templates, because typing out a tagged URL is not only time-consuming, it can cause room for error (like broken links). Google offers a helpful URL builder to create custom tags for your campaign URLs. Once tagged links are created, you simply place them into your ad, email blast or any appropriate marketing mediums that you want to track. After utilizing a URL builder to implement your tags, Google Analytics will provide data from the results in its Acquisition reports, which is broken down here. The value of tagging your campaign is undeniable. Having close to real-time insights on the success of your online campaign provides the opportunity to adjust and enhance it per your data findings. Don't let chance determine the success of your campaign -- take control with campaign tagging.
Now what?
Understanding the basics of URL or UTM tags may take some time, but Google provides a wealth of resources for support. Once you're accustomed to generating tagged URLs, you can build or access templates online to organize each campaign and the tags associated with it. Campaign tagging and Google Analytics are necessary tools for measuring the success of any digital marketing campaign. Not sure how to get started? At 360 PSG, each of our campaigns are tagged and tracked in Google Analytics for key insights on optimal performance. Contact us today to get started on a digital marketing campaign catered to your business needs, with tagged URLs to back it up.