Celebrating Women's History at 360PSG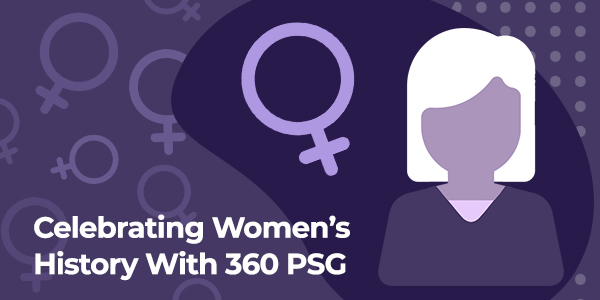 The national celebration that started out in 1982 as Women's History Week has blossomed into a monthlong event, with institutions as storied and varied as the Library of Congress, the National Park Service, the United States Holocaust Memorial Museum and the National Gallery of Art commemorating Women's History Month.
We at 360 PSG also wanted to recognize the vital role of women in American history by highlighting a few of our female clients who run businesses and create positive change in their communities. We sat down with Marlies Y. Hendricks, CPA and Rachel Rubin and Tami Astorino, the co-creators of Rise Gatherings, to get some insight on the challenges of being a woman in the business world.
Hendricks is a self-proclaimed "mover and shaker" with 20+ years experience as a public accountant. She specializes in cross-border tax preparation and accounting services, with offices in Buffalo, NY; Wilmington, NC; and Toronto, Canada.
Rubin and Astorino co-created Rise Gatherings, a woman-focused weekend retreat experience focusing on nature, movement and fellowship. Rubin's background in public relations, coupled with her certification as a fitness instructor, dovetails nicely with Astorino's previous work as a school counselor and mentor for adolescent girls. Together, they've been bringing women workshops on all aspects of well-being since 2017.
What advice would you give to young women who want to succeed in the workplace?
MH: Carry yourself with confidence!
RR: Be courageous. Recognize that what you have is a gift only you can share.
TA: You are exactly where you are supposed to be. There is no one right way, no one right path. Standards are impossible, especially in today's Instagrammable world. Everyone, absolutely everyone, has imposter syndrome.
What is the best part about being a female business owner?
MH: I think the best part of being a business owner is equally applicable to women and men. I like the flexibility of being able to choose my own hours, my own staff and my own clients.
RR: I like being able to use my creativity to craft my vision for my business. I love connecting with our audience.
TA: I like being able to rely on my feminine energy. For thousands of years women survived by sharing resources. We still need to do that to thrive, it just looks a little different today. Advice, referrals, support, creative synergy. When we invest in ourselves and other women, we create a ripple effect that serves the world.
And the hardest part?
MH: Not being taken seriously. People pay more attention to the way women dress. So we have to be conscious of that, make more of an effort just to be taken seriously, to be considered professional. When it comes to our appearance, women are always "on," always being judged. It's also hard to compete with male voices, especially when you're one of many in a room or at a meeting. You get talked over.
RR: I feel like there are less opportunities for women to be exposed to how businesses are run. We aren't given the skills, don't have the know-how when we start out. There's not much in the way of training.
TA: Definitely leadership and ownership challenges. One hundred years of progress doesn't undo 1,000 years of disenfranchisement. Women are up against a lot, from both men and other women. There are all these ideas we inherit, assumptions about women's capabilities, intelligence, lifestyle. Even if we feel confident and empowered, these stereotypes can lead to an incongruence of self.
Can you tell me about a time you were underestimated because you are a woman?
MH: Definitely when I was younger. You have to understand, I was senior management at 23. I looked young; I was young. I felt like I had to prove myself, and I think that feeling disproportionately affects women. It's easier for men to get their foot in the door. There's an automatic respect that isn't always extended to women.
RR: I wouldn't say that I was underestimated, but there were definitely people—people who were close to me—who expressed lots of fear about my ability to sustain myself, support myself. And I think that's rooted in the patriarchal model.
TA: People underestimated how serious I was about starting this. They didn't appreciate how much work I was putting in. This was a huge risk, and I was working harder than ever before, but people were expecting my "second act" to look different somehow.
Do you think women feel intimidated in the business world? If so, why?
MH: It can be difficult to get started. Women don't have many mentors. There's this "guy's club," where men can just sit down together, and have a beer. Women tend to have more responsibilities outside of work, which makes them more considered when it comes to how they allocate their time, and to whom. In the end, this means there's less woman-to-woman time.
RR: Business leadership is a learned skill for most women. It's not something society considers to be aligned with femininity, so there are fewer role models for us. We don't get primed the same way men do. We grew up watching our dads be the breadwinners. It's not surprising that the majority of business school attendees are men.
TA: Oh, absolutely! I mentioned imposter syndrome earlier. That's such an issue for women. Society teaches girls about perfection, about having to be perfect, and that gets in our way. Boys are raised to be more spur of the moment, and are rewarded for the effort more so than the result. Girls end up waiting for things to be perfect, and there is rarely a perfect time for any venture!
What have you learned about leadership, entrepreneurship and mentoring others?
MH: Be a leader, not a boss. It's really important to embrace a participative style of leadership. To get in there and roll up your sleeves.
RR: Business is based on relationships and connections. Building trusted relationships leads to business success. Also, learn from the partnerships you create. Use one another's skills in a complementary way.
TA: Comparison to others is detrimental. The world needs all of us to be ourselves. We can't be all things, so focus on your strengths.
What has been your greatest professional accomplishment?
MH: Being a North American accountant; offering my skills to people in all 50 states and the 10 Canadian provinces.
RR: Creating a space for women to come together and connect with themselves and others. Getting to witness the transformation in others.
TA: My work with youth through Moving Traditions. I led a teen group for seven years. I watched these girls grow, and participated in their lives from when they were 11, to when they were 18. They are all in their 20s now, and we're still in touch.
Are there any resources—books,blogs, podcasts—you rely on?
MH: Not that I can think of.
RR: Red Table Talk, which is hosted by Jada Pinkett Smith, her daughter Willow and her mom Adrienne. I like how they have relatable conversations about everyday issues affecting our communities. And of course, Rise TV!, our new series that features discussions on different wellness modalities delivered via seven minute videos.
TA: I'm a podcast junkie! NPR's How I Built This, Psychologists Off the Clock, The Rich Roll Podcast. Anything about personal health, really. I also love Seane Corn's Revolution of Soul. It's on the table next to my bed right now.
Is there a woman you admire?
MH: Melania Trump. She's classy and graceful, and gets things done without being showy.
RR: Tami. I'm lucky to have her as a business partner. I appreciate the groundedness she brings to Rise Gatherings. And of course, my wife Tink—who acts as our associate director.
TA: The matriarchs of my family. My mom was a community leader who worked and parented with such kindness. I call her everyday. Also, Oprah. After school, my best friend and I would watch Oprah together. I was really impressed with how she treated everyone with dignity and respect, regardless of whether they were famous or not. The real-life conversations she had on her show inspired me to have similar conversations in my own sphere.
Your go-to inspirational/motivational quote?
MH: "Be bold and courageous. When you look back on your life, you'll regret the things you didn't do more than the ones you did." That's suggestion #19, from H Jackson Brown, Jr's 21 Suggestions for Success.
RR: Honestly, I listen to my body more than anything. My inner compass points me in the direction I need to be going.
TA: "Someday" is right now!
Charitable organizations you support?
MH: Veterans, always. The police in both New York and North Carolina. My church.
RR: Through Rise Gatherings, we've created a long-term partnership with Days for Girls International, which empowers girls and women worldwide through sustainable menstrual care and health education. Day for Girls International provides safe, washable, long-lasting menstrual products so that girls can have access to consistent, uninterrupted education.
TA: I'm still involved with Moving Traditions. In fact, I sit on the organization's Board.
20 trailblazing American women:
Elizabeth Blackwell becomes the first woman in the US to receive a medical degree. (1849)
Antoinette Blackwell becomes the first American woman to be ordained as a minister in a recognized denomination. (1853)
Victoria Woodhull is the first woman to run for US president. (1872)
Sarah Winnemucca becomes the first Native American woman to publish a book. (1883)
Marie Owens becomes the first female police officer in the US. (1891)
African-American Maggie Walker becomes the first woman to charter a bank in the United States. (1903)
Entrepreneur Sarah Breedlove (Madam CJ Walker) becomes America's first self-made female millionaire, selling hair care products catering to African-American women. (1919)
American novelist Edith Wharton, who wrote The Age of Innocence, Ethan Frome and House of Mirth, is the first female recipient of the Pulitzer Prize for fiction (1921).
Bessie Coleman becomes the first African-American woman to obtain a pilot's license. (1922)
Social worker and founder of Hull House, Jane Addams is the first woman to win the Nobel Peace Prize. (1931)
Frances Perkins is named Secretary of Labor under FDR, the first female member of the cabinet. (1933)
Felicitas Mendez spearheads the movement to desegregate public schools in California. (1946)
Native American Maria Tallchief becomes America's first prima ballerina. (1949)
Roberta Gibbs is the first woman to finish the Boston Marathon, but her accomplishment isn't recognized since women were prohibited from running the race until 1972. (1966)
Katherine Graham becomes the first female CEO of a Fortune 500 company. (1972)
Janet Guthrie is the first female driver in the Indy 500. (1977)
Sandra Day O'Connor becomes the first female Justice of the Supreme Court. (1981)
Chinese-American undergraduate Maya Lin wins the design competition for the Vietnam Veterans Memorial. (1981)
Aretha Franklin becomes the first female inductee to the Rock & Roll Hall of Fame. (1987)
Kathryn Bieglow is the first woman to win a Best Director Oscar. (2010)