Client Talk: 3 Most Frequently Asked Questions For An Optimization Campaign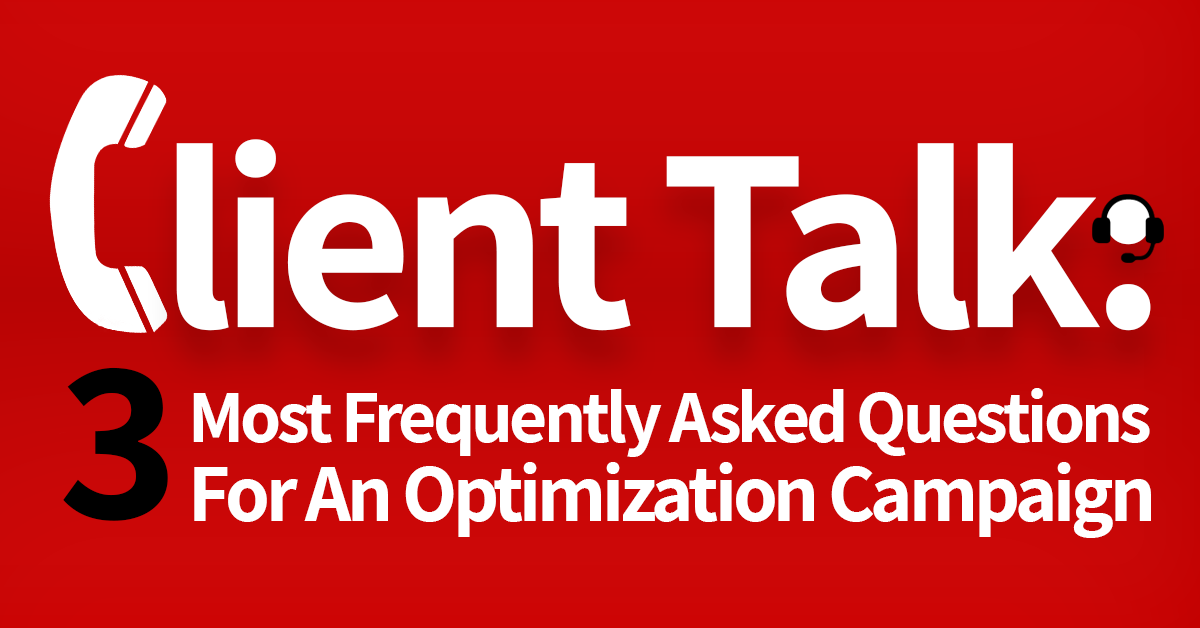 On a typical day here at 360 PSG, we're working with clients located all over the country. In a single day, our team can be on the phone with a window restoration company in Boston, MA and an hour later, be chatting with an HVAC contractor in San Jose, CA!
While there's a need for search engine optimization for every business, each client's strategy is different because every business has a unique service or product and a different target market. Our experts have the job of finding what works best for each client and tailoring the strategy to meet those needs. It's no secret that boosting search engine visibility for any business, from Boston to San Jose, requires a team effort.
We've compiled a list of the top 3 questions that our team gets asked the most:

How will results and ROI be measured?
As most clients know, this is vital in order to be able to determine the success of your campaign. We want to be transparent and clear with you about your marketing goals, expectations and budgets.
For years, companies did not have answers to questions concerning a marketing campaign's effectiveness with the exception of actual sales. We at 360 PSG know that is no longer the case. Our team works with every client to determine their goals and expectations out of the campaign. Our goal is to use every tactic possible to track and deliver results for your campaign. We find that the majority of campaign goals set by our clients are focused on increasing the number of leads, e-commerce transactions or brand promotion.
At 360 PSG, we define a lead as a potential new customer reaching out to the company through our optimization tactics. During your campaign, we set up, track and monitor conversion goals throughout your entire website. This allows us to track and show our clients specifically what source provided your lead. For example, a new lead could be a doctor's office finding new patients to call their office, or a taxi company looking to make more online reservations. Whatever your objectives are, we will work with you to make sure the proper goals are being set.
E-commerce is the term for any type of business, or commercial transaction, that involves the transfer of information across the Internet. On our Fission Operating systems, we are able to offer the ability of e-commerce. Buying and selling goods on the Internet is one of the most popular examples of e-commerce. With e-commerce, we are able to track results by shopping cart additions and completed transactions.
As mentioned previously, a campaign goal does not always need to be financially motivated. At 360 PSG, we believe that brand promotion is a key element in showing potential customers the benefits of your product or service. Brand promotion is the voice of your company; a well-designed brand strategy ensures long-term success as you are able to increase brand awareness, provide correct product or service information, increase customer traffic and build your sales. A successful brand campaign will also allow your company to introduce new products or services easily into your competitive market.
We pride ourselves on giving you quality leads that will help your business continue to grow, alternatively, if a campaign tactic did not deliver the results as expected, we will discuss this with you and have a plan of action for the next steps. Rest assured that we will not keep the data we received on an unsuccessful campaign hidden.
What can we do to support your optimization strategy?

Optimization strategies require a team effort and active participation from the client as well. A good amount of our tactics require the property to respond in some way. Whether it's us asking a client to reach out to organizations or affiliates for link-building possibilities, or correcting citation errors on referral websites. We want to create the best possible results with your optimization campaign, and having correct content to work with for your services is an integral part of that.

Secondly, did you know that 92% of consumers now read online reviews? One way to separate yourself from your competitors is to have every customer write you a review. Review platforms to consider include Google, Bing, Facebook and Yelp. Not only will this will help search engines decide which results to show on page 1 versus page 3, it's going to show the most relevant result to the searcher looking for, "the best HVAC company in San Jose."

What is the algorithm, and why is Google's so hard to crack?

You'll typically hear us refer to Google's algorithm every now and then, especially when you ask us, "why aren't we ranking?" The exact details of Google's algorithm will always be a mystery, as they change their algorithm over 300 times a year. With the ever-changing algorithm, 360 PSG has partnered with Google for continuous education on strategies that push our clients to the top results for search queries.
Let's break it down a little bit deeper. Google offers a service just like your business. Google's service is to supply the best results for a searcher's query in the shortest amount of time possible. When Google crawls your website with their algorithm, they want to know every piece of credible information about your business; so they may confidently present the searchers with relevant information that they'll find useful. Results that are found on the first page have a higher score with Google than those who appear on the 10th page.
Strategic work takes time and development. Here at 360 PSG, we don't believe in speeding through the development stage. It's like cramming for a test; you're going to miss information that's necessary for a good grade.

Want to learn more about optimization?