Inspire Your Social Strategy: The Best Brands on Social Media
All news breaks on Twitter. Sure, you might hear about it by reading the daily paper or watching the evening news, but the reporter who broke that story put it on Twitter before anywhere else. That's because social media is instantaneous, and nearly 4 billion people use it. That's roughly 60 percent of the entire world's population. So you can imagine that a strong social media presence is an important aspect of growing your brand.
Despite all that's currently going on in the world, it's imperative to keep your company's focus on the future. Here are some of the best brands on social media to give your social strategy some inspiration: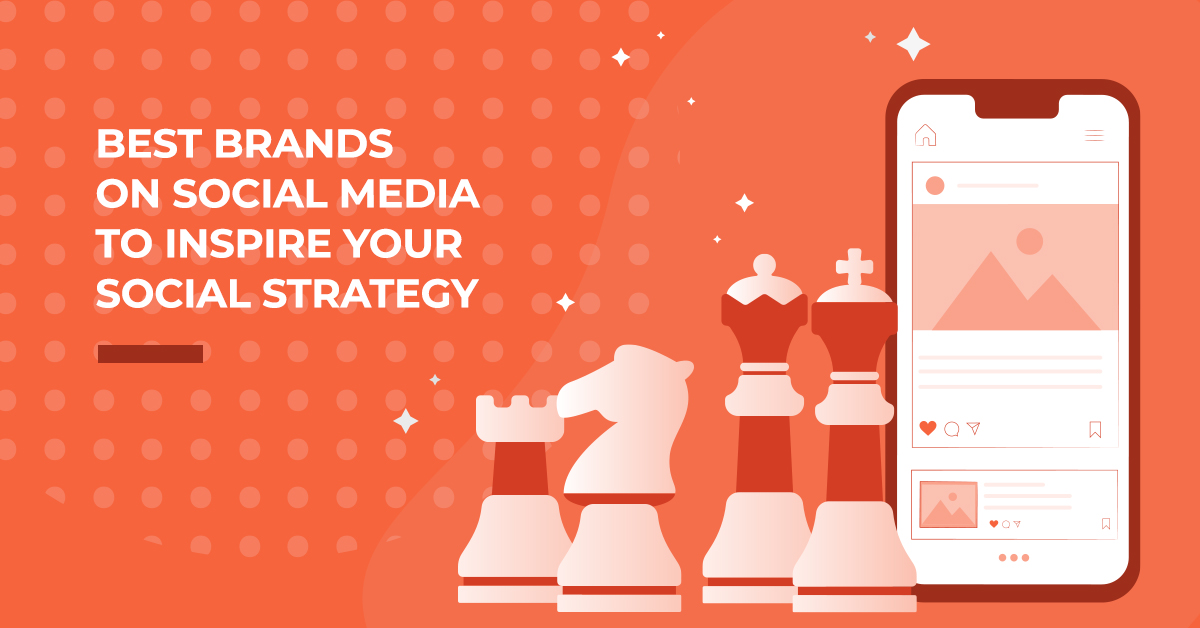 GoPro
Known for high-quality cameras that can take a punch, GoPro is all about inspiring people to celebrate the moment. Their products allow you to capture any moment for eternity with cameras that shoot stunning 4K photos and videos. There is never a social media post without some sort of visual.
What this brand does best: Appeal to a younger, more daring audience. They encourage participation on social media while also showing the amazing things the products can do by sharing photos and videos from users. GoPro uses its own customers as its advertisers.
Twitter: 2.2 M
Instagram: 17 M
Facebook: 10.8 M
Nike
This globally iconic brand focuses on its athletes. Nike never pushes products on its main @Nike platforms, but instead tries to inspire others by hashtagging the famous "Just do it" slogan. Pushing a "Nothing is impossible" mindset makes customers think that with Nike, they can do anything they set their mind to.
What this brand does best: Push a mindset rather than a product. By choosing this route, Nike sells its products by letting customers feel inspired to achieve greatness. Quotes like "It's only crazy until you do it" inspires people to buy in on themselves, which can lead to buying in on Nike.
Twitter: 8.1 M
Instagram: 106 M
Facebook: 33.8 M
---
Pop-Tarts
A hilarious Twitter account gives their social media an identity and personality, which so many brands lack. In a world where most brands are very professional on social media, Pop-Tarts chooses to be different with edgy posts that may chase away some, but will bring in more.
What this brand does best: Pop-Tarts uses its wit and sarcasm to appeal to a young demographic. This company understands its target audience is mainly young people, and adjusts accordingly. In a time when a choice to be professional can also be a choice to be boring, Pop-Tarts chooses to be different.
Twitter: 218 K
Instagram: 340 K
Facebook: 4.2 M
---
National Geographic
From magazines to cable tv channels, National Geographic is number one when it comes to anything about the world and the people and animals in it. From stories about families in war-torn countries to raising awareness about an endangered species, this brand uses all of its social media platforms differently. Twitter is used to share knowledge through article sharing that will bring users to the website. Instagram tells stories through amazing photography, and an unlimited character count helps bring the viewer into that very moment.
What this brand does best: Utilize all of their resources. They understand what information is best shared where, and they take advantage of a following that is willing to learn. Journalists will occasionally take over the main Twitter account to talk about a relevant issue and educate the readers. @NatGeo even has a little fun, tweeting about #SuperbOwls on Super Bowl Sunday.
Twitter: 23.8 M
Instagram: 133 M
Facebook: 46.3 M
---
Starbucks
It's important to make a point of engaging as many followers as possible. Starbucks does just that, while also providing a wealth of information (store locations, job opportunities, etc.)
What this brand does best: Entices followers with visually appealing posts. Starbucks makes mouths salivate with gorgeous pictures of its speciality drinks. Great use of photo editors makes every menu item look delicious, and seasonal beverages help to keep fresh posts coming year-round.
Twitter: 11.2 M
Instagram: 18.4 M
Facebook: 36.8 M
---
Wendy's
Another brand very aware of its young following. A few years ago, a kid tweeted at them asking how many retweets he needed for a year of free chicken nuggets, to which they replied, "18 Million." Needless to say he got the retweets and they granted his wish of free nuggets. But during the whole process, Wendy's was a hit on social media, and it helped brand growth tremendously.
What this brand does best: The Twitter bio says it all: "We like our tweets the same way we like to make our hamburgers: better than anyone expects from a fast food joint."
Twitter: 3.6 M
Instagram: 1 M
Facebook: 8.4 M
---
Red Bull
Constantly posting videos of people doing insane stunts in Red Bull gear, this energy drink conglomerate embraces energy, and goes above and beyond the norm to provide raw content. The message is simple: if you drink Red Bull, you'll have the energy and ability to do crazy stuff too.
What this brand does best: Everything posted is aimed at daredevils, and if you aren't a daredevil, you'll feel like you should be.
Twitter: 2 M
Instagram: 13.3 M
Facebook: 48.5 M
---
JetBlue
This airline excels in customer service and is constantly interacting with followers by paying close attention to Twitter mentions. In a world where people are always complaining about airline service, JetBlue goes above and beyond with its social media to set the bar.
What this brand does best: Listens. JetBlue listens to its customers, and tries to make up for any wrongdoings. Rarely will you see a brand be so active on social media with customer service, but JetBlue takes it to the next level. This is how brand loyalty is created and sustained.
Twitter: 1.9 M
Instagram: 405 K
Facebook: 1.4 M
---
Dollar Shave Club
Now here's some humor aimed at adults. It's easy to be funny on social media if the target is mainly young people. But adults? Not so easy. Intellectual humor is tricky, But Dollar Shave Club makes it work.
What this brand does best: Dollar Shave Club thinks outside the box with every post. They can take something completely irrelevant, like Russian Emperor Peter the Great, and compare it to shaving. While all of the humor is aimed at adults, they have a mindset of not really caring if you think they're funny or not, which makes the humor seem so natural and effortless.
Twitter: 84.7 K
Instagram: 236 K
Facebook: 3.7 M
---
Burt's Bees
A classic example of a brand that knows the importance to always be posting. They constantly put videos and pictures on social media to show consumers how to use certain products, which isn't just helpful—it makes the products more appealing. They monitor Twitter mentions and reply often to people to make sure everyone is satisfied. Gift cards have been known to be sent out to unhappy customers.
What this brand does best: Pictures and emojis. Burt's Bees is always posting pictures of various products, and every post has at least one emoji, giving off a fun, hip vibe.
Twitter: 105 K
Instagram: 611 K
Facebook: 3.3 M