Keep Your Workers Busy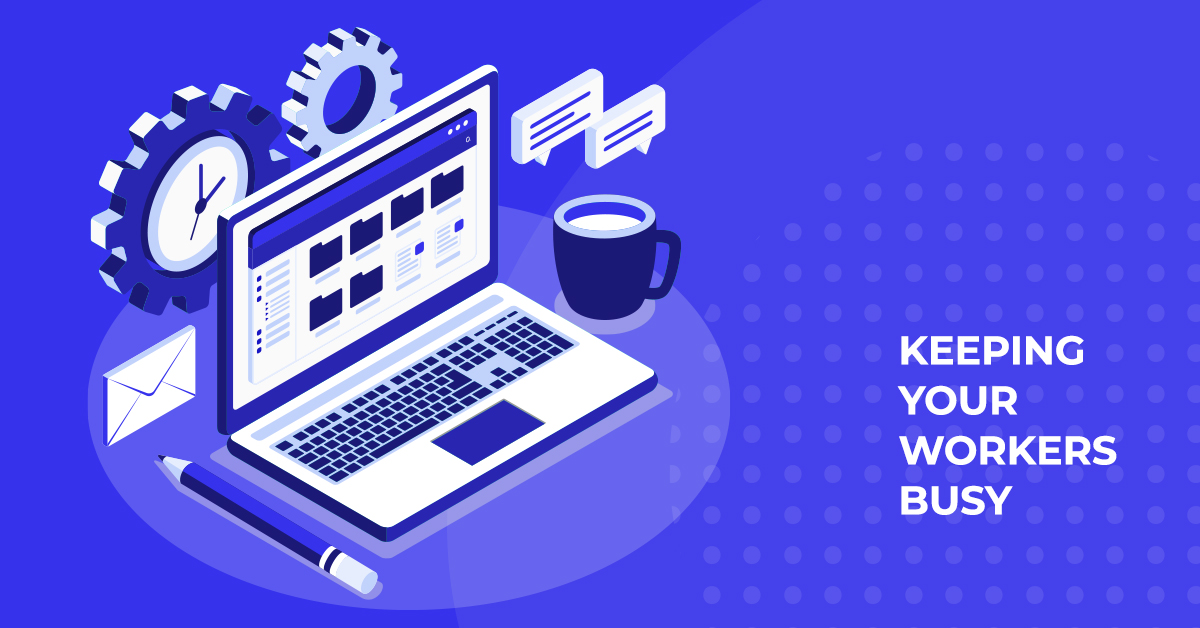 With the government now offering business incentives through the recently passed CARES Act (Coronavirus Aid, Relief, and Economic Security Act), many of them are doing everything they can to keep employees on the books during this unprecedented time. However, since most states are requiring "non-essential" employees to remain home, there is a limit on what tasks employees can perform. However, there are still plenty of ways to keep busy and productive. Here are 7 tasks that can be done during downtime:
Work on backlogged projects
Instead of laying off workers, the National World War I Museum and Memorial in Kansas City, Missouri has tasked its employees with transcribing nearly 10,000 pages of digitized letters, diaries and journals. While you may not have documents that need to be digitized like the museum does, you probably have a project (or an idea for one) that's been on the back burner for a while. If it's something that can be worked on during this time, set it up!
Participate in an on-line training
Many seminars that had originally planned as live events have been converted to on-line sessions. See if any have been planned for your industry. In fact, now that the events are being held remotely, a seminar or training that might have otherwise been impossible to attend may actually be a possibility now. Alison offers a range of courses in everything from lifestyle and health to business and technology. The Adobe Education Exchange offers free professional development and resources to help people interested in learning more about digital design, and MIT's OpenCourseWare can help employees learn new languages, both foreign and computer.
Embrace Inbox Zero
Many people mistakenly believe that Inbox Zero just means opening an email and archiving it immediately. However, the actual concept is more nuanced. Merlin Mann, the inventor of Inbox Zero says the key to keeping on top of email is to realize that inboxes are actually everywhere. Mann defines an "inbox" as anything that puts a demand on your time, such as social media, phone calls and apps. Instead of fragmenting your attention throughout the day, leaving you distracted and stressed, the concept of Inbox Zero allows you to focus on information that actually matters to you, and simply dismiss the rest. Part of that is to keep your inbox tidy, which you can achieve by following these recommendations:
Don't leave your email open; instead, check it at specific times during the day.
Delete or archive as many new emails as possible.
Forward emails that could better be answered by a colleague.
Immediately respond to any email that requires less than two minutes of your time.
Move messages requiring more time to a separate "requires response" folder.
Set aside time each day to tackle the emails in the "requires response" folder.
Update Inventory Descriptions
If your inventory numbering and naming system is haphazard, now is a great time to revamp it. When assigning inventory numbers to items, here are a few tips to keep in mind:
DO use both letters and numbers in the inventory system. This makes for more understandable item numbers and increases the options.
DO NOT use letters and numbers that can be easily confused, such as zero and the letter O, or the number one and the lower-case L.
DO use letters at the beginning to help identify the product type: BOK for books, MAG for magazines, POS for posters, etc.
DO NOT try and assign meaning to numbers or strings of numbers, as this will only complicate the inventory system.
DO keep the item numbers short; around four to eight digits is ideal.
DO NOT replicate a manufacturer's part or serial number as an internal product number.
Once all the products have been assigned inventory numbers, it's time to create new descriptions. To do this well, remember that every description should start with a noun (what the item is, like a shirt or a food item), followed by adjectives (which describe the item, like its size, color or flavor) in order of importance. For example, a snack company might list popcorn, buffalo cheddar, small and pretzels, hot mustard, large. Item descriptions should be unique, but should not contain unnecessary information. Additional information about manufacturer, vendor, country of origin etc. should be stored in the details section.
Take new photos
While certain industries really call for the skills of a professional photographer, in other instances well-composed amatuer shots of products will be all your business needs. This period of downtime would be a great opportunity to update your photos. Unfortunately, many companies don't put enough though into arranging the photos, resulting in poor images. And poor images lead to fewer sales. In fact, 75 percent of online shoppers rely on product images when making a purchase. In order to produce the best photos possible, remember these helpful tips:
Make sure your product is clean, as photos will magnify any dirt, dust or blemishes.
Use a solid, neutral background for your photos.
Use even lighting, either natural light (outdoors) or multiple light sources (indoors).
Avoid using flash, especially for close-ups.
Keep your camera steady by using a tripod.
Use the medium setting on your camera, if it has multiple settings.
Make sure your item fills the frame.
Shoot the primary image at an angle to reveal depth.
Include photos that show relevant features.
Show scale for small items.
Get organized
Inefficiency is expensive. Full-time employees waste $88 billion a year searching for misplaced files on their computers, and another $89 billion looking for items on their desks. Beyond cost, disorganization also negatively impacts creativity and stress levels. This downtime is a good opportunity to introduce some workplace efficiency. Clean out Google Drives, organize files, declutter workspaces and tackle any other unorganized areas.
Brainstorm for the future
This crisis is going to end, but when it does, the business landscape is going to have been transformed. COVID-19 has altered the economy, consumer behaviors and what customers value. To thrive in this new environment, businesses will need to be agile and adaptive, identifying both opportunities and threats. The best resource for pinpointing areas to focus on are employees. So ask for ideas on what your business could look like. Set up a group brainstorming session using office-sharing software and evaluate any suggestions for feasibility.
As plans are made to return to the "new normal," remember that this isn't about returning to where business was. This is about reimagining.
To learn how 360 PSG can help your company be prepared for increased reliance on digital marketing and ecommerce, please get in contact with us.