Landing Pages are Important for First Impressions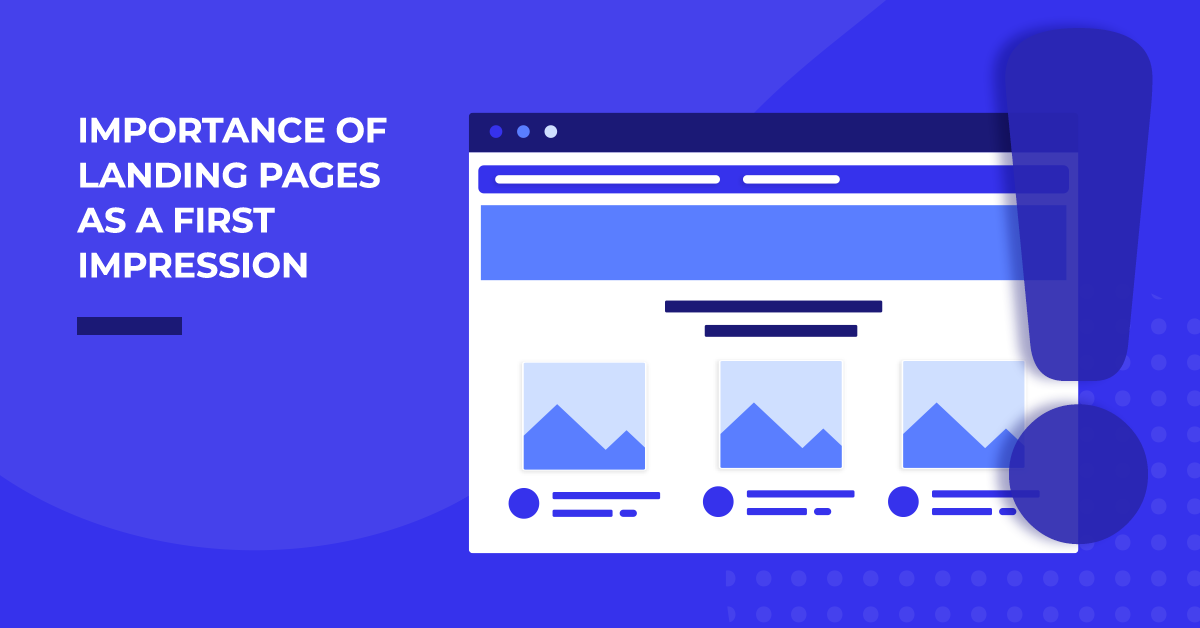 A reader generally makes the decision of whether or not to continue reading an article somewhere in the first sentence of the first paragraph. When surfing the internet, a user will make the decision of whether or not to stay on a web page within the first 10 seconds. The average human's attention span is currently at a record low of eight seconds, and while that's only three seconds longer than a goldfish, that's only a small part of the reasoning behind why we may choose to bail on something so quickly.
In today's day and age, everyone has some sort of agenda. Whether we're searching on the internet for something in particular or simply doing mindless browsing, our brains are always on a mission, even if we aren't aware of it. So when clicking on a link after running a search, we decide almost right away if the page is worth our time or not, thus highlighting the importance of a well-crafted landing page.
What is a landing page?
A landing page is a search engine optimized web page crafted to address the result of a search by a user. The page is a response to a click, displaying information about a given topic that the person was looking for. Each landing page is created to be a strategic sales copy designed to answer various quotations, with the ultimate goal of selling the reader without making them look further on the website to find what they are looking for. If the user in fact does not find what they are looking for, then not only have they left the landing page, but they've left with a bad impression.
Why does the first impression matter?
Take everything you know about the saying "Don't judge a book by its cover," and throw it out the window. Your company will not be receiving a second chance if you don't immediately meet the needs of the person who has landed on your page. When crafting these pages, it's important to be mindful of the fact that whoever lands on this page has a very specific goal in mind. It's your job to know what that goal is, and optimize the page accordingly.
Say you meet the need of the person that landed on your landing page. What are positives of this situation?
The individual found what they were looking for and had their needs met, giving them a good first impression of your company.
Your company will likely gain revenue if the person chooses to purchase an item or service.
Since your company has succeeded in helping the person find what they are looking for, it could result in the individual spreading their satisfaction through word of mouth.
Once a customer has made a purchase, there is a 27 percent chance they will be a returning customer and make a future purchase.
Let's flip the script. What happens if you lose the attention of the potential customer?
The individual will leave your web page, likely with a bad first impression of your company.
You will have lost their immediate business as well as the potential they may have had for returning.
Your company can receive bad word of mouth if the potential customer left feeling frustrated or upset.
Your company will likely be deemed 'untrustworthy' in the eyes of the individual.
There are a number of different ways this can go, for either scenario. But the key thing to remember is that a positive impression leads the individual down a good path of possibilities, and a negative impression leads them down a path that doesn't help out your company.
Mistakes you should avoid
Using a lot of text. You want to make this as easy as possible for potential customers, meaning the less that needs to be read, the better. Don't drown visitors to the page in a sea of words.
Excessive use of buttons. The visitor has a goal in mind, and your page is meant to answer their questions or address their needs. Buttons leading them elsewhere on your website will be counterproductive, and they would likely choose to leave your site before exploring it further.
Going off-topic. Your page has a goal and a purpose. Straying from that will only result in the visitor straying from your site.
Using your homepage as a landing page. Your company's homepage likely has lots of different information on it, with options to go to various pages on the site. A landing page needs to be optimized for a specific search.
Helpful tips to keep in mind
Keep your landing page dynamic. It's important to include different areas of text and images, not necessarily in uniform. The more eye-catching and aesthetically pleasing the page is, the better.
Always be mindful that a visitor to your page is looking for something specific that you provide. They want to find you.
Include additional information about what the user is looking for further down the page, with the more important and necessary information at the top. Always get right to the point.
Are you looking to target more customers with better landing pages? 360 PSG has a team of highly qualified SEO technicians that can help give visitors to your site a unique and positive experience. Contact us today.