Should You Use Bing Ads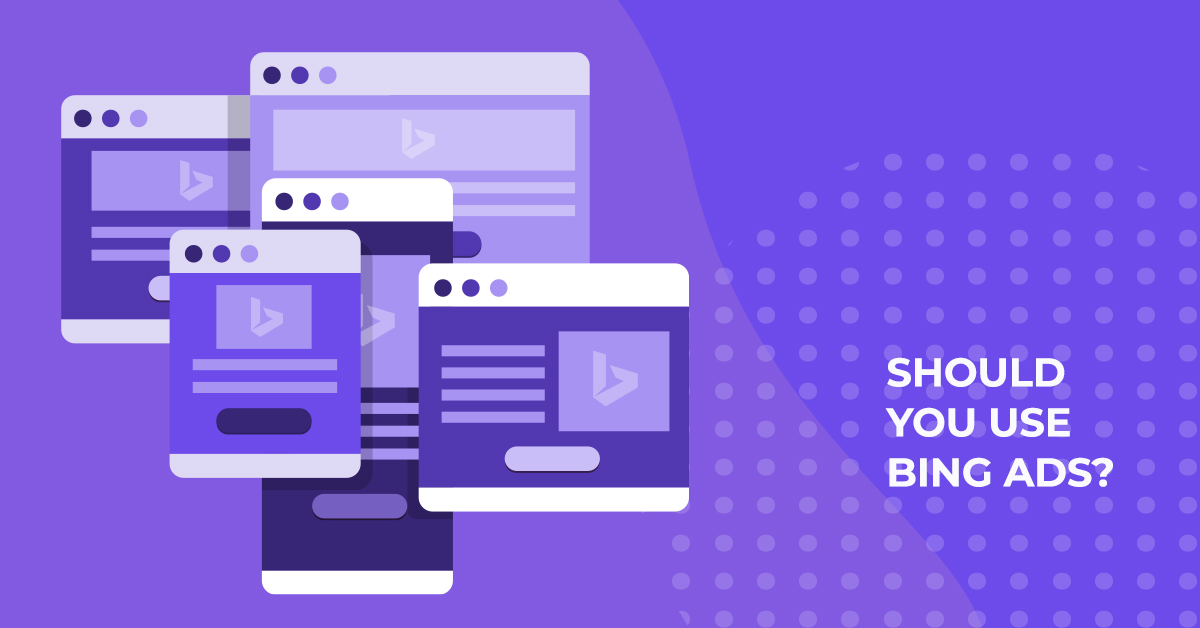 Are you missing out on 33 percent of your search engine marketing opportunities? If you're only relying on Google AdWords, then you're failing to reach one-third of your customers. That's because Bing is responsible for 25.3 percent of all search queries and Yahoo accounts for an additional 11.3 percent. When you use Bing Ads—now known as Microsoft Advertising—you'll reach more potential customers than if you only use one platform. There are other benefits to using Microsoft Advertising as well. Here are five reasons why Bing needs to be part of your online marketing strategy:
Better ROI
Because there is less competition for Bing Ads, it's easier to get low-cost clicks since less people are bidding. Advertisers consistently get more for their dollar using Bing as opposed to Google AdWords. In fact, Bing can cost less than half of what a similar ad would cost with Google. Admittedly, there are situations where the traffic quality with Bing can be lower, but that certainly isn't always the case. More importantly, Bing Ads reach 63 million searchers that Google Ads can't. The user demographics for the two platforms also influence return on investment. About one-third of Bing users has a household income of over $100,000, and almost half has a household income of $75,000 or more. So while there may be less people using Bing, the people you are reaching are more likely to have the resources to make purchases. This is why the Bing family has higher click through rates (CTR) for shopping and financial services. Driven by the financial reporting on Yahoo and MSN, ads reach interested users and are engaged with more often, leading to high CTRs. So with the right traffic, it's certainly possible to generate more sales and get a better ROI with Bing.
Greater Control
Bing offers more granular targeting at the ad group level. Google allows advertisers to set network, location, language, ad scheduling and ad rotation settings at the campaign level, but not at the ad group level. However, with Bing Ads, these adjustments are opened up at the ad group level as well, making it possible to adjust a setting for a particular ad group instead of having to create an entirely new ad campaign. Bing also allows ad campaigns to be assigned by time zone, which lets users create multiple ad schedules, customized by region. Bing's suite of intelligent tools makes it easier to understand your search ads and keywords as well.
Better keyword functionality
Keywords are crucial when constructing a search engine marketing campaign. But so are negative keywords, which let you exclude search terms from your campaigns. Google and Bing handle negative keywords differently. While Google and Bing both allow for negative keywords at both the ad and campaign level, Bing has one significant advantage: it won't negate targeted keywords. In AdWords, a negative keyword will automatically block related searches, even for a keyword you've targeted. On the other hand, Bing will still allow the ad show if both a negative and targeted keyword are included.
Fewer advertising restrictions
While both Google and Bing restrict certain types of advertising from displaying, Google is far stricter, especially because Google restricts a lot of affiliate marketing links. Google either completely prohibits or severely restricts advertisements for broad categories such as alcohol, tobacco, political content, adult content, financial services and medication and certain healthcare-related services.
Additionally, sales of the following items and services are also restricted:
Fireworks
Gambling
Bail bond services
Garage door repair
Locksmiths
Ticket resales
Desktop software sales
Call forwarding services
Bing also has some similar restrictions with regard to adult content and political advertisements, but does not have as many other restrictions. However, there are some advertising restrictions that Bing has in place that Google does not. They include:
Religious content
Peer-to-peer file sharing
International matchmaking for marriage
More transparency
Bing is fully transparent in regard to details about their search partners' performance. While Google offers paid search advertisers just two choices at the campaign level, Bing allows users the flexibility of targeting just Bing and Yahoo, just search partners or both at the ad group level.
Bing also allows you to exclude a particular search partner, whereas with Google, you don't even see which partner is driving traffic. Bing also provides detailed reports regarding partner performance, including metrics like impressions and conversions.
You need them both
While Google AdWords is the predominant PPC ad platform, it hasn't cornered the market. If you only rely on AdWords, you're missing the opportunity to capture the attention of a significant audience. Including both in your digital marketing strategy will help you tap into an audience you haven't been reaching while maximizing your marketing dollars.
To learn more about adding Microsoft Advertising (formerly known as Bing Ads) to your marketing strategy, please get in contact with us!