Featured News - Current News - Archived News - News Categories

360 PSG Accepts Amherst Chamber of Commerce 2008 Technology Award
by jhurlburt
Wed, Oct 29th 2008 02:45 pm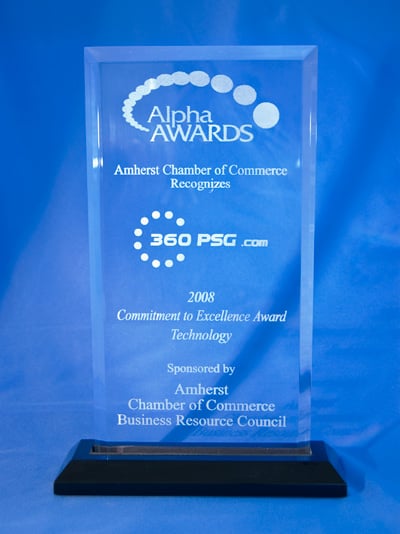 360 Professional Services Group accepted the Technology Award Monday evening at the Amherst Chamber of Commerce 2008 Alpha Awards. Recognized for their contributions in the community with exceptional progress, growth, and innovation in the field of technology, 360 PSG President and Managing Partner Joel Colombo accepted the award on behalf of the company.
Headquartered in Amherst, NY, 360 PSG offers nationwide web service including web design, custom web applications, secure web hosting through their business class data center, expert search engine optimization (SEO), and consummate content services.
In addition to the 2008 Alpha Award for Commitment to Excellence in Technology, 360 PSG received the following recognition: New York State Senate, Certificate of Merit from Senator Mary Lou Rath; United States Congress, Certificate of Congressional Recognition for outstanding and invaluable service to the Amherst community; New York State Assembly, Citation for Technology.
Jacquie Walker of WIVB-TV served as Mistress of Ceremonies for the awards held at the Buffalo Niagara Marriott.
The Alpha Award for Technology is a milestone for the young company; 360 PSG was founded in 2005.