Featured News - Current News - Archived News - News Categories

360 PSG Leaves Taste of Buffalo Patrons with Fresh Breath
by system
Mon, Jul 13th 2009 02:00 pm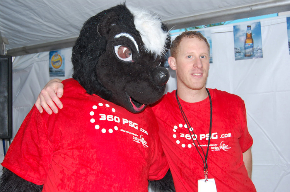 360 Professional Services Group, the official web provider of the 2009 Taste of Buffalo, took a bite out of the estimated 450,000 person crowd distributing free boxes of mints as part of their "Does Your Website Stink?" promotion July 11th and 12th.
With a table set up in the hospitality section of the 26th annual event to establish connections to participating restaurants and vendors, 360 PSG hit the streets to help promote their web design and web development services to the general public.
The promotion posed the question "Does your website stink?" to all participating Taste of Buffalo restaurants, vendors, and patrons. Anyone interested (the promotion is still running) can submit their website to www.websitestinks.com for a free website design analysis from 360 PSG's team of web experts.
Members of the 360 PSG staff rotated shifts in the "Stinky the Skunk" costume, a full-body skunk suit complete with over-sized 360 PSG t-shirt, posing for over 500 photographs with Taste of Buffalo patrons.
Ben Shepard, 360 PSG Director of Graphic Services and Marketing, commented, "We wanted to capitalize on the amount of traffic that comes through the Taste of Buffalo every year, and we wanted to do it in a way that got crowd involved."
Weather proved to be a factor on opening day, but 360 PSG didn't let it hinder their promotion. Saturday's festivities commenced with two hours of hard rain showers, but the sun did shine on the event for most of Saturday afternoon and continued through Sunday.
Shepard took most of the photographs over the course of the two day event. He added, "It was great brand exposure, and we had some fun while we were at it."
360 PSG distributed nearly 5000 boxes of mints with their company logo and contact information printed on them along with promotional rack cards.
In addition to their "Does Your Website Stink" promotion, 360 PSG also gathered donations from existing clients for a prize giveaway including a 30-day digital advertisement at the Boulevard Mall from Digital Ad Experience. 360 PSG offered a full custom website design on the Fission Content Management System as the top prize in the giveaway.
Free ballot entries were collected both days of the event at 360 PSG's booth inside the hospitality section. Winners were randomly chosen and announced after all ballots were collected.
Following the event, 360 PSG tracked website traffic and found a significant increase in visits not only to the Taste of Buffalo photo gallery page but to internal pages all over their site making the promotion a success.
To view all of 360 PSG's "Stinky the Skunk" photos from the 2009 Taste of Buffalo, check out the photo gallery page.
The 2010 Taste of Buffalo will be held July 10th and 11th in downtown Buffalo.