Featured News - Current News - Archived News - News Categories

How Americans are Using (or Not Using) the Internet in 2013
by system
Wed, Sep 25th 2013 10:50 pm
Did you know that as of May 2013, 15% of American adults ages 18 and older do not use the internet or email? Or that 63% of adult cell owners now use their phones to go online? Two reports released this past month by the Pew Research Center share some important insights on adult internet usage in the United States.
In telephone interviews conducted in April and May of 2013, Princeton Survey Research Associates quested a sample of 2,252 adults ages 18 and older. Of those people, 85% regularly go online.
Of the 15% who do not use the internet:
34% think the internet is just not relevant to them, saying they are not interested, do not want to use it, or have no need for it.
32% cite reasons tied to their sense that the internet is not very easy to use. These non-users say it is difficult or frustrating to go online, they are physically unable, or they are worried about other issues such as spam, spyware, and hackers.
19% of non-internet users cite the expense of owning a computer or paying for an internet connection.
7% of non-users cited a physical lack of availability or access to the internet.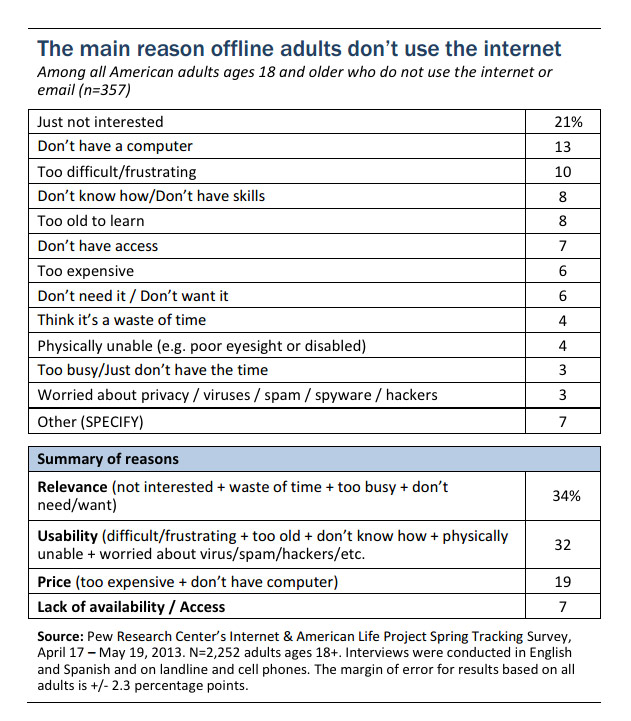 The chart below provides a demographic breakdown of the individuals interviewed who don't use the Internet: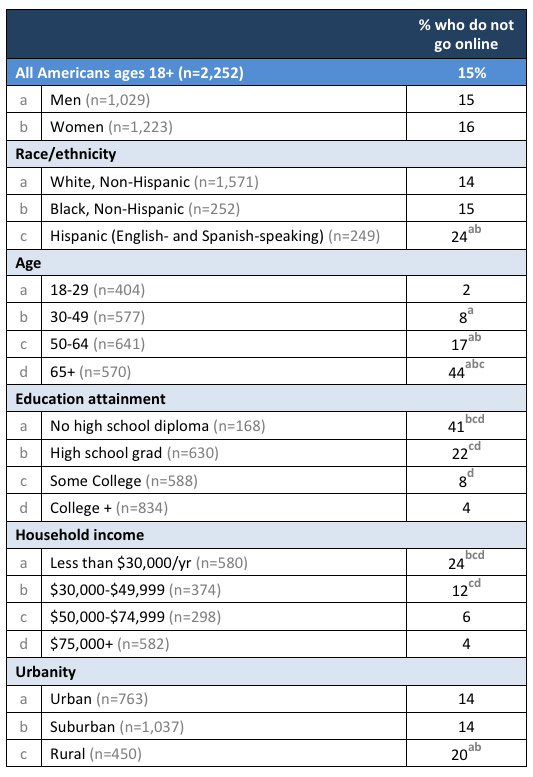 Conversely, a similar survey conducted of the same demographic during the same time period concluded that nearly two-thirds (63%) of adult cell owners now use their phones to go online.
Not only has the number of cell owners who use their phone to go online doubled since 2009, but 34% reported that they mostly go online using their cell phone - as opposed to another device such as a desktop or laptop computer.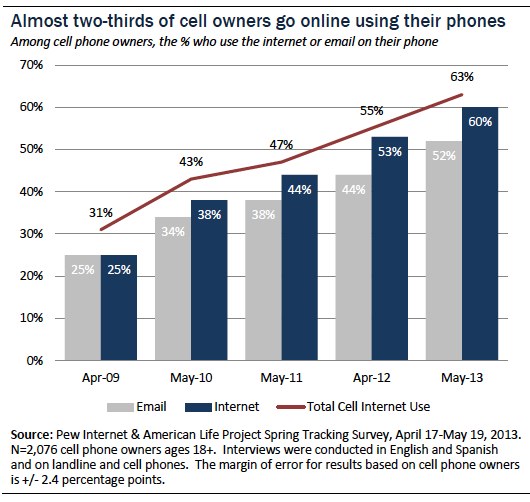 What does of all of this mean? Well, for starters... depending on your industry, your target market may not even be online. This shouldn't be news for too many existing companies, but may ultimately be an important consideration for those trying to get a new business off the ground.
On the other hand, if your target audience is among the heavy concentration of mobile users, which is dominated by the 18-29 crowd, it would makes sense to invest your marketing time and budget into mobile-friendly practices, such as responsive web design and mobile advertising.
You can read the full reports here:
Who's Not Online and Why: http://pewinternet.org/Reports/2013/Non-internet-users.aspx
Cell Internet Use 2013: http://pewinternet.org/Reports/2013/Cell-Internet.aspx