Are You Using Outdated SEO Practices?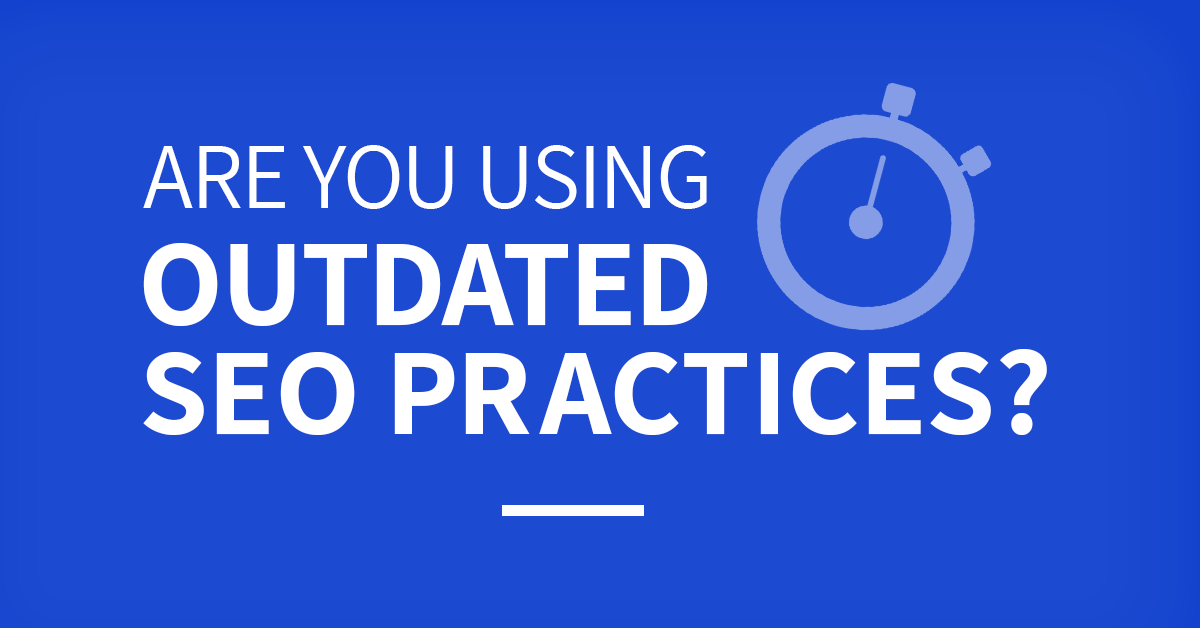 It's no secret that the world of digital marketing is a constantly changing landscape. Occasionally, things can change so rapidly that not everyone can stay current on the best practices. This becomes a problem when it comes to search engine optimization. Using outdated SEO tactics won't help your rankings, and occasionally they will even hurt your website's performance. Worried that you might be employing some less-than-current strategies? Here's a list of six outdated SEO practices that you should avoid using.
Keyword Stuffing over User Experience
Keywords have always been an important part of SEO. At one time, the frequency of keywords on a page was a very important ranking factor. But now, keyword stuffing is one of the biggest mistakes you can make when optimizing your website. While it's important to mention your primary keywords, using them too many times on one page is seen as spam. Doing this will cause your site to be penalized by Google, and your search engine rankings will drop. And pages with low quality content in general continue to be devalued, no matter how often the keywords appear on the page.
To rank well today, put your focus into developing quality, relevant content for your users instead. Mention your keywords, but write naturally. High rankings in the search engine results pages for your keywords will follow when you focus on creating a valuable experience for your users.
Low-Quality Backlinks
Having a good backlink profile is still a very important part of a website's ranking signal. However, Google has consistently penalized those who try and acquire links through methods that aren't natural or organic. At one time you could post links to your website in comment sections of popular blogs and forums, and it would be considered a good link for your website. Even lower quality links still provided some ranking benefit. Today, it's best to have no links like these going to your site at all. This also includes attempt to pay for backlinks. Those using these black-hat link building tactics are often heavily penalized by Google. Instead, work on developing your brand and creating quality content so that people naturally link to your website.
Not Prioritizing Responsive Website Design
This refers back to the emphasis on user experience that Google has been continually prioritizing. It's more important than ever that when a user lands on your website they can easily navigate to the information they need. This includes having a website responsive to all different screen sizes. An outdated, non-responsive, or poorly designed website all make navigation more challenging. Google is taking note of this and giving less ranking priority to sites that aren't putting increasing emphasis on user experience. If this is a problem for your website, the 360 web design team can help with that.
Overuse of Anchor Text in Internal Links
Anchor text is the clickable text in a hyperlink, usually appearing to be blue and underlined, like you've seen throughout this article. At one point, putting your keywords into anchor text for internal links was helpful for rankings. But now it's widely ignored by search engines. In fact, if done incorrectly Google will specifically view their use in a negative light.
How do you avoid this? If you're using internal links, be sure to include them in your content naturally, and link only to pages that will be relevant to your users. Also be sure to use them sparingly. Too many internal links with anchor text that matches your keywords exactly is a red flag for search engines.
Keyword-Based Domain Names
When choosing a domain name for a website, it would make sense to pick something that already has your primary keywords in it. And at one point, doing so would help your rankings. But this is another practice that Google has consistently devalued over the last few years. This is primarily because those who tend to implement this practice are often spammers. A string of your keywords in your domain, or using multiple domains each with keywords within them will no longer help your SEO.
That said, if your primary domain does happen to have a key word or phrase in it, there may still be a slight ranking benefit if done cleanly. If this is the case for your website, you should have only one domain and you should be building authority and a quality backlink profile for it. If there are no keywords in your domain, it should instead contain your company or product name, and be used as a branding and marketing tool.
Ignoring Social Media
Over the past few years, turning a blind eye to social media has become something businesses can no longer afford to do. Discounting social media as an important part of building a web presence has already become an outdated practice. And now, it has been determined that social signals have some impact on search engine rankings as well. The correlation between sites that rank well and sites with strong social media presences is high for a lot of reasons. A large number of social media followers will drive more traffic to your website. And an engaged audience on social media will be likely to share your content, adding to your backlink profile and increasing your website's value. Plus, social engagement may have a direct effect on domain authority.
Not having a social media presence means you're not taking advantage of these opportunities. All businesses should develop their social media, engage their followers, and encourage sharing of their content. Not sure how to get started? Check out our social management services to see how we can help.
Need Help Modernizing Your SEO Strategy?
It can be challenging to stay on top of the ever-changing protocols of digital marketing. The good news? The optimization experts at 360 PSG are always up to date on the latest industry trends. No matter how often the SEO best practices change, when you work with us you can be sure you'll stay on top!
Ready to Update Your SEO Practices? Contact Us Today to Get Started on a New Strategy!