LinkedIn Strengthens Ad Targeting With Matched Audiences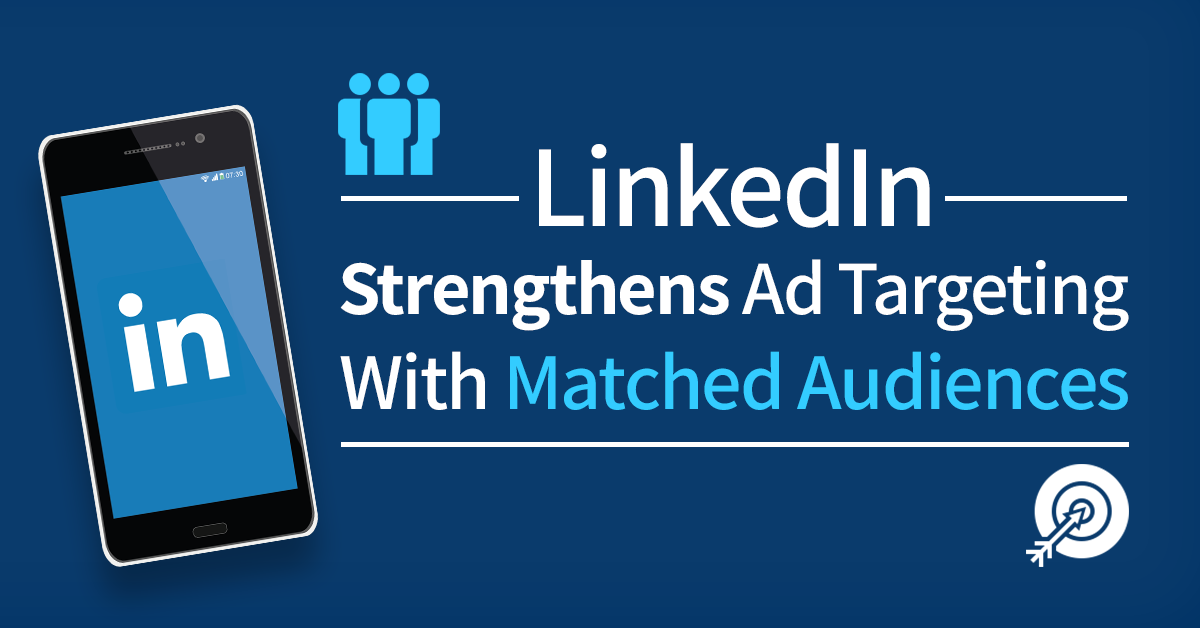 This past April, LinkedIn released Matched Audiences, a trio of targeting capabilities for advertisers on the platform to hone in on specialized audiences using: Website Retargeting, Account Targeting and Contact Targeting. With Matched Audiences, marketers can reach customers and companies by uploading CSV lists of emails and company names, as well as re-engage with visitors who have been to their website using retargeting. How exactly does this update benefit marketers on LinkedIn who may have struggled with achieving a decent return on investment (ROI)? In a recent blog, LinkedIn shared data from their pilot program for Matched Audiences, collected from 2,000 active campaigns using its new features. The results are quite encouraging for advertisers looking to improve their marketing efforts on the world's largest professional network.
Website Retargeting
LinkedIn reported a 30% increase in click-through-rates and a 14% drop in cost-per-conversion with campaigns using Website Retargeting. For those not familiar, retargeting requires a pixel to be installed into the back-end of a website, tracking activity between the social network and the tagged website; this pixel allows LinkedIn to keep track of visitors to your website from the social network, creating a custom audience of people to market to. Retargeting improves the chance and quality of leads simply by engaging with prospects who have already shown interest. Not only is this strategy effective for most campaigns, it greatly benefits marketers with high-value products that customers may not be willing to purchase early in the buying cycle, yet are brought back with retargeting when the time is right.
Contact Targeting
Contact Targeting lets marketers reach customers on LinkedIn by securely uploading a CSV list of emails or integrating a CRM program. Once the list is uploaded, the contacts become an audience of prospects to show your ads to. Whether you're a recruiter or sales rep needing to reach out to a massive list of prospects, Contact Targeting could be the solution. LinkedIn reports a 37% increase in click-through-rate of ads using Contact Targeting; this targeting tool is surely a great move for marketers with a large compilation of contacts.
Account Targeting
Don't have a list of contacts compiled? Upload a CSV list of company names to reach influencers at key organizations. Account Targeting showcases ads directly in front of decision-makers all over the social network using an ideal list of companies uploaded by the marketer. With 12 million company pages on LinkedIn, business-to-business marketing opportunities on the platform have reached an all-time high.
Become A Matchmaker
Matched Audiences provide an advertising method to reach customers during any part of the buying cycle. While some marketers may have been deterred previously by hefty ad costs, LinkedIn's release of Matched Audiences is a massive step in the right direction to collect leads and increase ROI. It may seem as though LinkedIn has been slow to catch up with platforms like Google Adwords and Facebook Ads Manager, but LinkedIn's business-to-business advertising and targeting capabilities are undeniably improved with Matched Audiences. Ready to strengthen your B2B marketing with Matched Audiences? We know where to start.