The Importance of E-commerce in an Increasingly Digital World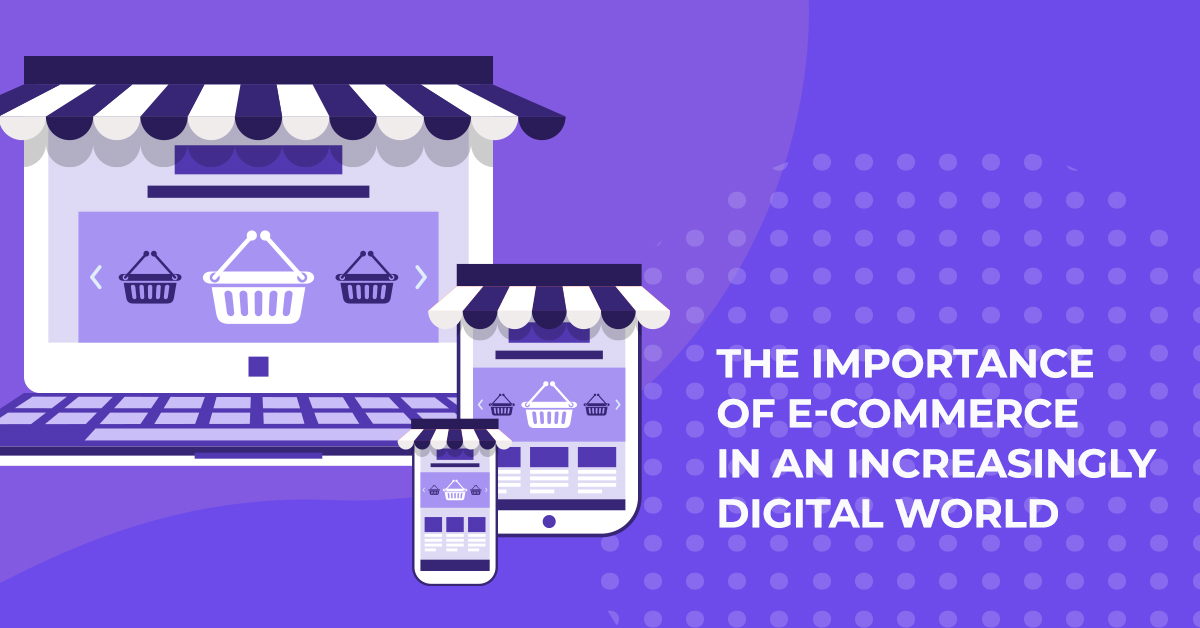 Businesses that don't use e-commerce are soon going to be considered members of the Stone Age. Today's economy is vastly different than in years past—and for that matter, months past. Companies are constantly adapting to change in order to stay relevant, and one of the most notable changes as of late has been assembling e-commerce storefronts. From expanding your customer base to reducing expenses, adding e-commerce to a website will essentially give your businesses limitless opportunities. And in a world where human interaction might be changing forever, e-commerce is undoubtedly the way to go.
What is e-commerce?
E-commerce (electronic commerce) is the action of buying or selling goods or services electronically on the internet. In order to execute these transactions, money and data are electronically transferred by means of a payment processor. A payment processor is a third party company that processes credit and debit card transactions. These processors connect merchants, consumers, banks and card networks to make card payments possible without ever revealing a consumer's card information, thus ensuring their security.
E-commerce is driven by technological advancements and is considered to be the largest sector of the electronics industry. A common misconception is the thought that e-commerce only involves the selling of digitized products or services, like music or e-books, when in reality it's just the means of selling, not what is being sold.
How does e-commerce work?
There are four main types of e-commerce models:
Business to Consumer (B2C) - When a business sells a product or service to a consumer.
Business to Business (B2B) - When a business sells a product or service directly to another business.
Consumer to Consumer (C2C) - When a consumer sells a product or service directly to another consumer.
Consumer to Business (C2B) - When a consumer sells their own product or service to a business.
Each of these models shows the different possibilities of which party is involved on what end of any given sale. Each electronic transaction also falls under one of the following categories:
Retail - The sale of a product directly to a consumer from a business without an intermediary.
Wholesale - The sale of products in large quantities (bulk) most often to a retailer that then sells those products to consumers.
Dropshipping - The sale of a product that is sold to a consumer but manufactured and delivered by a third party.
Subscription - The recurring payment of a product or service that a consumer has registered for.
Digital Products - Any sort of digital media that is downloaded by a consumer.
Services - A skill of an individual or group of people that is purchased to provide for the consumer.
Crowdfunding - Money from various consumers that is collected in order to fund something that has not yet happened.
Every transaction generally has a model type and a category. If you make payments every month for a Netflix account, that would be B2C Subscription. If you have a company where you make your own furniture to sell to consumers, that would be B2C Retail.
So why do businesses need e-commerce now?
E-commerce is more important to the success and stability of businesses than ever before. More than 300 million Americans have been affected by stay-at-home orders, and while some people will eventually start going back to work, many will be permanently working from home.
As consumers, we often buy things when we're already out of the house because it's convenient. But if millions of people are going to be staying home for the foreseeable future, those people are more likely to buy what they need online rather than leave the house, barring trips to the grocery store. Furthermore, any trip to a public place has now become a risk for contracting COVID-19, and potentially passing it on to those you live with.
According to Forbes, as of April 21 there has been a 146 percent growth in U.S. and Canadian online retail orders. In February, online conversion rates increased 8.8 percent. These numbers reflect a level of shopping urgency only seen on Cyber Mondays. Not only has e-commerce already proven to be the safer and smarter way of shopping, but it appears that its relevance is only growing.
Good business is rooted in meeting the needs of the consumer. Right now, most consumers need to stay home as much as possible. We want to help you meet those needs. Please contact us if you're interested in growing your business by setting up e-commerce for your website, or if you'd like to advance your current online storefront.