Why Should I Pay An Agency For Digital Marketing?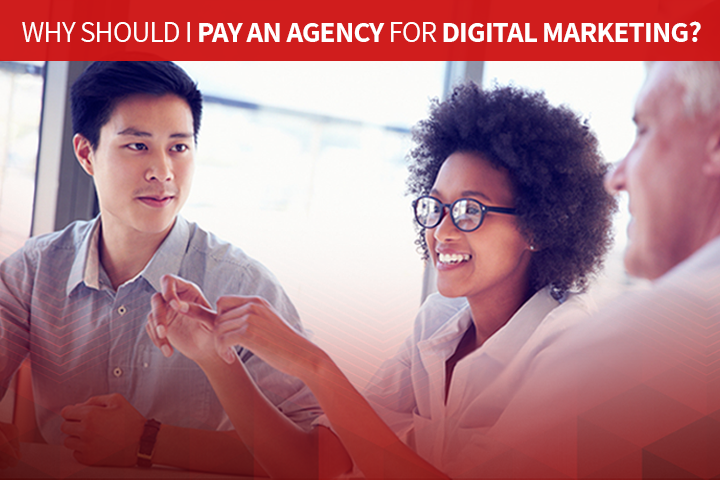 It takes a lot to run a successful business. Finding and retaining good employees to help your business grow is difficult for any industry. Employing a team of in-house experts to handle your marketing strategies is a huge milestone; but, are you ready for that? With only about 22% of businesses satisfied with their online conversion rates, hiring an agency to handle digital marketing is often a great solution to most advertising needs. Fortunately, that isn't the only benefit of bringing on an agency. Here's four more things to consider:
Up-to-the-Minute Industry Knowledge
Having an effective in-house marketing team requires constant education and innovation. Algorithms for platforms like Google and Facebook are updated frequently; it takes an expert to perfect and implement these new strategies to continue steady success in digital marketing. With an in-house team, there's a lot of ground to cover for one department; there may be a wealth of experience in traditional marketing on your team, but digital marketing is complicated and requires a full understanding of the platform that is being utilized for a campaign or strategy. Digital marketing requires a lot of creativity and knowledge, so staying on your toes is a must! If you don't have the time to follow trends or updates, an agency is a great way to stay informed and enhance your marketing capabilities.
Large Team of Experts
Digital marketing expertise calls for success in many roles. An in-house team may require one person to wear many hats, limiting their ability to specialize and excel in one facet. An agency will have specific responsibilities for each team member, allowing for continual growth and expertise. Keeping your online marketing diverse is an important part of being successful on the web. Let's face it, finding and retaining employees to effectively market your business is challenging. If you lose an employee that wears different hats, you lose multiple streams of revenue or brand exposure. Having a designated expert in each field of your campaign from start to completion will ensure a positive outcome. Hiring an agency will prevent you from falling into one-trick-pony marketing; for example, your website looks fantastic but it isn't ranking well on Google, or your ads aren't bringing the right kind of traffic. An agency will provide a jack-of-all-trades team to handle every component.
Save Time, Improve Results
Time is a valuable resource for any industry. There's a lot of components that make up the term "digital marketing". With it being such a multifaceted industry, and your business likely having multiple needs, digital marketing requires time and expertise in each field! If your website isn't converting, the layout may need to be optimized for a specific objective (like getting people to signup for your webinar or filling out a contact form for a new service). Does your website lack effective branding and storytelling? Maybe your social media advertising campaign hasn't brought you a return on your investment -- so many factors can contribute to your online success. With an agency of digital experts working towards your business objectives for you, the time you save and results you achieve will outweigh the cost of the services and the cost of coordinating your own effective team in such a complex industry.
The Right Fit
If you have the resources available to hire, build and retain an in-house marketing team with digital expertise -- go for it! If you need help standing out on the web, an agency is usually your best option for digital marketing success. Make sure to find one that's accountable and produces the results you are looking for. How do you do that? By asking the right questions and checking out their previous work. At 360PSG, we take a consultative approach with our clients. While it's our mission to provide big web solutions to businesses of all sizes, we make sure to be upfront at all times about what we think will work and won't. By providing innovative web development and digital marketing services, we like to think our work speaks for itself. When you want effective results with fixed costs, no internal overhead, and access to a huge team of specialists that focus 100% of their effort on getting you results, our agency is available to work as that direct extension of your business using your goals and our expertise.
Ready for 360PSG to show you what we've got? Drop us a line below and let's get started on your digital strategy!