Featured News - Current News - Archived News - News Categories

360 PSG Books Business First Ad
by jhurlburt
Tue, Jan 27th 2009 03:00 pm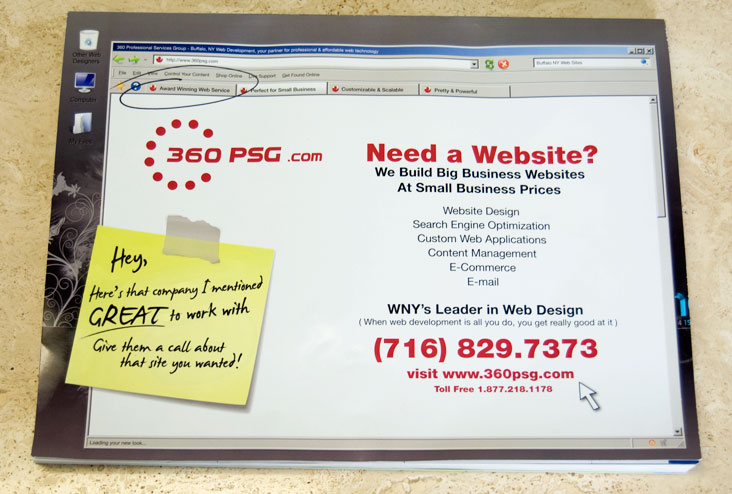 In November 2008, 360 Professional Services Group secured the advertising space on the back cover of the Business First of Buffalo Book of Lists, which was released in January 2009.

After brainstorming with the entire 360 team, Ben Shepard, 360 PSG Director of Graphic Services and Marketing, was handed the task of creating the advertisement. Shepard provided a little insight into the process of creating the ad and his thoughts on the finished product.

"Our goal was to create an ad that did not look like a normal advertisement," Shepard said. "To accomplish this you can create something memorable, funny, startling, etc."
Shepard added, "As a tech/web company we wanted this ad concept to merge our online/onscreen medium with traditional print. To create more depth, we wanted a third layer that would highlight what the ad had to say without looking like part of the ad itself."
The ad depicts a computer desktop complete with custom icons and an internet browser open to a page displaying the services of 360 PSG giving the illusion that the magazine is a computer screen.

"Our first and easiest task was accomplished by mimicking what viewers are used to seeing exclusively on their computer monitors, but we did it on paper," Shepard said.
The task Shepard refers to was creating a familiar looking web browser.

Shepard explained, "This alone was not compelling enough, so we added a sticky note as if a friend or colleague had already found the ad and made a note to the owner to pay special attention. Whereas the computer screen on paper created tension in one way, the sticky note grounded the ad as print again, but created a second illusion of interaction."

He concluded, "As the concept evolved we also found room to have some fun and increase the potential for viewers to interact and pay attention to what the ad says."

If you look closely at the recycling bin in the top left corner of the ad, you will notice "Other Web Companies" written under the recycling bin icon.

In 2008, the Book of Lists back cover was occupied by Time Warner Cable.

Available in print form, as a download, or on CD, the Buffalo First Book of Lists offers opportunities in sales, job search, fundraising, research, relocation, travel & entertainment, and appealing facts for local businesses.