News Categories
Featured News - Current News - Archived News - News Categories
360 PSG News
Tue, Aug 11th 2015 10:00 am
Hamburg Overhead Door, Inc.? There's an app for that.
Tue, Aug 4th 2015 03:00 pm
360 is proud to bring the hardworking and dedicated staff at Niagara Hospice a fully responsive redesigned website that optimizes them for service well into the future.
Fri, Mar 27th 2015 01:25 pm
Are you a true coder? Do you have dreams at night that appear to you as PHP scripts? If so... keep reading.
Thu, Aug 22nd 2013 10:00 am
This month, instead of talking about news outside of 360 PSG, we'd like to draw your attention to some updates to our online support page that you may not be aware of. While you're still more than welcome to call us with questions or issues, we hope that these resources may be of assistance at times when we're not in the office or when you just want to learn something on your own. Let's start with the website.
Thu, Aug 8th 2013 01:00 pm
Congratulations to 360 PSG President, Joel Colombo, on being named to Buffalo Business First's 22nd annual 40 Under 40 list.
Mon, May 20th 2013 12:00 pm
So you have probably heard the words "Open Source" and "Commercial Software" (sometimes called Closed Source or Proprietary Software), but many people do not know what the implications of choosing one over the other may be. We decided to take a few minutes and talk about some of the key pro's, con's, costs and concerns regarding the choices... so you know what you're getting into in the short term and sometimes more importantly, the long haul.
Fri, Jan 25th 2013 12:00 pm
360 PSG Inc. has appointed Don Hahn as their full time Director of Sales and Marketing. Don will spearhead the growth of 360 PSG throughout Western New York and also be responsible for 360's nationwide expansion of their channel reseller program.
Thu, Jul 26th 2012 01:00 pm
About a month ago, Ruth Burr, over at SEOmoz posted an article about a situation that transpired when one of her coworkers went to run a search for a post he had written and found the web page's URL in place of his carefully thought out title.
Tue, Jul 24th 2012 02:00 pm
More than once we've published articles discussing the merits and shortcomings of today's most popular web browsers, as well as the various extensions and customization options offered by each one. However, in honor of International Technology Upgrade Week, we're placing the spotlight on one aspect of browsers that is far too often overlooked: the importance of keeping it up-to-date.
Fri, Jun 22nd 2012 09:50 am
The Internet isn't just on your computer screen anymore. It's also on your phone, your tablet, your laptop, your TV, and just about everywhere else under the sun. With the growing number of devices available, it would be extremely costly and labor intensive to develop individual websites optimized for each platform. Instead, why not create one site that responds to fit the size and shape of the screen you're viewing it on? Enter: responsive design.
Tue, Jun 12th 2012 01:00 pm
Through the Mission: Small Business℠ program, Chase bank and LivingSocial are awarding up to 12 small businesses individual grants of $250,000.
Mon, Jun 4th 2012 08:30 am
This past Friday marked the kickoff of Social Madness, a corporate social media competition hosted by Business First that measures the growth of a company's social media presence.
Wed, May 23rd 2012 04:00 pm
Entrepalooza '12, an annual gathering of Buffalo Niagara's entrepreneurs and business leaders, took place Thursday, May 10th at the Buffalo Convention Center.
Wed, Apr 25th 2012 09:30 am
Whether you're a veteran Twitter user or brand new to the platform, the goal of every tweet is still the same: engage your followers and encourage them to share your content with theirs. However, this is often easier said than done. While many factors contribute to the "re-tweet-ability" of your messages, the quality of the tweet should not be one of them. Use the following tips to optimize your tweets and make them as re-tweet-able as possible.
Mon, Apr 23rd 2012 10:00 am
According to the Content Marketing Institute, "Content marketing is the marketing technique of creating and distributing relevant and valuable content to attract, acquire, and engage a clearly defined and understood target audience - with the objective of driving profitable customer action."
Fri, Mar 2nd 2012 04:00 pm
360 Professional Services Group took first place honors in the Small Business category at the "Best Places to Work" awards presented by Buffalo Business First newspaper. The 8th Annual luncheon took place Thursday, March 1, 2012 at the Hyatt Regency in downtown Buffalo, NY.
Thu, Feb 23rd 2012 05:00 pm
360 Professional Services Group President and Co-Founder, Joel Colombo, was named "Entrepreneur of the Year" by the Amherst Chamber of Commerce Emerging Business Leaders (EBL) at their 1st Annual Emerging Business Leaders' Awards Gala on Wednesday, February 22, 2012 at 7 p.m. at Salvatore's Italian Gardens.
Fri, Jan 27th 2012 04:00 pm
When you think of Buffalo, New York, what's the first thing that comes to mind? Snow? Chicken Wings? Probably anything but business startups and entrepreneurship, but Buffalo Niagara 360 is working to change that. With events like their "Game Changers" speaker series, the most recent of which was held January 25, 2012 at the Buffalo Niagara Medical Campus' Innovation Center, the organization aims to attract and retain young area professionals.
Tue, Jan 24th 2012 10:00 am
Every January, millions of people create resolutions and set goals to better their daily lives such as losing weight or quitting smoking. But what about your SEO? What steps are you taking to enhance your website's presence on the web?
Thu, Jan 19th 2012 02:00 pm
It's been about two weeks since Google announced the launch of Google Search + Your World, their enhanced algorithm for personalization in your search results. While the controversial update has other internet companies and social media networks crying foul (and anti-trust violation), here's why you should jump on the Google+ bandwagon. Even if it's just for now.
Fri, Jun 10th 2011 03:00 pm
On Thursday, May 26, 2011 in Cooperstown, NY, the New York State Economic Development Council (NYSEDC) awarded the Erie County Industrial Development Agency (ECIDA) the Certificate of Excellence for their 360 Professional Services Group designed website.
Fri, Jan 21st 2011 09:30 am
If you're already a 360 PSG web client, you know that Fission CMS is the leading content management solution for website development. But did you know that Fission offers customizable content management solutions for designers, IT service providers, resellers, and more?
Wed, Dec 29th 2010 09:30 am
Attracting traffic to your website is one of the 5 essentials for being successful online. 360 PSG's Fission Blast is a great e-mail marketing solution to help you entice referrals and repeat customers, keep your readers in the loop and increase traffic to your site.
Wed, Dec 22nd 2010 10:45 am
360 Professional Services Group moved its datacenter to a new secure downtown Buffalo, NY location. For 360 PSG, the move means more scalability and room for growth in the new datacenter environment.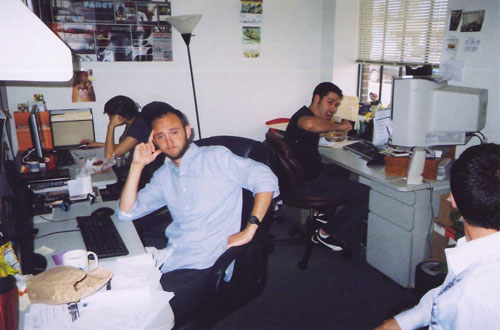 Wed, Oct 20th 2010 12:15 pm
360 PSG (Professional Services Group) celebrates its 5 year anniversary Thursday October 21, 2010.
Mon, Jun 21st 2010 10:40 am
360 PSG has introduced Fission SEO, a collection of al-a-carte, one-time, and reoccurring monthly packages, as well as pay-per click (PPC) management for new and existing websites.
Fri, Jun 18th 2010 09:45 am
360 PSG was named the sixth fastest growing company in Western New York in 2010 at the Fast Track 50 awards, presented by Buffalo Business First.
Fri, Apr 16th 2010 04:40 pm
360 Professional Services Group will be doing their part to recognize the 40th Anniversary of Earth Day.
Wed, Mar 10th 2010 09:45 am
360 PSG Creative Director Ben Shepard was recently featured in an article in the Buffalo Law Journal discussing the importance of creating a memorable web presence.
Thu, Jan 14th 2010 09:00 am
360 Professional Services Group held its first ever Social Media Seminar titled "Hope or Hype" Wednesday January 13, 2010 at the First Amherst Executive Conference Center.
Mon, Dec 14th 2009 04:00 pm
360 Professional Services Group is offering its first social media seminar, "Social Media: Hype or Hope?" on January 13, 2010 from 8 am to 11 am.
Fri, Jul 31st 2009 09:00 am
Founded in 2005 by Managing Partners, Joel Colombo (President) and Matt Whelan (Operations) along with Ben Shepard (Creative), 360 Professional Services Group provides web development and web design services to small businesses and non-profits.
Mon, Jul 20th 2009 05:30 pm
360 Professional Services Group will be participating in the 6th Annual Taste of Clarence hosted by the Clarence Chamber of Commerce on Monday August 3, 2009.
Mon, Jul 6th 2009 09:30 am
Nick Sautter joins 360 PSG as a business development manager allowing the 360 PSG sales team to reach out to twice as many potential clients and devote twice the time and customer care to existing clients.
Tue, Jun 16th 2009 09:00 am
360 Professional Services Group, a Buffalo web development and web design company, was named the #4 fastest growing business in Western New York at the Fast Track 50 awards, a measure of WNY's 50 fastest growing companies by Buffalo Business First newspaper.
Tue, Feb 10th 2009 04:00 pm
360 Professional Services Group has been named Official Web Service Providers for the 26th Annual Taste of Buffalo.
Fri, Jan 30th 2009 12:00 pm
Buffalo Business First released its list of the top 16 web design firms in Western New York with 360 Professional Services Group at number two.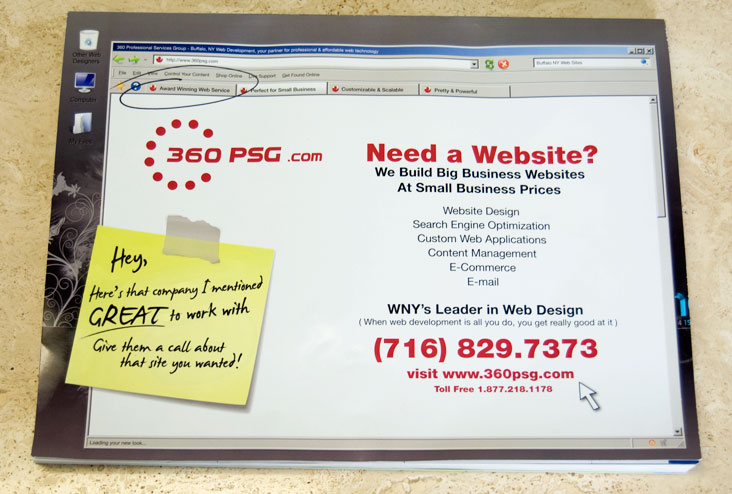 Tue, Jan 27th 2009 03:00 pm
In November 2008, 360 Professional Services Group secured the advertising space on the back cover of the Business First of Buffalo Book of Lists, which was released in January 2009.
Wed, Jan 7th 2009 02:00 pm
Amherst, NY based web development and web design company 360 Professional Services Group closed 2008 with a longer resume, tallying nearly 150 new site launches on the year.
Fri, Oct 3rd 2008 09:00 am
The Amherst Chamber of Commerce announced their 2008 Business of the Year awards, with 360 Professional Services Group winning the Technology Business of the Year award.