Featured News - Current News - Archived News - News Categories

360 PSG Upgrades Its Datacenter
by system
Wed, Dec 22nd 2010 10:45 am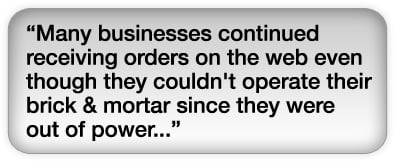 360 Professional Services Group moved its datacenter to a new secure downtown Buffalo, NY location. For 360 PSG, the move means more scalability and room for growth in the new datacenter environment.
Matt Whelan, 360 PSG Vice President of Operations, said, "Customers will see no difference in 360 PSG's quality of service. However, the upgrade allows us to continue offering our high quality service level as we continue to grow our customer base."
360 PSG strives to provide powerful web solutions that enhance and add measurable value to clients and their organizations. 360 PSG's secure datacenter has always maintained uninterrupted power to servers and building security features.
In October of 2006, when many businesses lost power for consecutive days due to a winter storm, 360 PSG's servers remained active for the duration thanks to a combination of battery backup and a diesel generator for redundant power.
"Many businesses continued receiving orders on the web even though they couldn't operate their brick & mortar since they were out of power," Whelan said.
360 PSG continues to make improvements to the quality of service they provide to clients and the community.
"This infrastructure upgrade helps support our constantly improving products (CMS features, etc)," Whelan said. "Our datacenter is the backbone that helps deliver these products."