Featured News - Current News - Archived News - News Categories

Does Web-Based Advertising Make "Cents" For Your Site?
by system
Mon, Sep 19th 2011 09:00 am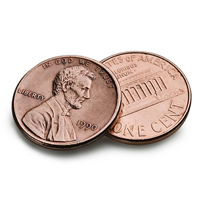 If you've managed to get your website to that magical place where you have established ranking, traffic, and a loyal community of fans, congratulations. You are what many would consider to be, an online success story. But is your site as successful as it could be? If your website is not generating income through web-based advertising, then the answer may be no. However, by simply trading in some of your online real-estate for ad space, you can easily and effectively begin to monetize your website.
What option is right for you?
While there are many third-party advertising affiliates saturating the market, one of the most well-known is Google AdSense. Not to be confused with its search engine counterpart, Google Adwords, "AdSense is a free, simple way for website publishers of all sizes to earn money by displaying targeted Google ads on their websites." While free to use, AdSense requires users to complete an application and adhere to a rather detailed list of program policies in order to participate.
It should also be taken into account that AdSense, and many programs like it, don't guarantee payment each month; you're paid when your earnings reach the payment threshold (in this case, $100 US). While this "passive" approach to online advertising is appealing to many, site-owners looking for a more "hands-on" experience may prefer other methods that offer more control.
Instead of hosting advertisements provided to you by an affiliate, one solution is to integrate third-party banner management software directly into your website and seek out advertisers (e.g. business contacts, local companies, etc.) to promote on your site. While this approach is more labor intensive than simply setting up an account and accumulating clicks and impressions, you are more likely to maximize your ability to generate revenue.
Hosting advertisements through your website allows you to control all aspects of each ad campaign, from the content and duration of the ad to the number of click-throughs and impressions allowed. You may also want to consider leveraging your analytics tools to provide your advertisers with some basic site statistics on your sites monthly traffic. While you also maintain control over the pricing, keep in mind that your rates should be competitive, and can be increased as you build relationships with more advertisers or traffic increases.
Advertising with Fission
If your website is already hosted on the Fission Web System, you may also want to consider utilizing the platform's built-in banner management program, the Fission Ad Tools Premium Add-On component.
Fission Ad Tools is a dynamic component that enables you to incorporate online advertising into your existing Fission website, giving you everything you need to execute professional advertising campaigns from the back end of your site. Ad Tools gives you the freedom to create advertising packages based on ad size, placement, clicks, impressions, time, or whatever combination works best for your site and business process.
Ad Tools even allows you to set up individual accounts for each of your advertisers, allowing them the ability to log on to view reports, manage their campaign, and submit new advertisements for your approval.
If you think that web-based advertising makes sense for your site and your web presence, contact an Account Manager today to discuss getting started with Fission Ad Tools! Not quite ready for a complete banner management program? No worries. The Fission platform is equipped to easily accept AdSense code as well.