Featured News - Current News - Archived News - News Categories

Let the (Social) Madness Ensue!
by system
Mon, Jun 4th 2012 08:30 am
This past Friday marked the kickoff of Social Madness, a corporate social media competition hosted by Business First that measures the growth of a company's social media presence.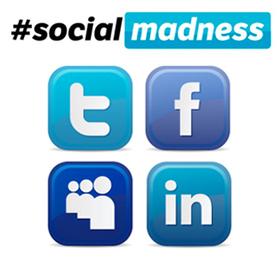 While nearly 4,000 brands have opted to participate in the nationwide event, the first two rounds of competition will take place locally, with businesses competing against their peers in one of three categories, based on company size.
Contestants are ranked based on how many new followers they've gained on their company Facebook, Twitter, and LinkedIn pages , as well as how many votes they receive on the Social Madness website.
On June 18, the eight top local competitors will enter into a head-to-head, bracket-style competition, the winners of which, will move on to a national bracket culminating in September.
The national champions will be determined by American City Business Journals, with $10,000 awarded to the winning company's charity of choice.
While Social Madness is a friendly competition between brands, it is also a celebration of excellence in social media. Please help us along the road of social success by voting for 360 Professional Services Group as the top Small Business in Buffalo.