Featured News - Current News - Archived News - News Categories

Redesigning: A Graphical Case Study
by system
Wed, Oct 31st 2012 11:00 am
There are very few, if any, websites in existence that don't undergo at least a minor revision at some point during their lifecycle - a reality that any business with a web presence must face. However, we know that many business owners struggle with this decision, so we've put together a helpful list of signs to help you determine if it's time for a redesign.
7 Tell-Tale Signs it's Time to Redesign:
Metrics are down. Decreased website traffic and high bounce rates are your visitors way of telling you that they're not connecting with what your site is offering them.
Your website isn't responsive. If you have a mobile-specific site, this one point is debatable. However, as mobile increases its hold on the search market over the next couple of years, websites that render by viewing device will become the industry standard.
Your UX to-do list looks like a roll of parchment. Unless you're a wizard with a magic wand, your to-do list isn't going to fix itself. If certain parts of your site just aren't working or are becoming outdated, it's never too soon to improve your website's user experience.
It's difficult to update & maintain. With all of the CMS options available, there's really no excuse for a website that's difficult to update. We're partial to the Fission Web System, but that's probably because we built it.
Your website takes forever to load. While a little time spent optimizing images may solve this issue, a site that's built with Flash may require a little more work.
It just "looks" old. Is the copyright year in your footer older than 2012? Depending on your industry and type of business, visitors may expect to see a new design each year. However, with the right CMS, changing the look of your site is easy (see example below). Complete website overhauls are a large undertaking and should be considered every 3-5 years or if there is a major change in the structure of your business or organization.
Search engines don't know you exist. Search engines prefer websites that have content that is constantly changing, coded properly, and isn't heavily based on images. Any user-friendly CMS should also have tools to help you optimize new pages, so there really isn't an excuse for poor rankings.
Artpark: 5 Years of Design
A great example of a site that's constantly redesigning is our long-time client, Artpark. Since teaming up with 360 PSG in 2008, Artpark's website has been redesigned each year to coincide with the announcement of their summer event schedule. From 2008 to 2011, the site was simply skinned with the new design, without any interruption of service to the website. However for the 2012 season, Artpark upgraded to a fully-responsive site to improve the site's function on mobile devices.
Artpark 2008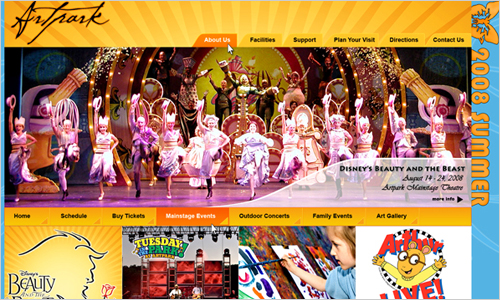 Artpark 2009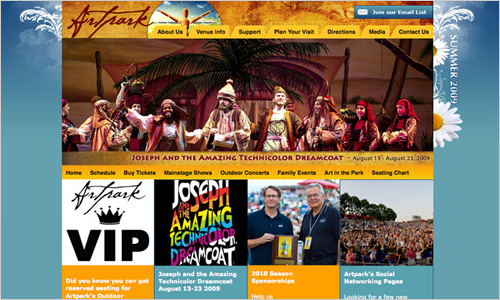 Artpark 2010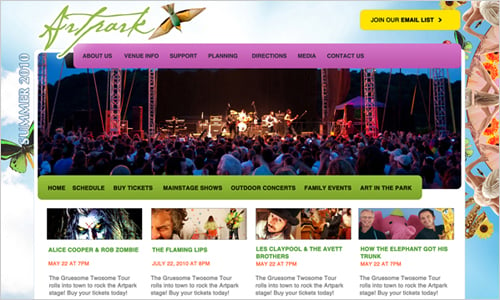 Artpark 2011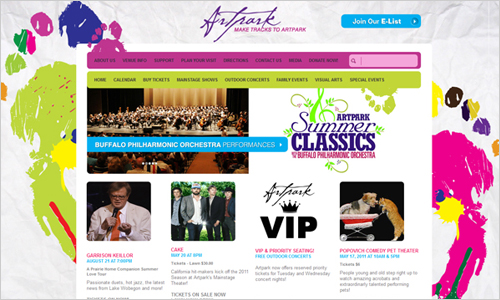 Artpark 2012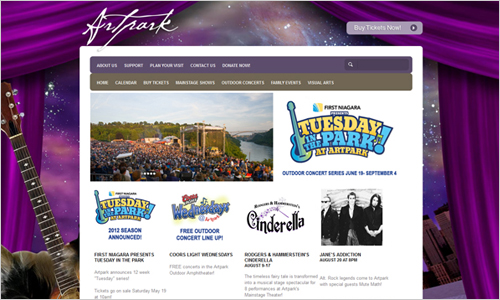 In Conclusion
At the end of the day, it's up to you to determine if your website needs a redesign or not. If you're unsure or want to learn more about your options, contact us and one of our Account Managers will contact you with more information. They can often help you determine if your website just needs some tweaks or if it is truly time for a brand new site.