Featured News - Current News - Archived News - News Categories

Should You Have a Responsive Website?
by system
Thu, Mar 28th 2013 08:00 am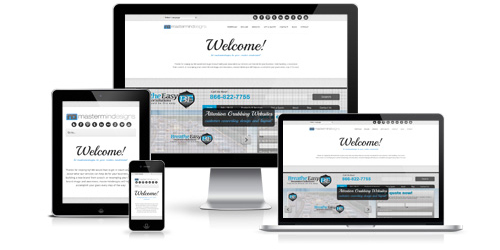 What's That, You Say?
First things first. For those of you who may not have heard about responsive design yet, allow us to explain. Simply put, a responsive website is a site that adjusts to a user's viewing device. Meaning that if you were to look at a responsive website on your computer, and then again on your phone or tablet, you would see the same site... even though they don't look exactly alike. Why does the phone or tablet view look different? Your website responds to information about the browser it's being viewed in and then arranges itself to better fit the smaller screen. Most often you'll notice a chance in navigation style and the width of the site (a desktop view is horizontal, while a phone has a single, vertical column).
Why Responsive?
Do you have a smartphone or a tablet? Many people nowadays do, and they use this new technology to surf the web! If your clients are part of the shift towards a mobile web and you have a responsive website, then you are guaranteeing that your website will always be viewed in the ideal manner.
If you don't have a responsive site, there is a greater chance that elements of your website may appear broken on mobile devices because of their smaller size. Your site may also require lots of pinching, zooming, and scrolling for your users to view comfortably, which is unacceptable. A poor user experience, even on a mobile device, may be enough to prevent visitors from ever coming back to your site.
Why Not Responsive?
The primary reason not to develop a responsive site is that none of your website's traffic is coming from mobile. This isn't something that can be determined without research and fortunately there are tools, such as Google Analytics, that can help you determine how much traffic you're getting and where it's coming from. These metrics will provide you with the information you need to determine if a responsive website is right for you.
If you don't currently have a website and are just getting started, you're better off utilizing responsive technology from the get go. There are select few markets that require sites to be viewed on a desktop computer, generally because those websites are being used for research purposes - something that many web users still prefer to do from a full-sized computer. More importantly, analysts are predicting mobile web viewing will be the norm by 2015. While the desktop isn't going anywhere soon, the reality is that tablet and phone web traffic is on the rise and will continue to increase significantly over the next few years.
Cost is also a major factor when making any business decision. In general, web companies charge more for a responsive site than a non-responsive site. Why? Because it is more work. However, most business owners with a mobile audience will find that a responsive website is a smart investment, and will most likely end up saving them money down the road.
Other Advantages
Part of achieving an optimal viewing experience for mobile devices includes establishing an information hierarchy. Mobile viewing is about being able to find information fast. Someone who visits your website via phone most likely doesn't want to know everything he/she can about your company. They are probably seeking one or two key pieces of information - such as your location or a specific product or service. Prominently displaying this information and removing the clutter helps increase conversions and encourages return visits to your website.
To Sum It All Up
Responsive websites, when done well, can provide many benefits to your online business. With mobile traffic on the rise, a responsive design can help your visitors better find what they are looking for, no matter where they are. You may shell out a little bit more for a responsive website, but it is a one time cost that brings recurring rewards. For more information about building a responsive website, please contact an Account Manager at 716.829.7373 or visit www.360psg.com.