Featured News - Current News - Archived News - News Categories

How Effective is Your Email Newsletter?
by system
Tue, Aug 27th 2013 08:35 am
It's no secret that offering value to your customers in the form of useful information is one of the best ways to initiate, build and solidify relationships. But, how do you continue, time after time, to make your newsletter stand out in your readers inbox and keep them engaged?
While there is no perfect recipe for success, at 360 PSG we've found that most of our favorite e-newsletters were constructed in a similar fashion... something we have tried to learn from and emulate in our own unique way. So without further ado, here are our guidelines for creating an effective newsletter!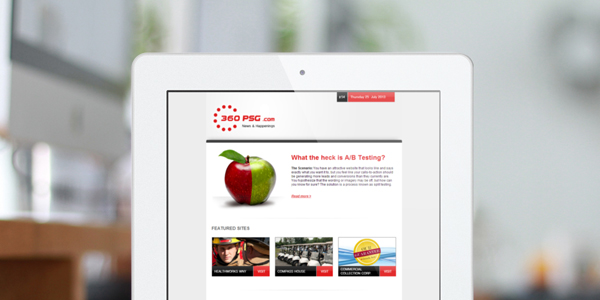 Make it Useful
A newsletter doesn't necessarily need to contain an offer or promotion in order to be considered useful to your customers. Start with the basics, such as including all the possible ways to reach your company, including phone, email, website, address, etc., and go from there.
Other relevant content may include: interesting statistics, a Q&A section, links to helpful resources, your upcoming events calendar, or recent company news. What is considered useful by your audience will largely depend on your company and industry.
Just remember... no matter what type of information you choose to provide, there should always be at least one call-to-action with a link back to your website or blog (to help drive traffic and direct business to your site). A good call-to-action is clear, concise and enticing. It should give readers a feeling that by following your call to action they are gaining something valuable.
Make it Interesting
There's a rumor going around that B2B communications must be dry and boring... but we're not buying that! You can maintain (and possibly even expand) your credibility as a business by avoiding the corporate filler and utilizing personal anecdotes, conversational language, and even the occasional joke. Your audience won't read your newsletter just because it's interesting, but they certainly won't read it if it's not.
Keep it Simple
If you have chosen to include a feature article in your newsletter, keep it short and to the point. It should only be around 500 words and focus on one insight, tip, or concept that your readers can benefit from. If you are providing a tutorial or how-to guide, step-by-step pictures are a must.
That said, be sure to maintain enough white-space to draw attention to the key features of the newsletter. Just like on a website, too many areas of focus can make your newsletter feel cluttered or overwhelming.
Keep it Professional (Looking)
Great content deserves an equally great layout, but even more than that, visual appeal will be a key determinant of your newsletter's success. Many email marketing tools offer pre-built templates to assist you with design, but if you can swing it - a custom html template that represents your brand is the way to go. This allows you to formulate your template around the content you offer, rather than have to fit your content into a generic mold.
Know Your Target Audience
In order to make your newsletter useful and interesting, you need to know what attracts the people you're trying to reach. If the content of your newsletter does not appeal to your audience's interests, they simply will not read it. This may involve a bit of trial and error in the beginning, but in time you will be able to differential what works from what goes straight to trash.
Another way to get to know your audience is to ask for feedback. Request comments from readers about your articles and stories. While you might be afraid of possible criticism, this is a win-win scenario. Your readers will know that their opinion is valued and appreciated, and you get feedback on how to make your newsletter even better.
Keep It Consistent
You should strive to send out newsletters at regular intervals. This helps to keep you top of mind, but also shows that you're reliable. The frequency of your emails depends largely on the amount of content you have to share and the amount of time you have to prepare each newsletter. More importantly, you don't want to overwhelm your subscribers with email blasts. A majority of companies opt to send a monthly newsletter - if you're unsure about frequency, this is a good place to start.
If you're thinking this all sounds great, but don't have a large marketing budget or a budget at all, our Fission Blast email marketing system may be a great tool to help you get started. With Fission Blast you can choose from pre-built or custom templates, and send out professional-looking marketing campaigns for a fraction of the cost of other enterprise solutions. Contact us at 360psg.com to learn more!