News Categories
Featured News - Current News - Archived News - News Categories
Focus Forward
Viewing articles

1

to

7

of

7

total.
Fri, Jun 5th 2020 12:00 pm
Businesses are facing unprecedented challenges in today's economy. Campaigns seemingly change overnight as brands rapidly string together new ideas and strategies in an effort to not only keep business running smoothly, but running at all. Navigating the road ahead isn't going to be an easy task, but by evaluating current campaign efforts and adapting to industry trends, it is a feasible one.
Thu, May 21st 2020 09:00 am
Currently, about half the American workforce is telecommuting, a sharp increase from the 5 percent of employees who worked from home just a few years ago. While governmental restrictions are beginning to ease across the country, many employers won't be welcoming back full workforces immediately. Some will be curtailed by mandates that allow only a fraction of employees to return, while others won't immediately be generating the revenue to bring back a full staff. However, many employers are also choosing to continue to require, or at least allow, telecommuting. Twitter recently announced that some employees will be able to work from home "forever," after realizing that this new set-up can work at scale. Other Silicon Valley behemoths are following suit, and companies once known for offering impressive offices and quirky perks are pivoting toward offering extended work-from-home arrangements instead.
Fri, May 8th 2020 12:15 pm
Since the spread of COVID-19, internet usage has increased by more than 70 percent. People were already spending an average of 3.5 hours a day on their mobile devices, and since the pandemic, that number has more than doubled, according to data compiled from iPhone's weekly screen time reports. Since people are spending more time in front of their screens now than literally at any other time in history, it's in your best interest to make sure your business's website is looking great. If your business is currently closed due to stay-at-home mandates from the government, now would be a great time to improve your site so that it's up to date and ready to go when you reopen.
Wed, Apr 29th 2020 02:00 pm
How has your business been handling social media during COVID-19? Some brands have been choosing to stick to the status quo by not acknowledging the change, while others have committed to posting about COVID-19 and nothing else. Ultimately, most brands have no idea what to say or how to react—a common struggle according to AdRoll. One of the best ways to connect with your customers on social media is by showing them empathy. But to do that, you need to know who they are and what they're up to.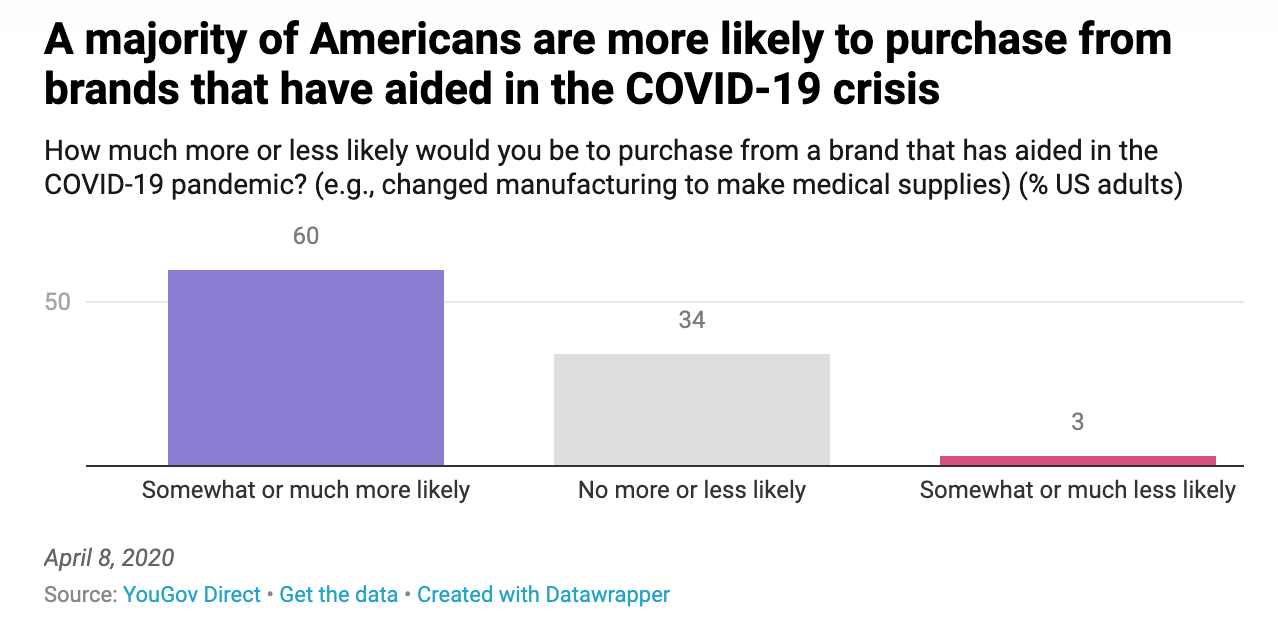 Thu, Apr 23rd 2020 03:00 pm
If your business is seeing less sales right now, community outreach may be the last thing on your mind. After all, if you're not making much, you can't do much, right? However, contributing in times of need positively impacts customers' perception of your brand, and garners priceless goodwill. A recent survey by data analytics firm YouGov indicated that a majority of Americans—60 percent—are more likely to purchase from a company that has aided in the COVID-19 pandemic. Moreover, the companies that do contribute have seen huge increases in their buzz scores, a metric that measures whether consumers have heard anything positive about a brand in the past two weeks.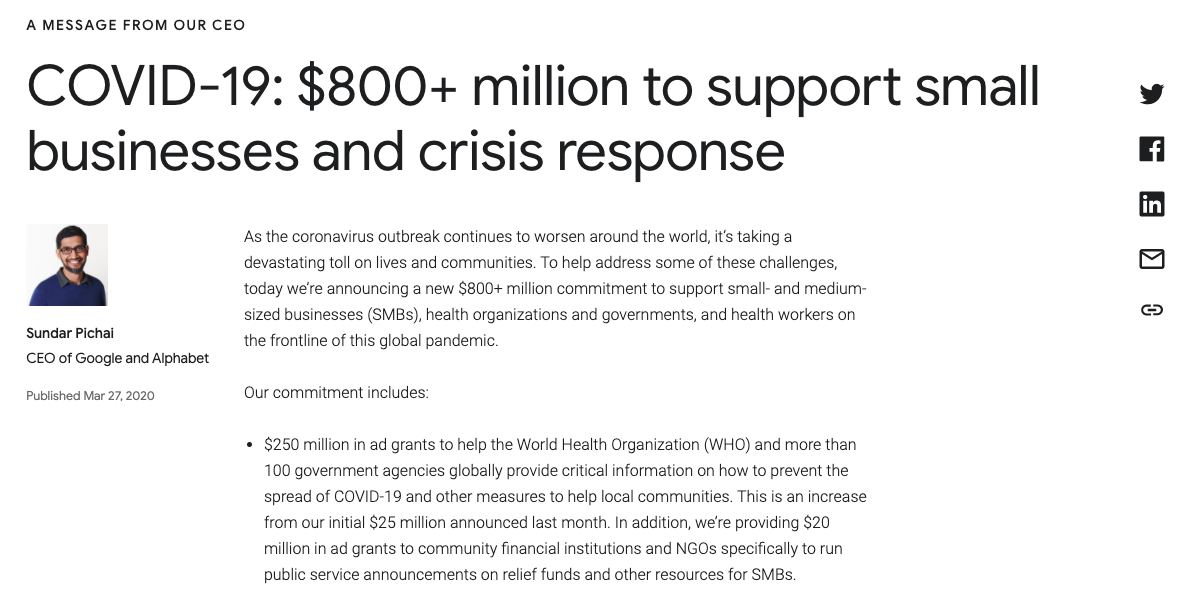 Thu, Apr 16th 2020 03:00 pm
In an effort to help small and medium-sized businesses (SMBs) during this challenging time, Google is offering $340 million in Google Ads credits to help alleviate some of the costs for SMBs that are associated with them engaging with their customers during the coronavirus.
Fri, Apr 10th 2020 02:55 pm
A virtual office space might be one of the most effective ways for your company to stay connected internally, and Pragli Virtual Office is the perfect resource to ensure your business operates as smoothly as possible.