Facebook Advertising Trends: What to Expect in 2018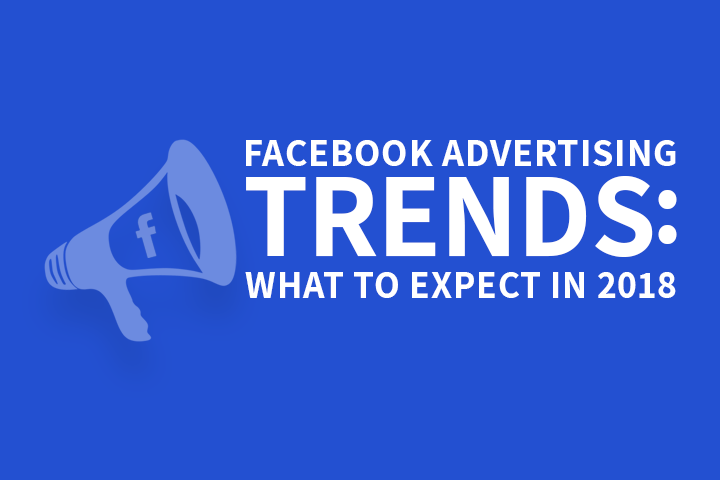 Facebook advertising has seen massive growth and change in the past year. The platform garnered three million new advertisers in 2017 alone, bringing the total number to six million and counting. Increased competition means higher ad prices. In the past year, Facebook ad prices have risen 35 percent. As we enter 2018, Facebook will continue evolving to include new features and change the way marketers use the platform as a whole. What does this mean for small businesses who want to advertise on the world's largest social network, but don't have the budget to keep up with heavy weight advertisers? Understanding the trends and updates for Facebook's advertising platform is the best way to start. Let's explore what's to be expected in the coming year for marketers on Facebook.
Paid > Organic Reach
Since business or "fan" pages began in 2007, millions of businesses have created Facebook pages to connect with audiences. That was all fine and dandy until 2012, when business pages discovered that only about 16 percent of the people who liked their page were seeing the content they were posting. Since then, organic reach of business pages has continued to drop dramatically. As of 2017, organic reach for business pages is thought to be as low as 2 percent. Facebook started the year with 65 million business pages; that's a lot of news feed competition! As Facebook marketing continues to grow, so will the amount of money needed to get a brand or business noticed on the colossal social platform.
To make matters more intense, Facebook has announced they will be experimented with an updated newsfeed interface that may exclude organic brand posts altogether! Even if this update doesn't take place, there's a lot of rules to follow if you want your page content seen on Facebook in 2018.
You can take advantage of features like audience optimization that allow you to drill down on some targeting options to optimize who sees your content organically; however, adding a budget to secure placement for your Facebook posts is inevitable.
Facebook Loves Video (Still)
Not only does Facebook seem to favor video ads by prioritizing them on newsfeeds, they do the same for organic video content. Facebook users watch over 100 million hours of video a day, collectively. On average, organic videos get 135% more reach than organic image posts. This means that video should be a big part of your content marketing strategy for 2018 if you plan to include Facebook.
The engagement and performance of videos on Facebook is proven to be effective. The social network offers useful tools and features to make video creative on your own, even without a design team. You can make slideshow videos for organic or advertising purposes that don't take too much experience. Sometimes you have to feed the giant and give it what it wants -- but when video helps improve your Facebook campaign and marketing efforts -- it's worth it!
Diversifying Ad Types
Staying up-to-date on Facebook advertising news and releases can seem endless -- and that's because it is. The social network seems to be constantly updating, fixing, adding and diversifying their offerings when it comes to marketing on the platform. While this can be stressful to monitor, it's vital to pay attention to. Facebook has built a whole ad inventory of options for your campaign needs. The important part about these ad types is understanding them, and then implementing them to achieve your goals. After choosing your objective, selecting the ad type that best suits your campaign will be a huge indicator for success in 2018.
If you haven't experimented with the current ad catalog then we suggest you get to it! After rolling out canvas and collection ad formats, Facebook has enhanced the ability for brands to use storytelling in their advertising. Building lists of potential customers has never been easier with lead ads, offering a form inside the ad for users to submit information into form fields selected by the marketer. While breaking down the functions and importance of each ad type could be its own blog series, we'll settle for sharing Facebook's extensive ad guide. By keeping up with the formats and utilizing their unique features for your specific campaign goals, you're on your way to successful Facebook advertising in the new year.
Including Instagram
The integration of Instagram into Facebook marketing is becoming increasingly convenient. While in Facebook Ads Manager, marketers can choose Instagram as a placement for their ads. Not only is the process easy, there's many benefits to advertising on both platforms. Marketing simultaneously on Facebook and Instagram helps to build two audiences (and more leads) at the same time. With two million marketers on Instagram, there's no doubt it's time to start extending marketing efforts onto the most engaged-with social app. As Facebook continues to add new features and capabilities for its ads in 2018, Instagram will surely become even easier to market on through Ads Manager.
Upcoming Features
Marketers who arm themselves with Facebook advertising's latest tools will be at the head of the pack in the new year. It seems like every week Facebook is releasing a new update or feature for advertisers on the platform. For example, in early 2018, the social network is releasing a few new features to enhance ad management and performance.
Campaign budget optimization is an upcoming feature that will allow marketers to spread a campaign budget across multiple ad sets, allowing Facebook to automatically adjust ad spends to give a stronger push to better performing ads. Depending on the campaign goal, and how many ad sets are running, this is a very helpful new addition.
Facebook wants to start adjusting your ad spend for you to help ad performance, but why not test different ads yourself, too? Launching in 2018, two new measurement solutions will become available to marketers looking to see which creative in their campaign works best. Creative split test will provide the ability to A/B test different ad formats and see what performs best. This will help decipher what copy, image and headline combination work best with the targeted audience.
Test and Learn will answer campaign questions at a higher level, offering unique advice to questions like how much a conversion is costing, which campaign is providing the most conversions, etc. Facebook will suggest a "test" to run to come to the conclusion of common campaign questions. It will be interesting to see how many different questions this feature can answer efficiently!
What's next?
Advertising on the world's largest social network may not be for every business, but with over one billion users on the platform -- it's hard to ignore. The amount of marketers on Facebook and Instagram continue to grow exponentially each year, making its competition and ad prices grow with it. What does this mean for a small business trying to grow a digital presence? It's important to consider all mediums of digital marketing when fleshing out a strategy for 2018. If there isn't a massive budget to put towards social media marketing, there's still hope; using new features, engaging content, boosted posts and other best practices will help a business of any size shine on Facebook. Not sure where to begin? Our social media experts have the knowledge and expertise to enhance your Facebook marketing strategy and get it on track with where the platform is headed. Fill out the form below and our experts will get back to you to get started.