Let's Break It Down: Facebook or Twitter for Your Business?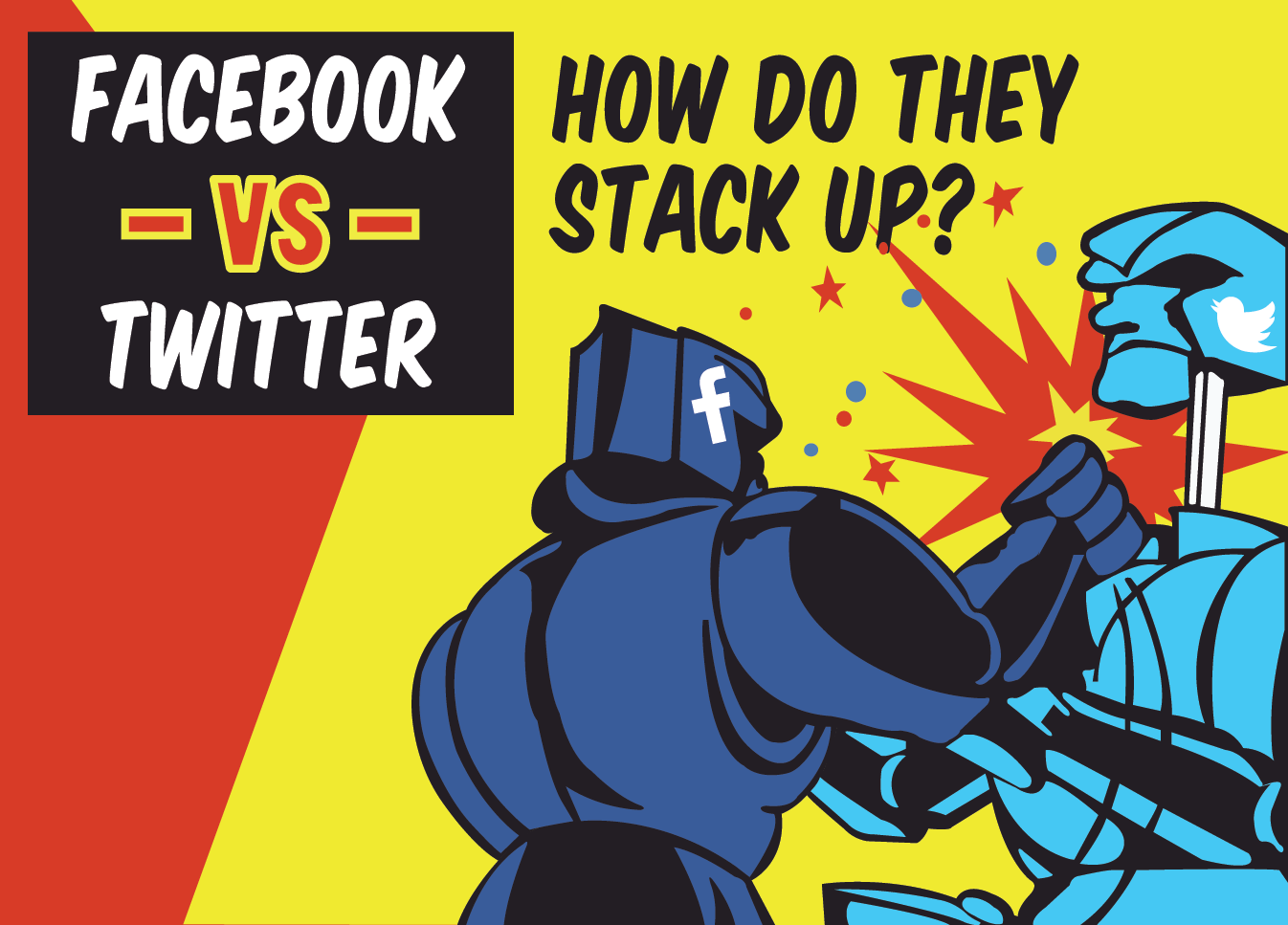 It's impossible to avoid it these days, social media has exploded on the scene and isn't going anywhere. What started off as a way to connect with close friends has now turned into billion dollar businesses, and your business should be a part of it. Nowadays, people check out a company's social media accounts before visiting the websites. That means if you don't have social media - or you don't update it as frequently as you should - you could be missing out on real customers with a need and money they're looking to give you.
If you're not familiar with social media or what platforms you should be utilizing, have no fear. Let's Break It Down, a blog series, aims to help you better understand what each platform does, the benefits and if it's right for you. Let's start with the heavy hitters; the platforms that focus more on the written word - Facebook and Twitter.
Not Just Your Grandmother's Social Network:
You know Facebook. Your aunt Sue knows Facebook. Everyone knows Facebook. It's a great way to stay connected by sharing content, updating in real time, and posting pictures and videos to your audience. Not only does that make it an extremely efficient platform, but it also has an insane amount of users. Accordingly to the company's own statistics, June 2015 saw an average of 968 million active users a day. Facebook has an incredible amount of reach and users range in age, allowing you to connect with many different types of audiences.

Facebook for business is predicated on the "like". A like signifies that a) the person is interested in your business and b) when you send out updates, your post will appear on their news feed, which will allow them to interact with it. They have the ability to like the post, comment on it and/or share it with their friends. The more high quality content you're able the post, the more Facebook will show your content to your audience. What exactly should you be posting to Facebook? Essentially anything and everything that is relevant to your business. If you are a contractor, you might share pictures of your completed projects or your employees hard at work. If you're having an upcoming deal, Facebook is a great way to get the word out. If there's an article you read in the New York Times that you think your audience would benefit from, share it. Sometimes, jumping in on what's trending can be super helpful and fun, too.
Another underlying power in the "like" is the ability to gather real data on your customer base. A customer "Like" gives you access to greater demographic information, that can help you find other customers who are similar to the one's who already are active with your business which can help you in developing targeted advertising campaigns to generate buzz and eventually real leads.
Facebook's strength is the amount and diversity of its users. Everyone and their mother has Facebook - literally. Once you figure out the ins and outs of posting it is easy. So do you need it? While it may seem complicated and overwhelming at first, business Facebook pages are becoming almost intrinsic because of their versatility. You can post statuses, pictures and videos, as well as share content to your page. It's very easy to connect with users; conversing back and forth with them is simple. Above all, a Facebook page is a way for your customers to get to know your company on a more personal level. Through your posts, people will see your brand as more of a person, instead of an entity, which allows them to invest not just financially but emotionally as well. Facebook can be your business's biggest ally; it's critical for today's world.
The Underdog Always Pack a Heavy Punch:
When Twitter first came onto the scene, no one really knew what to think of it. "Is this just a constant stream of Facebook statuses?" "Am I just supposed to post updates of my day?" "How often should I post?" "Why do I have a character limit?" There was one question that everyone seemed to have - "if I'm not a celebrity, who cares?" While the concept of Twitter left many people scratching their heads initially, the company has proven it's a force to be reckoned with. According to Twitter statistics, the company has 284 million active users and 500 million tweets sent per day. A far cry from Facebooks behemoth 1 billion, but still quite impressive. And Twitter's calling card is quality, not quantity.

On their company page, Twitter states their mission is to give everyone the power to create and share ideas instantly, without barriers. The big thing you have to be aware of is that Twitter has a 140 character limit. You have to be short and sweet with what you say; try to be as direct as possible. The character limit can be scary at first but it gives you a chance to get creative. Once you post several times, you will get a feel for what 140 characters look like; after that, it's easy! You can still post pictures and videos, and utilizing hashtags is extremely encouraged - #just #don't #go #overboard.
Twitter's strength is that it's easy to update and it's instant. It's great for tweeting during events or hosting a Q & A with followers. While people usually only post once a day on Facebook, Twitter's feed is constantly updating. Posting 5-7 times in one day (and even more) isn't frowned upon with Twitter - in fact, it's encourage. But make sure to find that sweet spot where your customers are informed and engaged, without being annoyed. Another asset of Twitter is their trending page. This allows you to see what a significant amount of people are talking about. You then have the ability to join in the discussion - by sending a tweet out with the correct hashtag, retweeting someone, responding to someone else's tweet or just favoriting one. Staying up-to-date with what's trending on Twitter is crucial for getting people to discover you. Plus, you can have fun with it and everyone loves a brand with a sense of humor.
The Results:
Now, it's time to decide which platforms will benefit your company. If you decided you need both, spectacular! Facebook can benefit your business just because of it's sheer size and reach, and the cost-effectiveness of it's advertising campaigns. Twitter is a bit more involved, and small business owners might not have time in the day to constantly be interacting, but offers the most in terms of engagement. If you are just dipping your toes into the pools of social media, here is our advice: start with Facebook. Twitter is definitely a useful social media platform. It's quick, easy and a lot of fun. But the character limit and time commitment does pose a problem. With Facebook, there are few limitations. It's easier to get adjusted to than Twitter and having a page for your business is absolutely necessary. Once you get the feel for Facebook and want to start exploring more platforms, definitely get into Twitter next.
Check back soon when we dissect Instagram, Pinterest, and SnapChat!
Ready to Get Started on Social Media?
Request a Quote Today to Get Started.