The Digital Marketing Toolkit, Part 2: Analytics and Webmaster Tools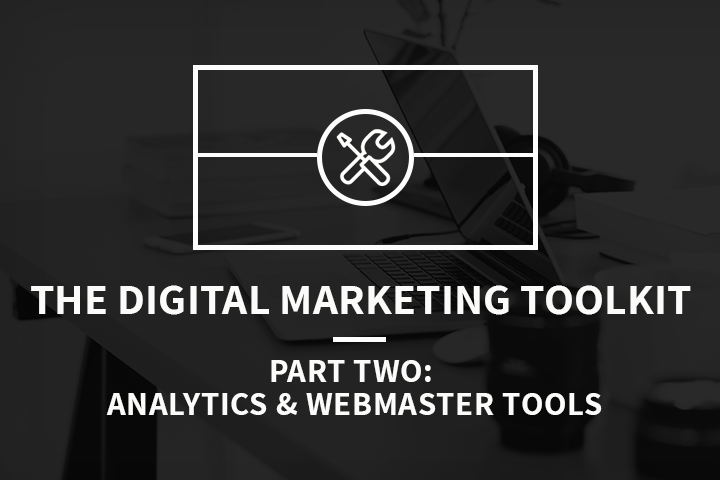 In the second article of our Digital Marketing Toolkit series, we will be taking a look at important analytic tools for digital marketers to gather data and dissect the performance of their websites' marketing. Whether it's tracking audience behavior or measuring the conversion path, digital marketers constantly reference data to make new decisions for their websites. Tools such as Google Analytics, Google Search Console, and Bing Webmaster Tools present this real-time data in useful ways and are constantly being updated with new features. While in our last article we took a look at features in the internet browser itself, these tools are website applications accessible with a user-created account.
Here is a basic overview of these essential web applications, and how they should be integrated into your digital marketing strategy. Like the last article, feel free to skip around as needed, as some of these features may be more useful or relevant to your business than others.
Google Analytics
Google Analytics is a web service that tracks and reports traffic to your website. After installing a script onto your site. it generates reports and metrics from the user data it tracks. This provides information on a visitor's demographics, location, source, behavior, and conversions on the site. As the most used internet analytics service, Google Analytics offers a robust set of tools for digital marketers to analyze visitors to their site, and can be integrated with both Google services such as AdWords and Search Console and third-party web services like CRMs.
Audience and Remarketing
In order to market to your audience, you need to get to know your audience. Google Analytics' Audience tab breaks down the demographics of visitors to your site based on factors such as age, gender, location, and what device or browser they are visiting the site on. A good digital marketer knows that they should tailor their content to not only their ideal user but also the actual users coming to their site. To aid with this, Google Analytics offers remarketing features such as integration with other Google services like AdWords and DoubleClick.
Acquisition
Google Analytics can also tell you whether visitors were directed to your site from typing in the URL, organically searching it, clicking on a paid ad, being referred from a different website or clicking on a social media link or email link. These are the different marketing channels by which people can access your site. Additionally, you can break them down by source, or what specific website they're coming from, to determine which websites you should be targeting. Acquisition breakdowns can be immensely important to see where and how converting visitors are coming to your site.
Behavior
Once a visitor lands on your site, Google Analytics can break down how long they've spent on the site (i.e. the length of their session), how many pages they visited, whether they are a returning visitor and their bounce rate (i.e. the percentage of visitors that immediately exited a page once it loaded). These metrics are provided on both a site-wide and per-page basis. Of particular importance are landing pages, which is the first page that a visitor sees upon arriving at the site. These pages can be custom-tailored to a user's specific need and search query, and Google Analytics allows a digital marketer to see the efficacy of their landing pages.
The Behavior section also provides ways to analyze site speed and internal site search, as well as providing suggestions on how to improve these aspects of the site. Additionally, if HTML elements on a page have a certain Google Analytics code applied to them, they can be event tracked if a user interacts with them, such as clicking on a button or playing a video.
Conversions
Conversions are perhaps the most important objective for a business owner's website, as they are the most direct connection to leads and sales that Google Analytics can track. Goals are how Analytics tracks conversions, and goals can be defined as completed based on a user performing an event, visiting a page (such as a "thank you" page), duration of time spent on the site and visiting a minimum number of pages in a given session on the site.

Google Analytics offers various attribution models to credit different stages of the process in creating a conversion based on what a digital marketer is trying to accomplish. For instance, a Last Interaction model credits the last touchpoint with all of the credit for a conversion, which might be useful for a campaign focused strictly on closing leads. A Linear model credits all stages equally, which helps a campaign wanting to evaluate all steps in a potential customer's buying cycle.
Ecommerce tracking can also be implemented to track more specific monetary values like sales, purchase quantities, and billing locations. Google Analytics also allows for different funnel visualizations, which provide a more detailed breakdown of the paths users take before and during their time visiting the site, with the end of the funnel being a goal.
Other Tools
Google Analytics offers a data import feature for digital marketers using non-Google products to track their data. This allows Google Analytics to become a central hub to view and analyze all of your data for your website. All of this data can be generated into custom reports analyzing different dimensions and metrics of the data.
One more useful feature is Google Analytics' integration with Google campaign tags. Campaign tags can be added to URLs of links to your site, letting you track exactly which campaign name, source, medium, keywords, and content led to a visitor coming to your website. These tags can be searched and sorted in Google Analytics to further breakdown acquisition data. You can find a useful URL builder here to add campaign tags to your URLs.
Google Search Console
Google Search Console is an invaluable tool for digital marketers and webmasters. It provides a behind-the-scenes look at how Google crawls and indexes their websites, and allows digital marketers to optimize their website on Google for maximum visibility. Search Console allows marketers to leverage data and monitor how changes to their website affect their standing on Google and other search engines. It can also detect security issues, provide various testing tools, and integrate with other Google products such as Analytics and AdWords.
Search Appearance
The Search Appearance tab contains features that affect what a user will see on a search engine results page (SERP) when they search a query. Aside from standard HTML improvements to the meta tags on a website, Google Search Console also offers tools that scan your website for data and information that can be turned into a visually attractive and interactive elements called rich snippets or rich cards. Google needs highly structured data in order for a website to be eligible for these rich results, and Search Console lets you know if your HTML meets the standards of good structured data markup.
Google Search Console also allows a digital marketer to fix issues with their Accelerated Mobile Pages (AMP) to optimize their performance for mobile users. Usually used for static pages that need to load quickly, such as articles, AMP pages are highly structured and fast-loading web pages that look good and perform well on mobile devices even on slow networks. Search Console provides excellent tools for debugging the HTML and JavaScript of AMP pages to ensure they meet the proper specifications.
Search Traffic
The Search Traffic tab provides basic analytics about how often users see and click on a website in a SERP, as well as its position in the results. The tab is also useful for tracking backlinking as well as internal links within a website. Search Console allows a digital marketer to further narrow their target search audience via international targeting tools and the ability to fix mobile usability issues.
Google Index
This tab allows access to data about how many pages were indexed by google, blocked by robots and web crawlers, or removed from Google's index. It also alerts a digital marketer to any blocked resources on a website, which could be a sign that web pages are indexed incorrectly. Google also provides the option to temporarily remove URLs from SERPs if needed.
Crawl
The most important feature of the Crawl tab in Google Search Console is the ability to see how google fetches and renders pages from your website. A digital marketer can also manually request that these pages be indexed by Google, rather than waiting for them to be crawled. Search Console catches crawling errors and reports statistics on the performance of their bots, and also helps catch issues and warnings in a website's robots.txt file, a file that provides instructions to web crawlers such as not following links to certain pages.
A New Look
It's worth mentioning that soon Google Search Console will be getting a visual update with a very different user interface, as outlined by Google in this blog post. The visual update also comes with the addition of some new features, including "search performance, index coverage, AMP status, and job posting reports," according to the post. You will still be able to access both versions of Search Console until the new one is completed, but this updated version will make reporting search information even easier and more integrated with Google's other products.
Bing Webmaster Tools
As the second largest search engine in the US with over 20% query volume, Bing has also developed its own set of Webmaster Tools. Like Search Console, Bing offers ways that digital marketers and webmasters can optimize their site for Bing web crawlers and SERPs on Bing, as well as integration with Bing's other services.
Configure My Site
The Configure My Site tab provides the digital marketer control over the URLs and content of a website as rendered by Bing, as well as the ability to index pages manually. Web pages can be optimized to have web crawlers crawl the site at times of the day with the most traffic with the Crawl Control feature. Users can be specifically geo-targeted, and other related web presences such as social media accounts can be linked to Bing Webmaster Tools to monitor their performance in reports.
Reports, Diagnostics, and Security
Bing Webmaster Tools provide data on frequently encountered errors such as mobile device friendliness, meeting SEO standards, and HTTP errors such as 404. The markup validator is a great way to check for issues with the HTML of a website. With added security tools, Bing Webmaster Tools can help detect malware and phishing threats to a website.
It also displays page traffic data detailing how often a page is clicked, appears in search, and its average position in a SERP. The top search keywords from organic searches are also reported, which can help a digital marketer with query targeting. The keyword research and SEO analyzer tools makes sure the website corresponds with the latest SEO standards for Bing, and can be useful for finding new keywords to target as well as different ways to target existing keywords.
360 PSG Is Here to Help Develop Your Digital Marketing Plan
The amount of information and analysis that can be gathered from websites and search engines is massive, and these tools are the best way to parse through the data and gather the relevant information to implement a great digital marketing strategy. In Part 3, we will be exploring paid advertising platforms such as Google AdWords and Bing Ads, and how they can be integrated alongside organic search engine optimization in your digital marketing plan. Contact 360 PSG today to learn how our SEO expertise can help your business achieve its digital marketing objectives.
DON'T MISS THE DIGITAL MARKETING TOOLKIT, PART 3 & MORE FROM 360 PSG BY SUBSCRIBING TO OUR MONTHLY NEWSLETTER!