The Future of Search: Conversions

SEO. CRO. Conversions. User Experience. Click through rates. Digital marketing can be a complex beast, but we want to help pare things down and explain in the simplest way the marketing jargon that most marketers will throw at you to convince you that it's worth the investment. Digital Marketing, like any form of marketing, is best used when you understand how it will help you reach your target customer base. You have to place your product where your customers are, or else it becomes a money drain. Building a lean, an effective digital marketing strategy can do everything to drive your sales, and develop a solid foundation for your business's continued success.
Conversions are a metric that most digital marketers will use to figure out if the people who are coming to your site are actually leading to an opportunity for you to make a sale. It's one of the more direct ways to see if you online marketing budget is leading to tangible results. Conversions can be defined as anything from filling out a lead form which puts customers in front of you who are further along the buying cycle, to an actual sale when people are clicking and buying directly from your site.
The most efficient way to look at the conversion cycle is to think of it as a funnel. Here are the steps to the conversion funnel: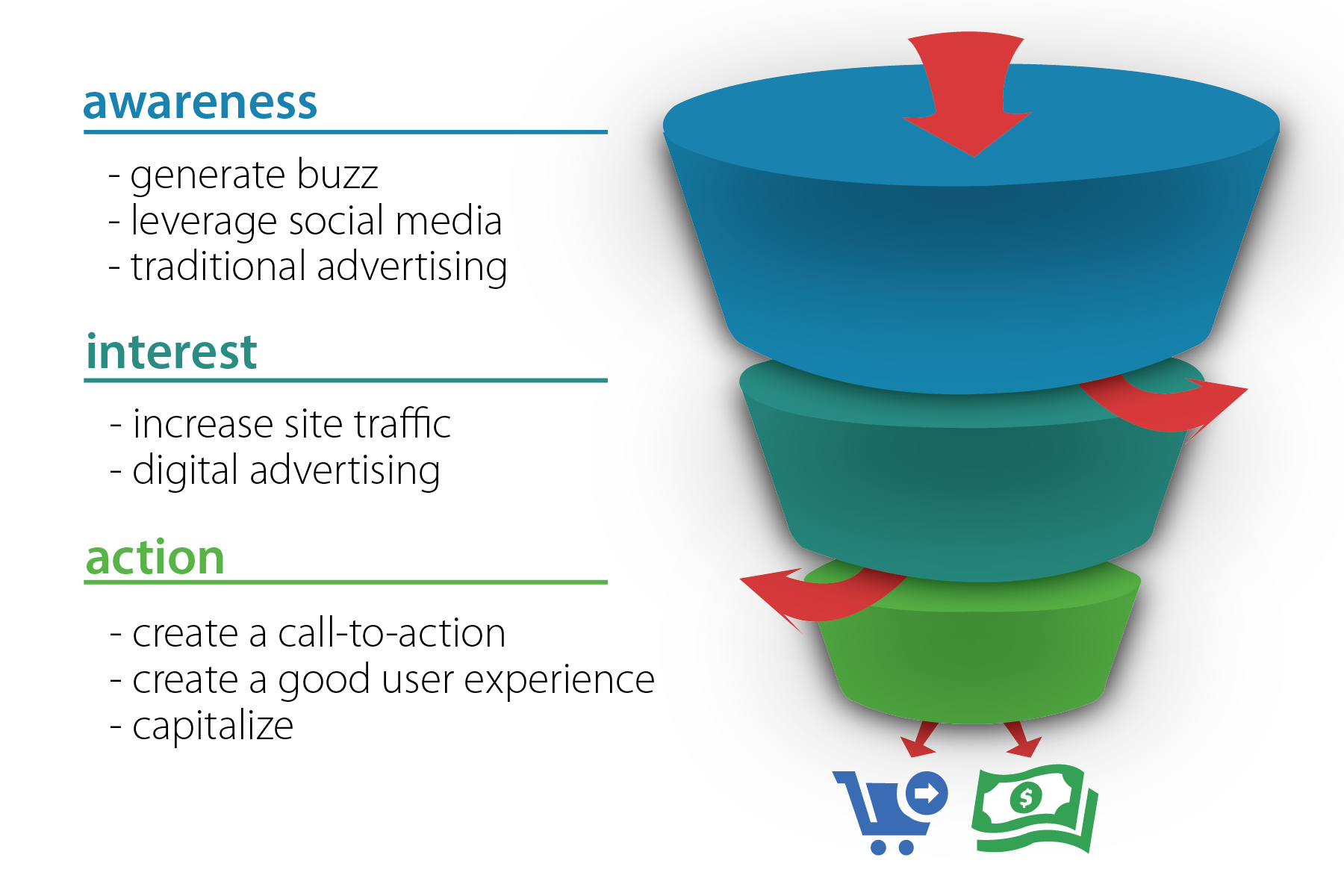 1. Awareness
First and foremost, you want to get people aware of your business. You want them to know what services you provide, and how you set yourself apart from your competition. People generally find you here through outlets like your social media, or any paid advertising you have to generate some buzz.
2. Interest
The next step is to get people interested in your brand. At this point, you want people to see what your business has to offer, be it with digital advertising, incentive programs, or discounts. People have to see the value in your business, and why it is important to them. Usually at this point, people are visiting your website to get an in depth view of your business.
3. Action
Now is where your work as a sales person really comes in. Customers who have made it to this point are interested in your product, and you need them to take action. This is where the conversion can happen, or it won't. Getting people to opt in, fill out a leads form, or actually make a sale is most effective at this stage because they have already gotten to the point where they see the value in your business.
The conversion process it key to monetizing your digital advertising process. By generating real leads who have gone through the conversion funnel, you have customers who are not only interested and informed, but likely ready to make the final decision to buy.
Do You Want To Get Started on a Digital Marketing Campaign? Contact 360 PSG Today!