Leading The Way To Conversions With Social Media Lead Form Ads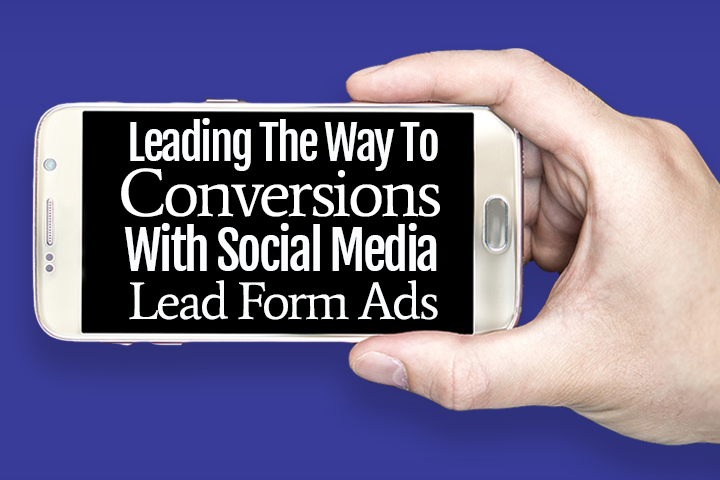 In 2015, Facebook announced its newest ad format: lead ads. Described by the powerhouse social network as "an easy way to sign up for more info - anywhere", lead ads enable potential customers to sign up for a product or service directly onto the ad. Lead ads are mobile-friendly and provide an easy, fast solution to gather info from your audience and turn leads into conversions. Once the ad is clicked, a form will pop up containing form fields set up by the marketer. Lead ads are a great way for advertisers to acquire newsletter sign-ups, begin an application process, offer ecommerce deals, schedule an appointment and a multitude of other objectives. There's many uses for lead ads, especially with the recent release of LinkedIn Lead Gen Forms and the integration of Facebook lead ads with Instagram - conversions are now just a form field away.
Facebook and LinkedIn lead ads are customizable and help capture lead information while building an ongoing list of potential customers. So, what is missing? Facebook's recent update allows marketers to attach an offline program like customer relationship management (CRM) and point-of-sale (POS) systems to organize their lead campaign submissions. LinkedIn also offers this handy feature, providing CRM tool integration with the newly released Lead Gen Forms. Advertisers are able to track lead contact information, where the customer is in the sales cycle and implement the collected information into alternate strategies. All of the information provided by potential leads is integrated automatically into the offline CRM program. Not only does this new update save time, it improves customer acquisition and the methods of gathering necessary lead information.
Once you've collected a list of prospects, the opportunities for them to become conversions depends on your individual goals. For example, if you're building a newsletter audience, upload the contacts populated into your CRM tool and upload them to your email management program. The data collected by lead forms can even be used to create lookalike and retargeting audiences on Facebook, as well as the newly released Matched Audiences on LinkedIn. Retargeting will show your ads to people who have recently visited your website. Showing your lead form ads to people who have shown interest in your company, but may have not yet converted, is an effective strategy to acquire high-quality leads.
It's important to note that there are some requirements to meet on behalf of the advertiser when creating a lead ad. Due to lead forms collecting personal information, Facebook and Linkedin require marketers to link to their company's privacy policy. This ensures that when a potential customer fills out a form, they know they will not risk an advertiser selling or sharing their personal information with a third party. Having a concrete privacy policy on your website can improve the performance of your lead ad by showing your audience that you respect their privacy and the information they may share.
The integration of social media lead forms and offline data systems allows marketers to focus on what's important - leads becoming conversions. With time saved on the processes of data collection and organization, advertisers are able to adjust creative and use data gathered from their efforts to fine-tune their campaign and achieve the best possible results. Interested in building a list of potential customers for your business through lead ads, but not sure where to begin? We're here to help. Contact 360 PSG today to discuss how social media advertising can lead the way for your client list to flourish.