Digital Marketing Toolkit, Part 3: Google Adwords and Bing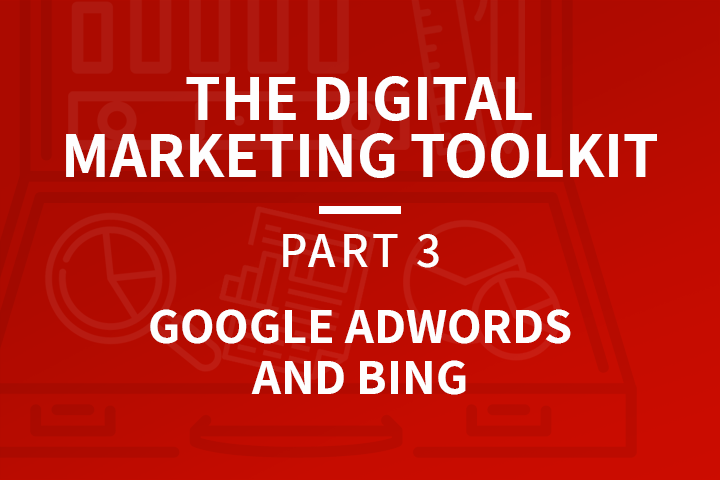 Organic search engine rankings are not the only way to gain exposure and drive traffic to your website. There are numerous online paid advertising networks available to use across various websites. However, only two platforms, Google AdWords and Bing Ads, offer direct integration with the most popular search engines in the world using a pay-per-click (PPC) advertising scheme.
In this third article in our digital marketing toolkit series, we will explore these two platforms and show you key features that you can use to effectively market your site on a paid search engine marketing platform. Some of these features may be more relevant to your website than others, so consider this more of a general guide and don't feel pressured to use every single feature. Check out Part 1 and Part 2 in this series of articles for more tools to augment your digital marketing strategy.
Google AdWords
Google AdWords is a pay-per-click (PPC) online advertising platform where you can write ad copy and headlines for ads that look similar to organic Google search results. You only pay when a user clicks on the ad, and position for a given search term is based on bidding for desired keywords for each ad. AdWords is highly integrated with Google's other products like Analytics and Search Console, and offers many additional features and extensions that expand its capabilities far beyond a few simple lines of text.
Overview, Layout, and Recommendations
The new AdWords layout is currently in beta, but since it integrates all of the features of the old interface, we will be describing its layout here. This quick reference map provided by Google can be used as a supplement for learning this new layout. Every AdWords account has features on the left sidebar that apply to the ads, extensions, keywords, audiences, and settings for a campaign. The overview screen provides a customizable dashboard which, depending on the date range you set, can show in a given time period different metrics about your campaigns. These can include line graphs of data, rankings of different campaigns, significant changes over time, the best performing keywords and most searched terms, device and ad schedule data, and more.
Recommendations (formerly known as Opportunities) are custom-tailored to your ad campaigns, and can be broken down into categories such as bids and budgets, keywords and targeting, ads and extensions, and others. These opportunities can help you restructure your campaign, draw attention to areas lacking in budget or number of ads, and help you remove unnecessary items such as extra keywords.
Campaigns, Ad Groups, Ads, and Extensions
Every account can be subdivided into multiple types of groups: campaigns, ad groups, ads, and extensions. Every campaign can have multiple ad groups, and every ad group can have multiple ads and extensions. Campaigns are the broadest group, with a set budget, location, bid strategies, and other settings, and are often used in an analogous way to non-digital ad campaigns. Each campaign is usually distinguished by the different types of products and services a website provides.
Ad groups are literal groups of ads and extensions within a campaign, often grouping them together based on shared topics, themes, keywords, or types of products or services offered. Ad groups can be assigned default maximum cost-per-click (CPC) values, which is the most you're willing to pay for a click on that ad in that ad group. Individual keywords assigned to ads within that ad group can have their CPC values changed, if you want to bid for a certain specific keyword.

Ads are the headlines and ad copy that make up the core of AdWords, and are what primarily appear in a search engine results page. Extensions also appear next to ads, but offer additional information and interactivity for the user, such as a clickable phone number, callout text, links to key pages on your site, prices for your products or services, and other types of extensions. Extensions can also be automated, such as dynamic structured snippets, which automatically show more details about your site by drawing information directly from it. Conversions can also be directly tracked on certain types of extensions, such as logging a conversion whenever someone clicks on an phone number extension on an ad.
Keywords, Audiences, and Demographics
When you want your ads to be higher up in the rankings, you can bid for them to show up for certain keywords. The higher your bid, the higher you will rank until you eventually reach the 1st position. This means that your ad will appear at the top of the first page on Google, even above the organic search results. Choosing the right keywords and bidding on them enough without spending too much money is the key to a great AdWords campaign.
Keywords can have numerous modifiers that can affect whether you want your ads to show up for a broad range of keywords or very specific ones. In order from broadest to narrowest, the four types of keywords you should be using are broad match, broad match modifier, phrase match, and exact match. This article by Google explains the difference between these four types. You can also include negative keywords, which are keywords for which you don't want your ads to show up.
Audiences and demographics allow you to target your ads to specific people. This can be through remarketing to people who have visited your website before, or by targeting your ads to audience interests based on other websites, apps, or videos that they have visited. The demographics view breaks down your audience by age, gender, and household income, showing data on which groups have a higher tendency to click on your ads or convert on your ad or site.
Bid Adjustments
Bid adjustments can be tailored to more than just individual keywords. They can be based on aspects such as location, time of day, and the user's device. Location bid adjustments can target broad geographical areas as well as a specific radius around a town or city. Ad schedule bid adjustments are useful if you want customers to contact you at a specific time of the day, such as opening hour. Device bid adjustments are essential because of the increasing prevalence of mobile searches, and you might see drastically different conversion rates across devices.
A good rule of thumb for calculating bid adjustments is to use the following formula to determine what percentage you should adjust your bid up or down:
(Item Conversion Rate / Campaign Conversion Rate) - 1 x 100
The "item" in question is whatever you are targeting for a bid adjustment, whether it's mobile devices, a specific location, or a certain time of day.
Bing Ads
Overview and Layout
The Bing Ads layout is similar to Google AdWords, except all of the options are tabs right above the data rather than in a sidebar on the left. Bing Ads' Overview tab offers a Tips window with useful advice such as how to import Google AdWords campaigns into Bing Ads, as well as the latest features added to the platform your site could be taking advantage of. The Overview tab also shows the performance of your campaigns, metrics, and a breakdown of data by device type.
Campaigns, Ad Groups, Ads, and Extensions
Like AdWords, Bing Ads is divided into similar subgroups of campaigns, ad groups, and ads and extensions. Each campaign can have a light bulb icon appear next to it that indicates opportunities to improve the campaign, much like Google AdWords' Recommendations feature. These opportunities can also be accessed from the top menu. Most features are similar to Google AdWords in the ad groups, ads, and extensions sections. The key difference is that Bing Ads offers fewer extensions, but Bing still offers popular extensions such as callout text, reviews, calls, location, and structured snippets. Bing Ads also offers something Google AdWords doesn't: image extensions, which allows for the display of one to six images with captions alongside your ad copy.
Keywords and Audiences
Bing Ads has the advantage in being less competitive than Google AdWords, but it also has a smaller audience. This means that although keywords get less volume, they are cheaper to bid on for the top positions. Bing Ads also has fewer options for audiences, with only so many remarketing options, no capability for negative audiences, and a lack of demographics data. Bing Ads still offers a rich platform for paid advertising, however, and is worth looking into for campaigns restricted by a smaller budget looking to maximize their returns.
360 PSG Is Ready To Help Your Ad Campaigns
Paid advertising offers a direct way to get your site in front of users searching for the keywords you want to target, and is a great complement to an SEO campaign. The final part of this series will be dealing with heatmaps and how to track user behaviour on a site to use for digital marketing. 360 PSG is here to get started on crafting the perfect digital marketing strategy, so request a quote today to see how we can help your website succeed.