Why Isn't Anyone Seeing my Facebook Posts?

A common problem that business owners who finally take the leap to utilize their Facebook for business face is that no one is seeing what they've been posting. And we've got good news! It's not your fault! It's not that you're putting out poor content, or that you're not doing a good job. It's just that you're not doing that job in the right way.
But People Used to See my Posts!
The way that most social media networks have worked in the past is that anything that was posted would immediately be viewable by the people who follow you. On Facebook specifically, as long as you were friends with someone, you got to see the things that they posted almost instantaneously. That way everyone got to see Barbara's cat. It was a simpler time. The strategy a couple years ago was to gain as much of a following as possible, so that your post would get in front of more people. The easiest way to do that was the get more "likes" on your page, and build up your audience that way.
When advertising began to take a bigger leap forward with Facebook, it began to change how you interacted with Facebook. Status updates and content that were not backed with dollars were seen less and less. Visibility for posts that you put out declined. There was less interaction with your posts because they would not reach your entire "following" base. Despite having hundreds or thousands of followers, your posts might only get to a small percentage of them.
These days, only about 5-10% of your following will end up seeing your post in their newsfeed, unless they go directly to your page. The only way that you're able to reach 100% of your following base is by boosting your posts with Facebook advertising. But we have a couple tips & tricks for getting some more followers in a cost-effective way.
And as of 2/3/2016, Facebook continues to adjust it's newsfeed algorithm to help quality content get to the front. It wants to make it easier to ignore postings that are irrelevant and "click-bait", and predict which type of content you the user would be most likely to engage with. According to a blog post from Facebook, "News Feed will begin to look at both the probability that you would want to see the story at the top of your feed and the probability that you like, comment on, click or share a story. We will rank stories higher in the feed which we think people might take action on, and which people might want to see near the top of their News Feed."
Five ways to get more people to see your Facebook posts.
1. Boost your posts with Facebook advertising. If you are marketing strategically, you can end up with an unbelievable targeted marketing campaign for pennies on the dollar of a traditional digital media campaign. The average campaign cost is $0.27 cents per click, or per person that views and interacts with your post.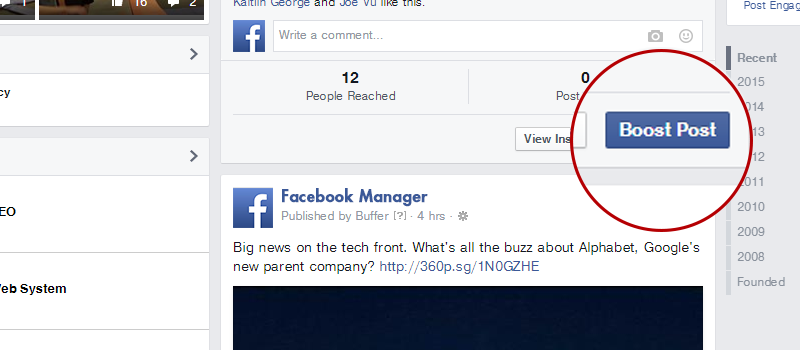 2. Get people commenting. The more that people are interacting with your post, whether it is liking your post or commenting, the more visible it will become. Getting more interaction with a post is also very good for your business image, because people can get to see the more personable side of your business.
3. Reply Reply Reply! If people are interacting with your post, interact back with them! That is the ultimate goal of social media, is to build relationships. By responding to people who post to your page and comment, you are building a strong relationship and gaining free visibility!
4. Use Facebook Insights. Find out the ideal time to post, when people are engaging the most with you. Use this to your advantage, and have an interesting, engaging post ready for that time.
5. STOP USING CLICK BAIT! It's the new incarnation of the pop up ad. We understand that getting people's attention is key, but baiting people into clicking on your article is an unsuccessful way to build sustained success with content, and more often than not puts you in the category of "IGNORE ALWAYS".
Want To Get Started On a Facebook Management Campaign? Contact 360 PSG Today!