What Do I Choose? Open Source Vs Proprietary CMS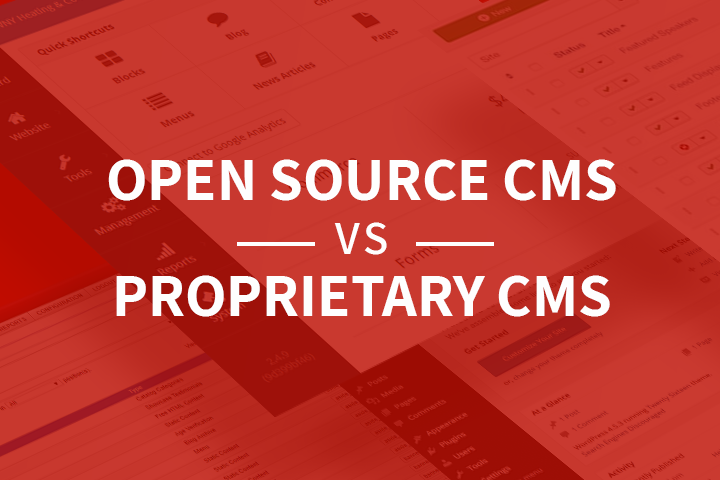 We all know how vital websites are in the digital age. Built to host customer purchases and communicate detailed content, a website is an essential asset for every business. However, once you begin looking for options to create your website, it can be overwhelming! You may sift through countless options from large brands including Wordpress and Drupal to digital agencies offering proprietary software. What is the right choice for you? We get asked that question all the time as we consult our clients. Below, we have included the benefits and limitations of both options to help you make a decision.
Brief History Of Content Management Systems (CMS):
When the world wide web first began, building websites was an extremely costly and technical endeavor. In those times, it could cost hundreds of dollars just to add a new page. Creating extra functions like contact forms or interactive sliders would cost even more - something only Fortune 500 companies could afford. As technology advanced, the internet became critical for businesses. Companies built various CMS platforms, allowing clients to update their own sites without paying a developer hundreds of dollars to do so. That brings us to the present, where CMS platforms abound.
Choosing An Open Source CMS
Open source platforms include some of the most widely used CMS's like Wordpress, Drupal, and Joomla. Each open source CMS has a core code that is visible to anyone. Different programmers collaborated on the code throughout its development. Today the default themes of these platforms offer numerous basic templates to build websites. To go beyond their initial templates, businesses may choose widgets and consult vendors to design more features in their sites.
Benefits:
Quick Initial Set-Up: Adding information to drag and drop templates can be simple.
Basic Templates Available: Open source platforms offer several kinds of basic templates that can get your website running, though they may look generic.
Open Source Code: With advanced programming knowledge, you can add what you want to the code that is available for anyone to use.
Limitations:
Lack of Support: Open source platforms were built on collaborative work, with developers working on different pieces of code. While there is no live team you can depend on, there are forums and help documents that can be referred to.
Customization Costs: Basic templates may look outdated or commonplace. To stand out, they can be customized with elaborate designs, which will incur additional costs.
Security vulnerabilities: Source code is available to anyone, increasing the chance of exploitation by users who study it with malicious intent.
Choosing A Proprietary CMS
There are many companies offering proprietary CMS platforms, each with their own designs and capabilities. Websites vary in their total costs, with more elaborate designs involving higher price points. Choosing a specific platform means trusting a company to securely maintain your website. Since proprietary CMS companies have invested substantial resources into the development of their platform, it is in their best interest to continue improving them to remain competitive.
Benefits:
Dedicated Team: Proprietary companies have support staff who guide you through CMS issues and developers who regularly update the core source code
Customization: Instead of finding multiple contractors to work on different features, you can work with a unified team that understands their CMS's source code and capabilities.
Strict Security: Proprietary platforms have closed code safeguarded within the company, making it difficult for outsiders to study your site structure and exploit it.
Limitations:
Updating frequency: Depending on your company, updates can vary. However, most competitive companies frequently update their platforms.
Customization Costs: As with open source platforms, further website customizations include extra costs, which can add up over time.
Reliance: From hosting your website and managing bug fixes to improving the CMS, a lot depends on the company you choose to work with.
Need More Help Deciding?
Choosing the right Content Management Platform for your website is a decision that significantly influences website functionality for both users viewing your information and your team changing content. This post offers details that can help guide your decision, but if you need more information, please contact our team! At 360 PSG, we consult businesses of all industries and sizes, finding the most suitable solutions for their websites.