The 7 Cs of Online Purchasing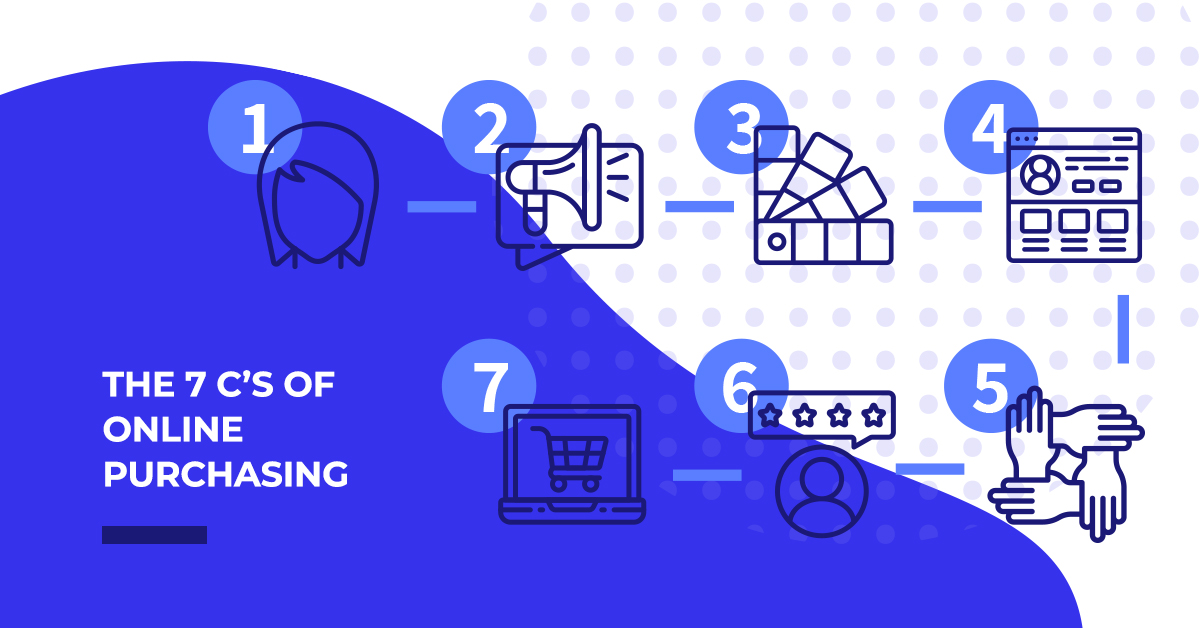 Understanding the motivations and habits of online consumers is crucial to securing their business. The people who do their shopping online tend to be better educated, younger and more affluent than the general US population. Their purchases also represent a disproportionate share of online shopping sales. In fact, nearly seventy percent of online sales can be attributed to just one-fifth of online consumers, according to a white paper released by professional services network KPMG. So it's important for retailers and service providers to understand what and why people are buying online.
Almost 70 percent of online sales fall into one of six categories:
Computers and electronics (22.0%)
Apparel and accessories (17.5%)
Automobile and auto parts (10.5%)
Books, music and videos (9.4%)
Furniture and home furnishings (6.7%)
Health and personal care (5.6%)
There are several reasons that these sorts of products do well being sold online. Some of these products—such as books, movies and music—can be digitally delivered. Others, like beverages, specialty products and gifts, may be unique, and thus difficult to find locally. Still others are regularly purchased items where convenience is a factor—products like personal care items and office supplies. Additionally, products do well online when they are highly standardized and cost is a factor, like ready-made apparel, or when products need to be researched first, like electronics.
When asked why consumers prefer to shop online, marketing professionals may use terms like "value creation" or "relationship building," and cite the importance of interactivity and individualization. However, consumers tend to explain their choices using seven "C" words: convenience, choice, customization, communication, cost, control and cookies.
Convenience
No searching for parking spots. No aimless wandering up and down aisles, looking for a particular product. No waiting in line. There are a tremendous number of annoyances shoppers can avoid when they shop from home, which they can do any time of day or night. Additionally, the use of price comparison bots and apps is also a convenience that can only be found online. Because consumers expect online shopping to be convenient, they become easily frustrated and will abandon their online shopping carts if the process takes too long.The eight second rule applies to shopping just like it does every other part of a user's experience: if your site's page takes longer than eight seconds to download, you're liable to lose your prospect. In fact, a staggering 69 percent of all shopping carts get abandoned, many because of slow download times. Another way to lose potential customers is to have too many steps between product information and checkout. Every additional step will cost you customers.
Choice
There are over 1.8 million online retailers in the US alone (and 7.1 million globally). Consumers who value options can shop directly with a trusted retailer, or can browse until they find exactly what they are looking for. The downside of all this choice is the phenomenon of overchoice, a paradox that can result in unhappiness, decision fatigue, defaulting and choice deferral—all of which can decrease the likelihood of the customer committing to the purchase.
To combat this, many websites offer some form of choice assistance to help provide decision simplicity for customers. This assistance can take the form of defined search parameters, customer reviews or chat features. All of these options help increase the customers' stickiness (likelihood of following through on a purchase). In fact, a study by The Corporate Executive Board, a global best practice insights and technology company, found that decision simplicity is the most important factor when it comes to customer followthrough. So give your customers choices, but help keep the decision-making process simple!
Customization
Even with all the ready-made choices in the world, some customers prefer to seek out customized items. The internet facilitates this by providing an interactive and individualized environment in which to exchange necessary information. But customization goes beyond offering consumers the right product. In fact, customization can transform into customerization, which goes beyond providing a specific product. Customerization also includes personalizing marketing and the overall experience for the consumer, transforming a transaction into an experience.
Communication
Internet-enabled technologies help enhance communication in several ways. These include emails from companies, buying and servicing requests from customers, and consumer-to-consumer information exchange via platforms like chats, IMs and social networks. These methods increase consumer convenience, reduce information search costs, and make the aforementioned choice assistance and customization possible.
Additionally, companies may create and host web communities, which operate independently but help build brand loyalty and establish interpersonal communications with the consumer. For example, My Food and Family is a site sponsored by Kraft and Heinz, which provides recipes and healthy eating tips. Another important form of communication are blogs and vlogs. Whether originating from the company itself, or a fan, blogs can cover a wide range of topics and provide additional information and supplemental materials. Those started by fans are often monitored by the interested companies to gain customer insights.
Internet-enabled communication also amplifies the effects of buzz, or word of mouth. In some instances, this can result in viral videos, which have priceless value. The two-way communication ushered in by Web 2.0 allows for customer participation. Blender company Blendtec produces a YouTube series called "Will It Blend," in which various non-food items (stuffed animals, gems, glow sticks) are blended. Within the first six days of launching the series, the videos had garnered six million (yes, million) views. The company solicits ideas for upcoming videos by asking viewers for suggestions, and the campaign has become one of the most successful internet marketing campaigns of all time.
This type of communication has even led to user-generated content being used by marketers, such as GoPro's #MillionDollarChallenge, Loews Hotel's #TravelForReal campaign, Google's #TeamPixel and FedEx's FedEx in the Wild Instagram effort. Companies do need to be careful with how much communicating they do, as spam is a real problem for consumers, and federal legislation exists to limit how much unsolicited communication can be directed at people.
Cost
People obviously don't want to overpay for items. Online shopping allows customers to find low prices more easily, especially because products are often less expensive online than in retail stores. Dynamic pricing also plays a part in lowering cost. Used to price time-sensitive products like airline and concert tickets, dynamic pricing allows for real-time price adjustment based on supply and demand. For example, Skyscanner, a metasearch engine and international travel agency, has identified Saturday as the best day to book domestic flights, with Sunday being best for international bookings. Having access to this information allows customers to make their purchases at a cost-saving time.
Cost isn't just about money though. There are other less tangible costs to a consumer, like search costs and convenience. When a customer has to spend a lot of time doing an information search, that is a cost. When a customer has to spend a lot of time actually shopping (driving to the store, the time in the store), that is a cost. Low external search costs and convenience are two of the biggest reasons women, especially those who work outside the home, cite for preferring online shopping. They know the truth of the axiom "time is money."
Control
Consumers also appreciate the control that online shopping gives them. Those who shop online are more empowered than those who don't. The internet allows consumers to obtain information, evaluate options and make decisions without pressure—all on their own time. Even if a consumer ultimately makes an in-store purchase, there's a very good chance research was done online. In fact, 85 percent of consumers conduct online research before making a purchase. For large purchases, the time investment can be significant. Market research company Rothstein Tauber conducted research on consumers making single-item purchases of over $500, and found that the average length of time to complete the decision-making process was 79 days, and the Wall Street Journal reports that car buyers spend an average of 11 hours doing online research before even stepping into a dealership.
Cookies
There is a seventh C that online retailers need to keep in mind: cookies. No, not the dreaded oatmeal raisin, but something worse. Those pesky files that are transmitted from a website to a user's computer. Cookies serve legitimate purposes, including remembering information, authenticating login information and recording browser information. However, some people have privacy and security concerns when it comes to third-party tracking cookies, which influences their online shopping behavior. While cookies make customized content possible, they also make behavioral targeting possible, which is controversial. Make sure your website is secure by using an SSL certificate and do everything you can to respect your customers' privacy.
Knowing what motivates customers to shop online helps savvy business owners customize their websites features and functionality to help meet those needs. If you are interested in making some changes to your website so that more visitors become customers, please get in contact with 360 PSG by filling out the form below.