Is Instagram the New Facebook?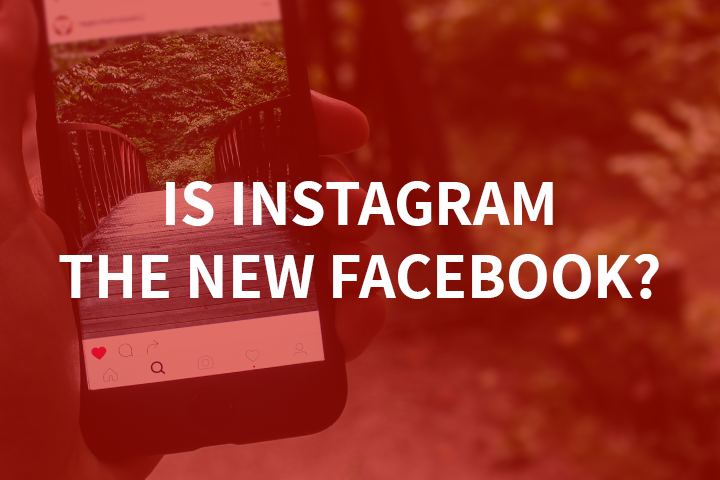 Is it a story of David and Goliath? Probably not, because Facebook owns Instagram and can't really lose to it if there is a mutual benefit. You can even integrate your Facebook marketing with Instagram simultaneously with Ads Manager. But, what if you want to focus on one platform? With recent data breaches and transparency issues with Facebook, some marketers wonder if Instagram is the next go-to network for social advertising. While Facebook still reigns over all with over two billion monthly users, we want to share some insight on the benefits of each, and if Instagram really is the next big thing.
What does Instagram bring to the table?
Lots of engagement.
Users engage with content on Instagram a lot -- to the tune of 4.2 billion likes per day. With such a strong focus on visuals, eye-catching content on Instagram is a great way for brands to connect with their audience. Even when you aren't paying to promote content, you can use hashtags to enhance the organic reach of your posts. On Facebook in 2018, only about 1-2% of the people who like your business page will see your posts unless you add a budget into the mix. If you're working on an almost nonexistent budget and don't mind reaching a younger audience, Instagram may be the best and only option; however, Instagram marketing with a budget is a whole new level of engagement for brands to experience. It's all about figuring out what your objective is.
Website traffic.
While Facebook business pages are filled with links, tags, tabs, images, company info and countless other features, Instagram business pages offer a small bio section and option to link one URL. With such a well-engaged audience on the platform, Instagram users are more apt to click a bio link or swipe through a creative ad. In fact, Instagram users that visit websites from the platform stay 45% longer than Facebook visitors and 40% longer than Twitter visitors. When it comes to finding an active, engaged audience -- Instagram is where it's at.
A young audience.
One factor that accounts for the wealth of audience activity on Instagram is the platform's young audience. It's reported that 59% of 18 to 29-year-olds use Instagram; this means for brands trying to reach young adults that are more likely to convert than their younger counterparts, Instagram is the right platform to advertise.
Can Facebook keep up?
Still the largest amount of users.
There are 2.07 billion monthly active users on Facebook that are just waiting to be connected with (compared to Instagram's 800 million). Facebook is a social network giant and that doesn't seem to be changing in the immediate future. If brand awareness is your goal -- Facebook has the audience for it.
Broad audience.
If you're looking to reach an eclectic audience, Facebook is definitely your best bet. With such a massive amount of users, your campaigns and content have the opportunity to reach people of all ages, backgrounds, locations and interests. While Instagram marketers can utilize the plethora of targeting features in Facebook's Ads Manager, that doesn't mean all of those people will also be on Instagram. 82% of baby boomers have reported using at least one social media network, with Facebook being the primary choice. If your goal is to reach a larger, more mature audience, Facebook is the way to go.
Which One Is Best?
Depends on your target audience and goals.
Both Instagram and Facebook have the same targeting and creative features that are integrated into one program (Ads Manager). Your ideal audience is what will decipher the correct platform for your company's campaign and messaging. Of course, you'll want to consider what type of budget you have. Facebook is no longer a place for free promotion; without paying, you aren't playing.
What it comes down to.
In the simplest form possible: choose Instagram for engagement and to reach a younger, lively audience willing to visit your website and shop around; choose Facebook for brand awareness, and getting your message out to a broad audience who have a variety of interests and willingness to convert.
It seems like Instagram is gaining lots of traction and with new features and advertisers daily, it seems that Facebook may have a great Plan B -- they already own Instagram. We will have to stay tuned! Until then, if you need help with your social marketing strategy, our social team at 360 PSG knows the ins-and-outs of both platforms.