Updating Your Facebook Marketing Strategy to Tackle Organic Reach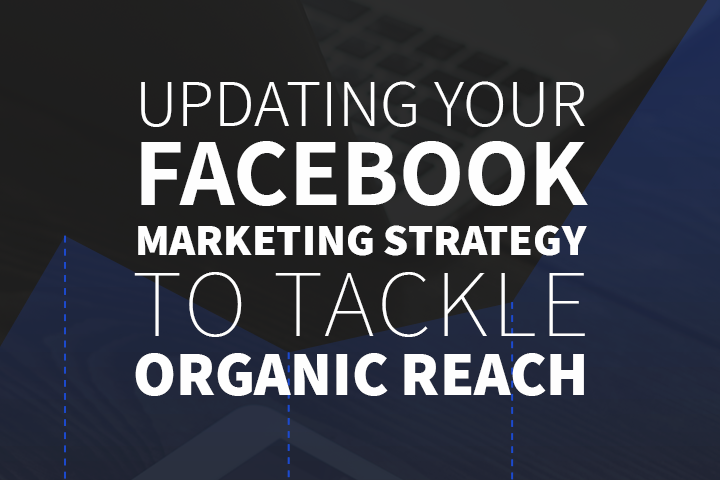 If Facebook's new algorithm update has you feeling like the last kid picked in gym class, you aren't alone. When the social giant announced in January that it was putting a strong focus on personal pages (and much, much less on Business Pages), the professional social world dramatically rumbled. Not only had organic reach declined to almost 2% throughout recent years, Facebook declared that it's practically non-existent moving forward. What does this mean for companies with a Business Page? If 1,000 people like your page, only about 20 of them actually see each post without a budget involved. With Facebook's update already in effect, it's projected that even less than 2% of your audience sees your posts organically. This stems from Facebook's decision to prioritize content from friends and family in the newsfeed, versus showing more branded content. For small businesses who use Facebook to connect with their customers, this is a problem. Does Facebook require a massive budget to maintain engagement? The short answer -- not quite. Here's some helpful tips for small business owners looking to still capitalize on the world's most popular social network:
It's time to boost your Facebook page posts.
As you may have read in our predictions for Facebook trends in 2018, paid is the new organic reach. Yes, you have to boost posts for your audience to see them; however, the method of boosting them is much more complex -- and to your advantage. Instead of boosting a post at the page level (which you still can, although limited), you can do it in Facebook Ads Manager. This allows you to use targeting and placement features that were not available prior, all while controlling the performance in a more efficient way. By boosting a post, you're pushing your content (and business) to a larger audience, even if it's just to reach the people who already like your page. You don't have to have a massive budget to boost posts, but in the new age of Facebook, you do need to start somewhere.
Generate quality content, not lots of content.
The trick to success on Facebook? Create authentic content. People use social media to connect, they want to see content that has purpose (and so does Facebook). The social platform will favor posts with lots of engagement -- lengthy comments from users that are interested in what your page has to share. You don't want to ask for likes or comments, you want to earn them with generating content that people care about. How do you do that while enhancing your business objectives? Well, we can't give away all our industry secrets; however, using tools like live video will surely help your efforts. Your audience wants to see the faces behind your brand, exciting company news and events -- things people care about. So, put the social back in social media and your efforts should pay off.
Devise a social media strategy that utilizes other platforms.
Some marketers make the mistake of putting too much stock into one platform. You may have a select audience you want to reach, but is Facebook the be-all and end-all? Instagram has a wealth of millennial users with 60% of its audience aging 18-29. Using hashtags on Instagram to garner engagement is still a great use of organic reach methods. If young adults aren't your target market, try LinkedIn. Roughly 470 million professionals of all ages use LinkedIn every month. The point is, if Facebook's organic reach has got you down, try taking advantage of other social platforms.
Additional Facebook tools to put to use.
Facebook offers "Insights" on the type of audience your page has, when they are most active, where they live, etc. Study this data and use it to manage what you post and when. This is arguably one of the most helpful free tools you can use to monitor and understand your Facebook page audience. You can also take advantage of things like organic targeting, that use limited targeting features for people who see your organic posts. Is this a game changer? Not really, but if you don't plan on boosting every single one of your posts -- it can't hurt. If building and connecting with your audience on Facebook still proves to be an uphill battle for your business, contact one of our experts at 360 PSG to discuss your social media strategy.
Want to learn more about digital marketing? Subscribe to 360 PSG's monthly newsletter.