LinkedIn Marketing In 2019: New Company Pages & Features You'll Want to Know
LinkedIn is an excellent platform for professionals and businesses to connect with each other; however, are the connections always meaningful? The platform is surely trying to make it so. LinkedIn has lagged behind Facebook when it comes to offering its marketers options for ad formats, targeting, and content features. With the release of "LinkedIn Pages" (replacing "Company Pages") and updated advertising tools, the new year is a great time to get back into marketing on the web's largest professional network. For business owners and professionals looking to grow their business and build relationships, LinkedIn has got you covered.
New LinkedIn Pages

Whether you work for a large corporation or small agency, marketing on LinkedIn has become a necessity for almost every type of business. Even business owners who are marketing to consumers can benefit from building professional relationships and sharing content of their own. LinkedIn has rebuilt their company pages to offer a multitude of new features that make connecting easier than ever:
Page Layout
Before LinkedIn's Pages rollout, there were a few missing features when compared to Facebook's Business Pages. Not only can you now associate your LinkedIn Page with hashtags to join conversations about your business or industry, but there's also a customizable call-to-action button just like Facebook's Business Pages. Starting a conversation with a prospective employee or customer is now achievable with the click of a button. LinkedIn wants to ensure your connections turn into real relationships--with a page built to attract and convert, they are definitely moving in the right direction.
Mobile App Updates
Sure, LinkedIn's mobile app let you post images and video to company pages before, but now admins can even share documents, PowerPoint presentations and PDFs to enhance their brand's storytelling. Facebook may have more options to display images, like in slideshows or photo galleries, but LinkedIn has one-upped them when it comes to sharing professional work. Telling engaging stories about your company on the go is seamless with LinkedIn Pages.
Content Suggestions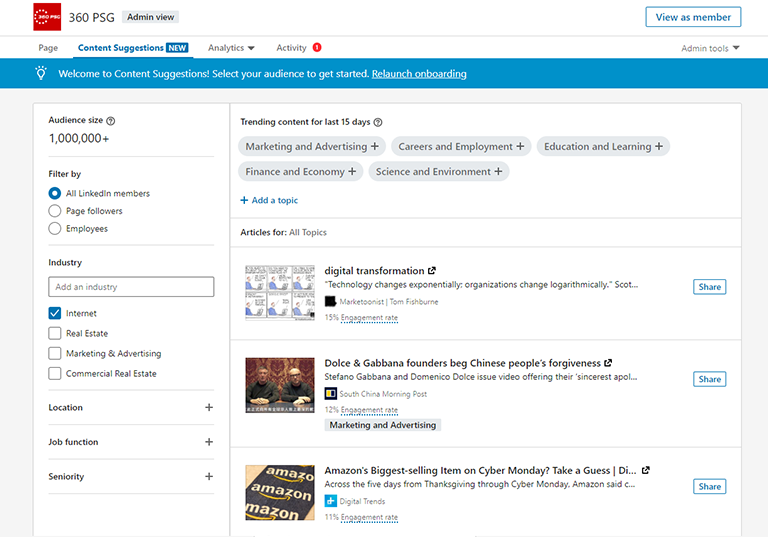 Ever wonder what your audience and connections actually want to see from you on their LinkedIn feeds? With Content Suggestions, businesses can see what type of content their target audience is engaged with on the platform. With recommended articles and posts, these insights can liven up a previously dull content strategy with new and trending topics. Of course, you'll want to create content of your own instead of only curating; however, when you're busy running a business, a little help with suggestions goes a long way.
Post Sharing
Want to share a customer testimonial or product review to your company's LinkedIn Page? Now you can. Prior to LinkedIn's update, only personal profiles could share content in this way. LinkedIn has made it as easy Facebook to share conversations and posts about your business. This can really come in handy considering the number of professional groups and conversations floating around on the platform. Having a share feature makes it easy to share employee posts to Pages, making the ever beneficial employee advocacy that much simpler.
Sponsored InMail + Sponsored Content

Mastering organic content and page optimization aren't the only LinkedIn strategies you'll want to take advantage of in 2019. Advertising on social media has become a vital part of marketing strategies for businesses of all sizes. In a recent study by Google, buyers consume an average of 10.4 pieces of content before making a purchase decision. Are you showing your audience enough valuable content to interest them enough that they want to convert? Showing one ad with a call-to-action likely won't cut it.
Combining two different methods of advertising on LinkedIn will help create a sales funnel to guide your customer along the way. Sponsored Content ("feed ads") is a great way to increase awareness of your posts, company news, events, and other content like blogs by adding a budget to them; this gives your target audience an opportunity to learn about your business or brand by seeing it in their feed, rather than directly market a product or service to them before they know who you are. Sponsored InMail ("message ads") helps convert your audience by sending interested LinkedIn users a direct message on the app that is written and prepared by you--complete with a headline, info, and call-to-action! By joining ad format forces, you're ready to reach, connect and convert with your audience on LinkedIn.
Getting Connected

LinkedIn has a professional network of over 590 million users. It's pretty hard to deny the power of connecting with like-minded industry professionals and customers ready to start a conversation. It can become difficult or time-consuming building and maintaining a presence on any social media platform, let alone getting a return on your advertising efforts. Don't get discouraged! You can always connect with us to help devise and implement a LinkedIn marketing strategy for your business that not only enhances your presence but your ROI too.