Fall in Love With Your Website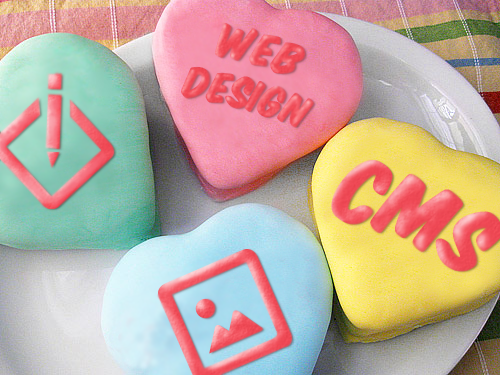 This is your business. Your website. Your digital home base. This is where people have their first interaction with you; their first touch point for a sale and your best marketing piece. This is a chance for your business to shine, and to make a lasting impression of your brand for continued business and referrals. So how do you get it right? How do you captivate a digital audience when all eyes are on you? You build a business partner, a brand advocate, and a powerful selling tool. You build a website people will love.

1. Get Started With Content
Designing around content is a lot easier, and more efficient, than adding content to a design. If you want your website to be truly unique, you have to tell your story in a dynamic way. Starting with content gives you the ability to build a framework before you start specializing. Think of it like a building a house. You'd be way better off establishing a strong foundation, than adding shutters to complement the paint job. You've probably encountered tons of beautiful websites that have no direction and lack any substance. This is the single most important part of the process because content gives you complete control over how your customers will follow your story. Being organized and having quality content that informs will pay off big in the long run.

2. Capitalize on the Perfect User Experience
People love convenience. How often have you been searching on a website but you couldn't get to where you wanted to be? Did it stop you from making a purchase? Did you move to a competitor who made the process much easier for you? These are split second decisions people make everyday. With increasing competition now that you can be a global brand from the comfort of your home, it's important to make sure you're winning all of those sales opportunities. Integrate your website with analytics, find the pain points of your customers and see where they are having trouble making it to the eventual sale, and fix that. It's an ongoing process, but once you optimize the task of getting a customer from the decision making process to a sale, you'll be reaping the benefits faster than you know.

3. Be the Apple of Their Eye
Visually dynamic websites offer the most engagements because people respond to what they see. Most companies will tout this as the first step in the process because the first thing people think about when they ask for "web design" is making their website aesthetically pleasing. That includes high resolution pictures that are relevant to your message, good graphics that can add interest, using effective calls to action that stand out and are intuitive, and getting really creative with making your site unique from Bob down the street. But if you can effectively pair good design with a good overall flow for your website, you'll get the results that you're looking for. Good design will get people to come, but a well designed website with good content will get people to stay.
4. Stay Current
Like any aspect of your business, it's important to keep everything fresh. Your website is no different. This approach benefits you in more than one way. Google and other major search engines will reward your regularly added content with better search results to help with your organic traffic and SEO, if it's relevant. It also helps you keep on top of industry trends and gives people incentive to constantly check in on your page, a way to keep up with you. Adding new content doesn't have to be difficult. It includes blog posts, case studies, new photos, or new videos. You have multiple ways to keep actively updating.
5. Listen, and Interact
Listen to what your customers want. It's easy to get caught up in analytics and data tracking, and forget that your ultimate goal is to connect with people, not clicks. Getting feedback directly from the source is vital to developing a good web design, because they are ultimately the ones that will use your website the most. Catering the perfect user experience is a long process and requires a lot of feedback, so keying into what your customer's are looking for will help keep your website efficient.
Ready To Get Started On Your Web Design?
Click Here to Get Started.